An $87-million project to begin transforming Calgary's Crowchild Trail at the Bow River has been no easy task.
The upgrades will make it easier for people travelling through the area as it's one of Calgary's few north-south connections on the city's west side and an important access in and out of downtown. It sees more than 100,000 vehicles per day.
"Closing this down on a regular basis just isn't an option. How to do that all starts back in the design," said Jeff Baird, a senior transportation engineer with the City of Calgary. "You have to look at it from a constructability perspective."
The project involves the complete life cycle rehabilitation on the Memorial Drive, Bow River and Bow Trail bridges. It will add a northbound and southbound traffic lane on Crowchild Trail between Memorial Drive and Bow Trail and add a northbound traffic lane on Crowchild Trail between Memorial Drive and 5 Avenue N.W. Crews will also upgrade or move on and off ramps for Crowchild Trail.
Another goal of the project is improving pedestrian walkways and adding a signalized pedestrian crossing. In select locations along Crowchild Trail workers will build noise walls with accompanying landscape improvements.
The City of Calgary's water resources group also plans to conduct repair work to outfalls and erosion sites along the river which suffered damage from the 2013 floods.
Baird explained the current project is phase one of a three phase plan derived from a corridor study done back in 2015. It produced the short, medium and long-term plans.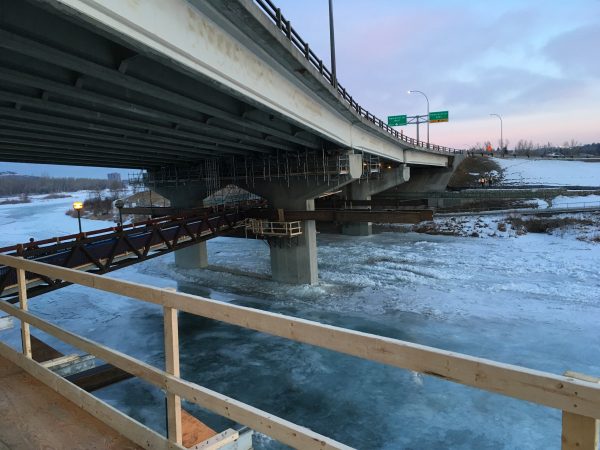 "This first phase is sort of some of the quick wins," Baird said. "They are able to get started quickly because we don't have to access the river or private property which requires more approvals. It's really just a project that could start right away."
But the project hasn't been without its challenges. The team had to plan strategies to keep traffic flowing during rush hour, including building a temporary work deck just metres below the traffic to keep the workers safe while construction is underway.
"It involved building a bridge underneath the existing bridge to allow crews to work during the day," said Baird.
Crews have also had to work with bridges and structures built decades ago. Drawings back then were done by hand and not as comprehensive as their modern digital equivalents.
"The records of what was built aren't up to today's standards," said Baird. "We have plans in place to address this though and we know there will be surprises and things won't always be where we thought they were. The nature of rehab work on this scale of bridges is that there are always things that come up. You can't tell the extent of some things until you start chipping away at them."
And with so much traffic moving through the worksite, safety is a priority. Baird said the key is organizing the staging of the work, planning detours and building protective structures to make sure equipment and material do not harm anyone.
"It's a buy-in onsite and having the crews and everyone understand the risks and identifying the risks to them and the right mitigations that need to be done," said Baird.
With the challenges has come innovation. In addition to the staging structures under bridges, while the structures widen, crews have been able to co-ordinate lane openings with work.
"They will constantly look different and those lanes move around to buy space in other areas," said Baird. "As we are able to widen we can use that area to create space and free up the access to other areas of the bridge."
The project includes about 1,500 square metres of concrete surface rehabilitation, about 50 kilometres worth of reinforcing steel dowels to support the new structures, and about 16,000 square metres of new asphalt.
Baird said the project is on track to wrap up in this year within its budget.