SURREY, B.C. — Residents of Surrey, B.C. will soon have improved access to cancer care with the addition of a regional cancer centre at the city's second hospital.
"Nothing is more important than the health of your family, and for people dealing with cancer, having access to treatment close to home is especially welcome," said Premier John Horgan in a press release. "The cancer centre at the new Surrey Hospital will deliver high quality, comprehensive and compassionate cancer care services for patients and their families in their fast-growing community."
The regional centre is expected to offer patients treatment, supportive care, research, education and innovative technologies, such as virtual health. Officials added they intend to make the centre a hub of excellence for clinical and academic activities that attract medical professionals to the region.
"The second Surrey hospital is not just a community hospital, it's a state-of-the art, 21st-century centre for health care, which has now expanded to include cancer treatment services," said Adrian Dix, minister of health. "Though the rapidly growing city of Surrey is young, it also has an increasing population of seniors. This means the demand for cancer care will also increase, and our government is taking immediate action to improve health care for people living in this region for years to come."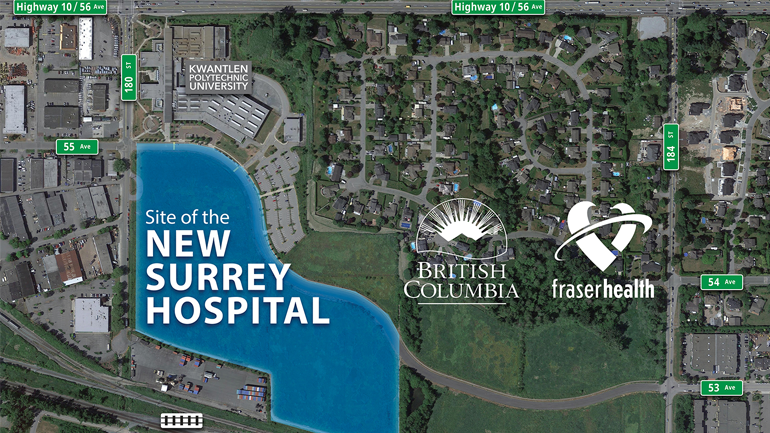 The new hospital that will house the centre is planned to be constructed in Cloverdale beside the Kwantlen Polytechnic University campus.
"BC Cancer-Surrey opened 25 years ago and we have been an important part of the community for decades," said Dr. Kim Nguyen Chi, vice-president and chief medical officer, BC Cancer. "We all know someone who has been touched by cancer. Our talented and dedicated staff don't just provide cancer care; they provide support during a very difficult and stressful time for most people. Our second centre in Surrey shows a commitment to providing person-centred care and supporting people where they are in the community."
The project team has already been working on the business-plan case for the hospital since late last year. The plan is expected to be finished later this year. Then officials will begin procurement.
"A cancer diagnosis can be daunting and we want to provide patients with a seamless care journey so they can focus on getting well," said Dr. Victoria Lee, Fraser Health president and chief executive officer. "We're excited to partner with BC Cancer on a third cancer centre for our growing region, as having cancer care and other health-care services in one location means patients will have easier access to a spectrum of timely care when they need it most."