REGINA — Crews have broken ground on the future site of the new joint-use facility replacing Argyle School and Ecole St. Pius X elementary schools in Regina.
Saskatchewan-based Quorex Construction Services Ltd. has been awarded the contract to build the facility and has started work on the 11,050 square metre building's foundation.
"It is very exciting to see this project take another step forward in its development," said Education Minister Dustin Duncan in a press release.  "We are pleased to partner with a local Saskatchewan company on this project that will create jobs and ultimately brand new schools for our students."
The province will contribute $47 million in the facility, which is being built at the current site of the Argyle School.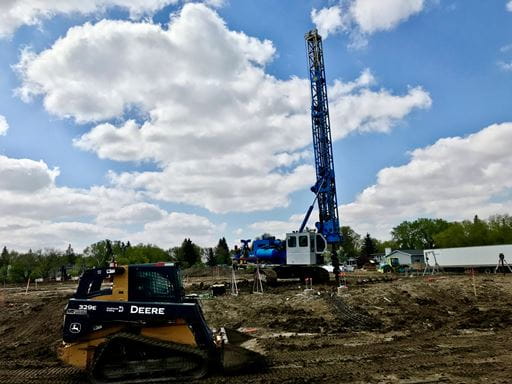 Both Regina Public Schools and Regina Catholic Schools will open new schools that can accommodate 400 students. Both schools will be built to expand their capacity to 500 students through the addition of relocatable classrooms.
"Beginning construction is an important milestone for a project of this scale," SaskBuilds and Procurement Minister Jim Reiter said. "This state-of-the-art facility will have a positive impact on students in Regina for generations."
Construction is scheduled to wrap up in 2023.
The design features a two-storey structure for Regina Public Schools' Argyle School and a three-storey side for Regina Catholic Schools' St. Pius X School. The two new elementary schools will be connected through both a common area and a wide corridor that will run between the two schools' gyms. It will also feature a child care centre with space for 51 children, a mini-gym that can also be used for community events and outdoor learning circles featuring natural elements and promoting learning outdoors.