After years of development the College of the BC Building Trades has been launched to help aspiring apprentices more easily explore trades careers and connect with opportunities. 
Prospective students can visit the digital campus online. The campus features extensive information on dozens of trades, apprenticeships and entrance requirements. Online tools can be used to assess skills and connect directly with training schools and campuses across the province.
The site features a learning portal where students can test their competencies in math, literacy, science and document use, register for preparatory courses, download learning guides, access a variety of learning resources and watch videos showcasing the many trades.
Students can also take a trades assessment module that assesses the learner's areas of strength and areas needing improvement prior to entering into a desired apprenticeship.
Brynn Bourke, interim executive director for the BC Building Trades, explained the virtual campus concept began several years ago as a dream shared with SkillPlan, which provides technical skills training and a gamut of workforce development services to industry. The Building Trades wanted one place to talk about the collective union training system and wanted to do a better job connecting with apprentices.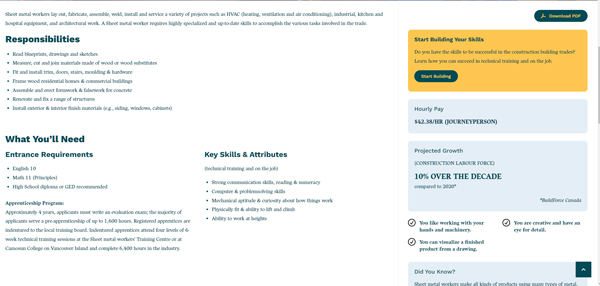 "We had one test: If you were a prospective apprentice and you were walking down the street and saw this, would you know that is a place to go get training? That is how the College of the BC Building Trades was born. It passes that test," said Bourke. "Not only can you explore trades and engage with literacy and math assessment tools that help you understand the competencies connected to each unique trade, you can also develop your skills so you are ready to start an apprenticeship. And then it connects you directly with those training providers."
Bourke added they would often hear that people who were interested in the trades didn't know how or where to get started. There were also lesser-known trades like glaziers, refrigeration technicians, sheet metal workers that few even knew were options. But the development process meant getting outside their own bubble.
"It was hard to get outside of ourselves," said Bourke. "We live and breathe our system. So do our trainers. So we can by myopic about what we are and how it works."
A professional team outside the Building Trades was able to point out that the system of provincially accredited schools functioned like a college. The Building Trades have 141 instructors and facilities in Burnaby, Delta, Fort St. John, Port Coquitlam, Prince George, Surrey, Terrace, Vancouver and Victoria.
"The next big step is to connect with career counsellors so they can use these tools and build it into their career awareness programs," said Bourke.
The changes fit much better with modern career paths. Bourke explained that unlike years ago when a young teen would decide to go into the trades during high school and plan their classes accordingly, many are looking at these careers in their late 20s.
"What do you do if they didn't follow that journey?" said Bourke. "We have to find better, more efficient pathways."
Bourke said the project took nearly four years to produce and the library of content will continue to grow.
"You can actually watch someone practice the trade, you can hear interviews about how real people were drawn to that trade and it's going to pull back the curtain on some of the lesser-known trades," said Bourke.
The college site is collegeofthebcbt.ca and a video introducing its features can be viewed here.
Follow the author on Twitter @RussellReports.