A longtime community activist, union supporter and women's advocate, Rosendin Electric business development manager Jolsna Thomas was the perfect fit for the job last April when it was determined the contractor's charitable division, the Rosendin Foundation, needed a full-time president.
Thomas, based in Austin, Texas and trained as a lawyer, did contract and advocacy work for Operating Engineers Local No. 3 before branching into business development for Rosendin, an employee-owned electrical contractor with 7,500 employees and offices across the country.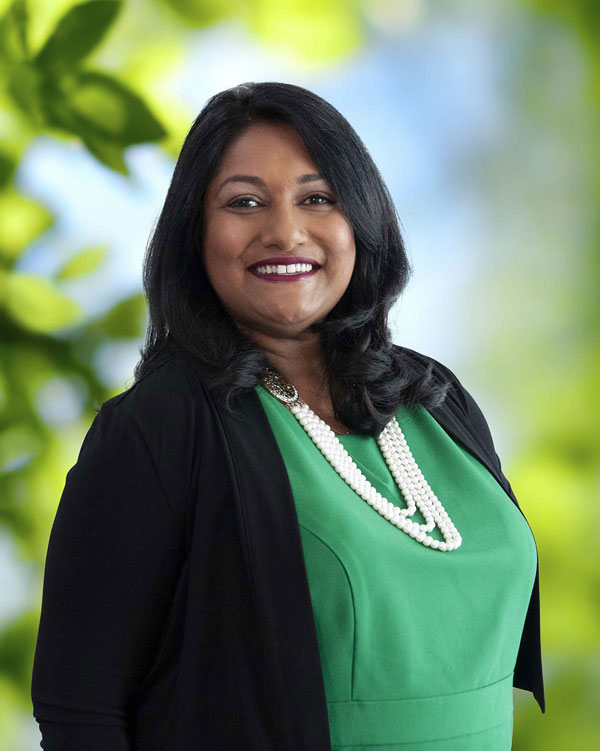 Thomas threw herself into committee and advocacy work, joining Rosendin's Diversity, Equity and Inclusion Committee, serving on various Association of General Contractors chapters and taking on volunteer roles with such diverse groups as the Real Estate Council of Austin, the South Asian Bar Association of Austin, the Urban Land Institute and the Junior League of Austin.
"It's actually a lovely merging of all my worlds, like the volunteerism that I believe in throughout my lifetime, where now I get paid to do what I love to do. It's amazing because I've got the support of Rosendin to do this work," she said of her appointment.
Supported by corporate profits and proceeds from fundraising efforts, the foundation aims to serve the communities the contractor works in, addressing such problems as food insecurity, mental health, suicide prevention and domestic and child abuse.
"It's really important to give back to our communities because we are people who live and work in our communities. For me it's nice because I'm able to lead this effort, and really be strategic and do the research and understand what are the issues that are plaguing our local communities."
Efforts to support mental health in the community directly help construction workers who might be vulnerable to suicidal thoughts, said Thomas.
"There's a high suicide rate in our industry, and we recognize that we need to be there to support others in our industry, and our own folks as well. It's a tough time right now."
Rosendin's diversity and inclusion committee takes its responsibility to promote a "culture of caring" seriously, said Thomas.
Employees who have taken the pledge know they have safe spaces to go to if they are having a bad day, she said, and recently during a meeting with a foundation beneficiary she learned that if someone on staff is seen to be filling in legal forms, it could be that the person is contemplating suicide and wrapping up their affairs.
"When you start noticing your co-workers acting differently than they normally do, it's very, very important to take the time and check in because you never know what's going on."
As an accomplished woman in the male-dominated world of construction, Thomas has long taken her role as a mentor to other women in the business seriously, participating as a sponsor and an advocate within the company and becoming an active member of the National Association of Women in Construction (NAWIC). She noted the industry has made strides in embracing women since she joined 15 years ago, with women now making up about 11 per cent of all employees in the sector. Thomas believes the key to further recruitment and retention is aggressive training of staff across the company to promote inclusion and eradicate hostile behaviour.
"The way you stamp it out is when you train and educate your people so they know that that is not acceptable behaviour. Then you've now created a completely safe space for people to be able to grow," she said. "We have a lot of training in place, but there's also a lot of training of management. There's a lot of training of staff. There's a recognition of the importance of people because we value our people."
Diversity is a key value to encourage because it allows people to be recognized for their full set of talents and allowed to flourish, Thomas said. In mentoring situations she often hears that mentees are hesitant to apply for job promotions because they don't want to be boastful, whereas a man with only 30 per cent of the required skills on a job application will not hesitate to throw his name in.
"If others know about you within your company, they can promote you as well. They get to recognize what your talents are and what you bring to the table as women.
"We bring so many amazing talents and skills to the table. We've got leaders in our engineering team and our business team, project management, division managers…we can show the next generation that there's a place for you."
Follow the author on Twitter @DonWall_DCN.