The latest Market Index Survey for Reroofing found a more pessimistic outlook in the steep-slope market than for the low-slope market across North America.
For the steep-slope market, the Q4 2022 Customer Inquiries Index declined to 43.8 from a reading of 48.1 in the prior quarter. A score of 50 or higher suggests expansion or optimism, while a value below 50 indicates contraction or pessimism. 
The fourth quarter marked the third consecutive quarter with a reading below 50 for the steep-slope sector. For the low-slope market, the Q4 2022 Customer Inquiries Index continued its drop from early 2022 to a score of 58.6 in Q4, down from 60.6 in the prior quarter.
The Canadian Roofing Contractors Association (CRCA) is one of 11 stakeholder groups that support the quarterly survey. Reroofing represents more than half of the overall roofing market.
Report author Justin Koscher, president of the Polyisocyanurate Insulation Manufacturers Association, explained the reroofing market is to some extent recession-proof, partially insulated from the broader construction market and the overall economy, because reroofing is a necessity, typically driven by the age and condition of the roof.
"Most people don't replace their roofs because they want a new colour. Most people replace their roofs, whether it's a home or a building, because the roof has essentially failed," he said.
Scores for the Project Contracts Index followed similar trends with the steep-slope market score remaining negative at 43.3 for Q4 2022 versus 42.0 for the prior quarter. The low-slope market score remained positive for Q4 2022, but moved lower to 58.9 from 65.5 in the prior quarter.
CRCA executive director Bob Brunet said most of his association's members are in low-slope and reported contractors are currently quite busy.
"Probably the biggest thing that may slow down reroofing is the current labour shortages," said Brunet. "I can tell you when it comes to some of them, if they could hire two, three crews, they'd easily be able to do the work."
As for backlogs, for the steep-slope market, as of January 2023, 73 per cent of survey respondents reported no project backlog. Results were much more positive in low-slope, with 53 per cent reporting a backlog of three months or more, and only 10 per cent reporting no backlog. 
"Customer inquiries and project contracts, obviously, are indicators of future business activity," said Koscher. "If no one's calling you, or no one's signing contracts, you're not going to have a lot of work to do.
"A healthy project backlog would suggest some resiliency against a broader market downturn."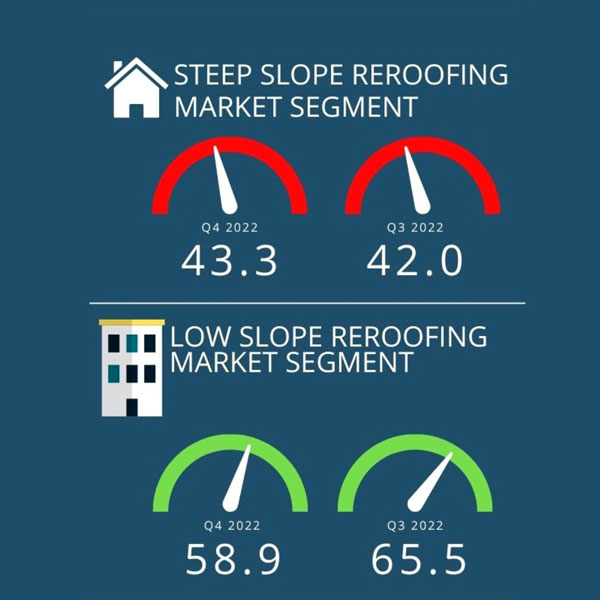 Industry confidence rose throughout 2021 and the early part of 2022, peaking around mid-2022, said Koscher.
It's now trailing off more significantly in the steep-slope sector, probably driven by the cooldown in the residential market, and there is a slight drop but still a positive forecast for the commercial sector.
The projected recession later this year has everyone acting cautiously, he said.
"Overall, I would be scratching my head if confidence was booming right now."
Koscher said contractors that do steep-slope work may work both in the residential and commercial sector but it was important that the steep-slope and low-slope sectors are differentiated for the survey because it provides the product manufacturers with an indication of what the demand may be for their products.
According to IBIS World, revenue for roofing contractors in Canada has grown at a compound annual growth rate of 2.7 per cent to a projected $13.2 billion through the end of 2023, despite a probable 1.1-per-cent decrease in 2023. There are 8,400 roofing businesses employing 27,300 roofers in Canada.
Brunet said supporting the survey joint venture was valuable in many respects, such as being able to compare backlogs.
"Our members, especially when you compare the northern U.S. states, the climate is pretty close to ours," he said. "This is a great opportunity to benchmark your company against some of the U.S. companies."
Both Koscher and Brunet noted upcoming climate change retrofits, supported in the U.S. through the Inflation Reduction Act, would provide the reroofing sector with a new stream of work. Brunet said that would put added pressure on Canadian roofers to find solutions to workforce shortages.
Follow the author on Twitter @DonWall_DCN