The recently launched Ireland-Canada Construction Network plans to bring Irish high-tech innovation, products and skills to Canada while addressing shared challenges and opportunities both countries are facing.
"Irish people have come to build here for many generations, so now we're doing something different: we're bringing Irish expertise to assist Canadian construction, to help them meet all the various challenges that construction faces and to help their bottom line," said Dara Calleary, Ireland's minister of state for trade promotion, digital and company regulation, following the launch of the network at the Multiplex office in Toronto. "Irish innovation is already helping Canadian construction in many ways. What we want is an exchange of ideas…Enterprise Ireland and the team here in Toronto are going to build this using technology. There are going to be webinars, physical in-person events."
The minister's four-day visit to Toronto and Vancouver was led by Enterprise Ireland, the Irish government's trade and innovation agency, as well as IDA Ireland, the Irish Foreign Direct Investment Agency.
"What Enterprise Ireland is seeking to do is, we're going to have a network of Canadian and Irish construction leaders in the various different facets of construction address the shared challenges, the carbon challenges in both our countries. We both have infrastructure challenges," the minister noted. "Skills and products that we are using in Ireland, we can bring them to Canada and assist Canadian construction."
Ireland is the fifth most digitally advanced economy in the European Union and is very comfortable with technology, he added. The relationship will be mutually beneficial.
"We want to learn from you as well," Calleary said. "We're also here to learn and bring ideas back home because we have challenges too."
Calleary said both countries are currently facing carbon and net-zero hurdles as well as housing and infrastructure issues.
"We just announced in our 2024 budget the creation of two funds," he noted. "One is an infrastructure fund and the other a biodiversity and climate fund.
"We're putting money aside, so we are continuously investing in infrastructure even with the inevitable downturn," Calleary stated. "There will be opportunities there for Canadian companies to assist us in that."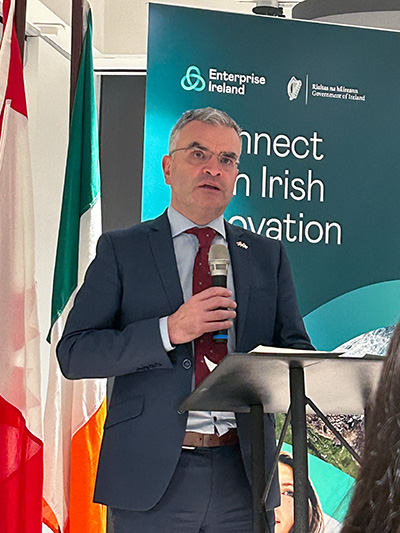 Both Ireland and Canada need to make changes when it comes to innovation.
"Enterprise Ireland is looking at cutting edge modular construction techniques, low carbon construction techniques, we're working with companies that are looking at low carbon construction products," Calleary said. "We are working with companies that use technology to make construction easier, that use technology to make a construction manager's jobs easier. They use technology to manage sites better and Irish companies can do that."
The event also included a panel with leaders from the Canadian construction industry discussing what the barriers are in terms of technology and innovation.
"Our industry is among the most archaic, outdated, multibillion-dollar unicorn industries out there that is ripe for disruption," said Gianluca Pascale, founder of the Constructors Guild. "One of the areas of underdevelopment that I still see present is our collective investment into our workforce. Some of the people that I meet, I feel that there is still the belief that technology is going to take away their jobs. That is something that still needs to be educated.
"Help them understand that technology is there for the better."
Noel Cunningham, operations manager with Flynn Facades, said the challenge Irish companies face in terms of building their presence in the Canadian market is the "conservative" construction industry in the country.
"GCs, architects, specifiers, consultants, they like to stick with what they know," he said. "That's a challenge in itself because we're going into a situation here where we need to learn things that we don't know and help get ahead of this carbon challenge, climate change challenge that we're all dealing with."
Tim McAuliffe of GIP encouraged people to spend money on research and development for innovation.
"Unless we put money into R&D, develop products, develop relationships with the people who develop those products and solutions for us, we're in serious trouble in this industry, be it software, be it equipment, be it people," he said.
Over 300 of Enterprise Ireland-backed companies are actively exporting to Canada. The exports to the Canadian market are just over 2.8 billion euros. That represents a growth of about 25 per cent in the past three years.
Follow the author on Twitter @DCN_Angela