Dial before you dig isn't negotiable, but it is often forgotten.
A FortisBC expert explained the potential hazards and procedures involved when builders dig around, over and under buried pipes and wires to attendees at the fourth annual Construction Expo in Cloverdale, B.C. 
Most of FortisBC's natural gas pipes are underground, FortisBC manager of damage prevention and emergency services Ian Turnbull said, and the system extends from the United States border across the Lower Mainland to Horseshoe Bay and Hope.
"There are gas lines everywhere and the only way you'll find out about them is to call BC One Call to get that information," Turnbull said.
BC One Call is a free service to inform builders in the Lower Mainland what sort of infrastructure is located below their jobsite to minimize risk associated with incidents involving buried facilities.
"Last year we had 1,200 hits to the system, and in 60 per cent of those incidents, no-one had called. Where damage or unauthorized activity occurred after calling, 77 per cent hadn't followed utility company guidelines," Turnbull said.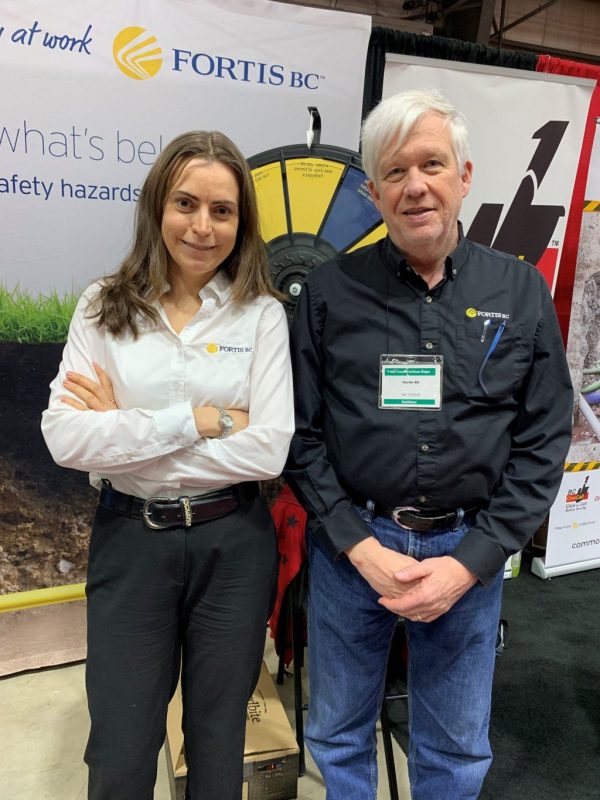 To work safely and comply with the law, he said, a company must call BC One Call three days before starting work to get the location of buried pipes and other infrastructure, and must keep all responses to their One Call ticket, permits, maps and all other relevant information onsite at all times.
"You have a lot of time and money tied up in a project, and you aren't going to wait for us for a week, so we try to get someone out right away. In Surrey, B.C. we try to get to the jobsite in 20 to 30 minutes," Turnbull said.
The rules vary based on the pressure per square inch (psi) of the pipe, he added. For 100 psi or less pipelines, a call must be made three days before work begins and workers must hand dig within one metre of the pipeline. For pipes over 100 psi, work can't begin until permission is given, which may require permitting from FortisBC as well as staff from the utility working onsite.
"Our biggest concern is if a pipe is punctured and there's high pressure gases or liquids. People shouldn't be anywhere near a pipeline when that happens," Turnbull said.
He added if a company hasn't followed the rules, they'll soon see a bill for repairs.
"It's about $100 a person involved in making a repair and that can get expensive very quickly. The actual piece of pipe cost almost nothing, but people do," Turnbull said.
Turnbull said the process and rules for non-residential projects are essentially the same as for residential work.
"The reason we're here addressing the residential side of the business is they're working around our assets and there's damage that's caused to our facilities, but the same happens with contractors working for municipalities, contractors building industrial or commercial sites," he said. "It doesn't matter who the contractor is, if they're working around our facility, there are certain requirements that keep them safe and avoids damage."
Turnbull said smaller companies tend to not call as often as larger ones
"My experience in looking at our damages over the last decade is that one and two person companies don't have the benefit of dedicated safety officers or departments, are keeping a whole bunch of balls in the air, trying to do the bidding and get the bills paid. At the end of the day, they go 'oh dear, tomorrow we're starting this project and we haven't made the One Call,'" he said.
One of the most unusual incidents Turnbull has seen involved someone disposing of an old couch by tipping it out of their third storey apartment and in the process destroying a gas meter and causing a minor emergency.
"They tossed it over their porch and right at the bottom of the ground was the gas meter which got destroyed. The building was evacuated, the fire department arrived, but at the end of the day it worked out OK," he laughed.
The more typical variety of incidents tends to be a contractor simply not contacting BC One Call before digging, he said.
"They start digging and they're surprised when they come across a gas line in the street, even though there are gas meetings on all the surrounding buildings," Turnbull said. "It seems to be getting people to consider when they're in an urban area there's all sorts of things underground. They just sort of forget that typically all the infrastructure we use to enjoy our lives is buried and they have to take steps to avoid it."