TORONTO — Executives from construction firms across Canada took part in Covenant House's annual Sleep Out, a fundraising event that supports its work serving youth who are homeless, trafficked or at risk.
Sleep Outs allows participants to spend a night on the street to explore the causes of youth homelessness, connect with youth at Covenant House and learn about how fundraising is supporting solutions, states the Covenant House website.
Ninety per cent of funds raised go directly to help the young people Covenant House serves.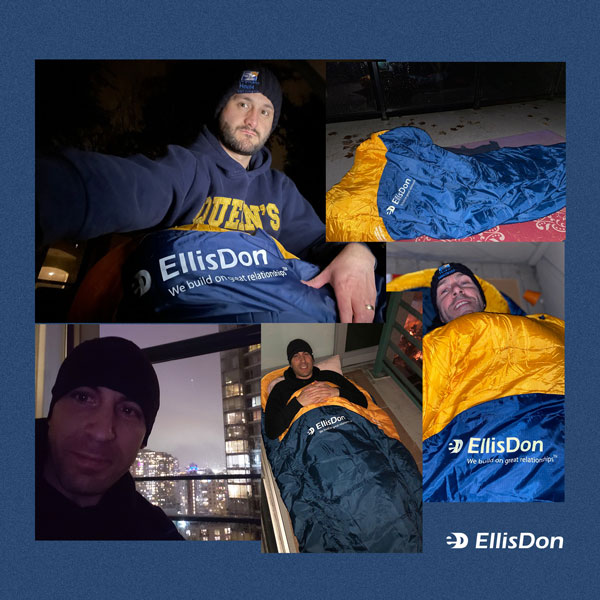 For the seventh year in a row, Bruce Sonnenberg, vice-president and district manager at PCL Constructors Canada Inc., slept outside to help raise funds for homeless youth.
"I considered not participating this year as I wasn't sure I wanted to sleep out in the middle of a pandemic," said Sonnenberg in a LinkedIn post. "But my thoughts turned to our homeless youth who don't have that choice. I decided if this small gesture helps to raise money and awareness to fight for youth who are homeless, trafficked or at-risk, it was a small sacrifice I was willing to take."
After increased restrictions were implemented by the City of Toronto, all programming went virtual and Sonnenberg decided to sleep outside in his backyard.
"My evening began with a live streamed presentation," Sonnenberg recalled. "A brave Bay Street lawyer shared her family's story of despair and hope. Her stable family of four began to go off the rails when one of her two daughters started to deal with substance abuse challenges in her mid-teens. This young girl's life spiraled to depths which culminated in homelessness and an attempted suicide a little more than a year ago. The pain and suffering of this girl's family was heart-wrenching to hear. When everyone thought there was no hope for this girl, Covenant House saw hope and started working with her. She is now recovering at home and she joined her mother at the end of the presentation to share some of her story. It was moving for all to hear." 
He also attended a Zoom meeting that discussed the human trafficking problem Toronto is currently facing and how Covenant House has stepped in to help some of the girls who have managed to escape.
EllisDon's Craig Enns, Ian Kerr and Daniel Murphy also took part in the Covenant House Vancouver Sleep Out Executive Edition Nov. 19.  
Hosted virtually, participants slept apart but together in solidarity with young people facing homelessness to raise funds for the Covenant House's Crisis Program, states a press release, adding they had the opportunity to hear first-hand from front-line workers as well as the youth who have overcome significant life challenges.
"It was pretty inspirational to hear their stories about the struggles they faced, the steps they went through to get back on their feet, how the program at Covenant House supported this transition, and how the support continues for a full year after these individuals are back in the community," said Kerr. "These youths didn't have access to the basics of life — a place to feel safe, a place to call home, or somewhere to get a warm meal. This experience has taught me how easy it is to take these things for granted and has helped me recognize how important they are for a person to be able to function."
In total the event raised over $1 million, exceeding the Covenant House's fundraising goal.