In partnership with the Canadian Olympic Committee (COC), Montreal-based Sid Lee Architecture has created a home away from home for athletes and fans attending the upcoming Winter Games in South Korea.
Located on the country's east coast near the Gangneung Olympic Park, the 12,000-square-foot Canada Olympic House has been designed with a true "Canadiana" look and feel. Features include a bleacher in the shape of a maple leaf where fans can sit and watch programming. Banners hanging from the rafters are inspired by the ones found in hockey arenas across the country.
Mountain ranges are depicted, bringing the Canadian landscape indoors. The house includes a patio inspired by a Canadian backyard during the winter.
Architect Martin Leblanc, a partner at Sid Lee Architecture, said the collaboration with the COC and the creative team at Sid Lee Toronto provided an opportunity to design an iconic space "that will be a physical representation of the Canadian Olympic spirit outside our borders and on display for the world to see."
A ceremonial opening is slated to be held Feb. 7. Sid Lee Architecture was awarded the design assignment last June.
The project was executed in collaboration with South Korean design and construction firms. The COC partnered with Seoul-based Tangible Lab Inc. to provide project management and space design services.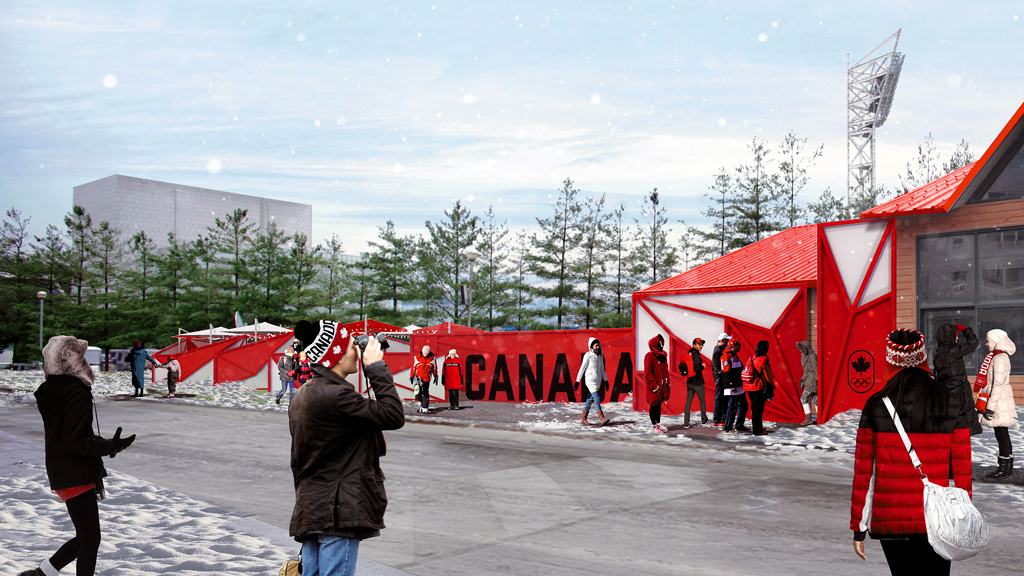 "We sat down with the local design and construction teams to see how we could collectively achieve our goals," Alex Dimas, an architect and project manager at Sid Lee Architecture, said in an interview.
The Canada Olympic House was built within the structure of an existing sports-oriented facility, which Dimas said contributed to the cost-effectiveness of the project. Working with the "strengths and characteristics" of an existing facility had an impact on the design of the interior space, Dimas said, citing such items as ceiling heights and the location of sprinklers.
"There is also a skylight that goes through the middle of the space," he said. "To some extent, this influenced how we did our interventions."
The existing building has a sloped roof "that is very Canadian" in nature as well as a simulated wood exterior.
"This really has a Canadian flavour," Dimas said.
The house is expected to welcome more than 10,000 guests over the course of the Winter Games, which get underway Feb. 9 and wrap up Feb. 25.
"Home is where the heart is and for 17 days that we are in PyeongChang, Canada Olympic House will be home," COC chief marketing officer Derek Kent said in a statement.