Renowned Alberta architect Ken Hutchinson's designs have left a legacy of iconic built forms across Western Canada.
The Calgary-based architect recently passed away at the age of 74 from asbestos exposure that he encountered earlier in his career.
Hutchinson discovered his love for design and building at a very early age, described his daughter Keesa Hutchinson, who is also an architect.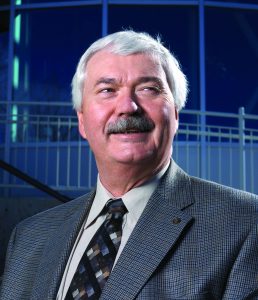 "He built a cabin with his grandfather when he was eight or nine years old, and he decided at 12 or 13 that he wanted to be an architect," she said. "He went to the University of British Columbia, got a degree in architecture and worked for RGO in the early 1970s before he decided to start his own firm."
One of his first projects was a Calgary office building, followed by the Alexander Calhoun Library (recently renamed the Giuffre Family Library), which she said was one of the first earthworks projects in Western Canada.
"Before LEED was a thing, my dad was doing sustainable design," she stated.
"He didn't have a specific esthetic, but he responded to the end user's needs and liked using colour. For instance, schools he designed would use colour reflective of the use of the building by children."
Hutchison was involved with the site design of the Saamis Teepee in Medicine Hat, Alta., the tallest teepee in the world at 65.5 metres. He also designed the Pê Sâkâstêw Centre, a minimum security correctional healing lodge located 90 kilometres south of Edmonton modelled after a medicine wheel concept with buildings and houses surrounding a sacred circle.
"Colour was also very symbolic for that group of buildings. It was very much about bringing meaning into the structure," his daughter outlined.
Hutchinson also designed numerous firehalls and recreational centres, and she said he added local flourishes to areas like children's playgrounds to reflect the nature of the neighbourhood.
"In Sherwood Park, for instance, planes were used as a theme," she said.
Like countless others who have suffered from asbestos exposure, Hutchinson was not aware until later in life of the health risks he'd faced earlier in his career from the harmful substance.
"We didn't know he'd been exposed until the early 2000s, when they found a spot on his lungs that they identified as asbestos," Keesa Hutchinson said. "When he started his career, asbestos wasn't identified as being toxic, and he worked on the old Calgary City Hall, the McDougall Centre, all old buildings."
Keesa Hutchinson credited her own career in architecture to her father's influence.
"He shaped my career. He said I'd be a better designer than he'd ever been," she said, adding her father was a passionate man for whom "the glass was always half full."
" 'Aren't we lucky?' was his favourite saying, and he was a powerful influence on the people he met as well as on family. He'd ask 'what can I do?' And it was never an idle statement," she said.
Ken Hutchinson was a lifetime member and past president of the Alberta Association of Architects and was inducted into the Royal Architectural Institute of Canada in 2010. The Ken and Janny Hutchinson Scholarship in Architecture, introduced in 2013, is an annual $1,500 credit for two Athabasca University architectural students.