Microprocessors are helping to create micro-climates.
That's the methodology behind a vertical micro-climate resort located at Bear Mountain in Langford on Vancouver Island.
Arno Matis Architecture is designing the resort for Ecoasis Developments as an alternative destination for Canadians and other travellers who might otherwise head to the U.S. or other warm destinations during the shoulder season. Langford is a 15- to 20-minute drive to downtown Victoria, and the resort is planned at the location of an already established golf course.
As proposed, the resort community would feature concave towers that take advantage of natural thermal and solar technology to provide a warmer and brighter indoor/outdoor experience while still pushing for sustainability.
"What we've been looking at with this project is that there are new software tools available that allows us to fairly accurately simulate climate conditions around buildings, which we couldn't do before," said Arno Matis Architecture principal Arno Matis.
"The idea is that rather than being purely analytical, we utilize these tools to inform the shape and design of the building."
One of the key design components for the resort, he added, was to analyze how light and reflections interacted and how wind currents affect the structure, which is now possible to do in real time.
"The resort is configured on a podium with a swimming pool and three mid-rises behind it. So the facade of the mid-rise reflects more light and brings a gradient of light to the pool area, while geo-exchange heats the pool itself," Matis said.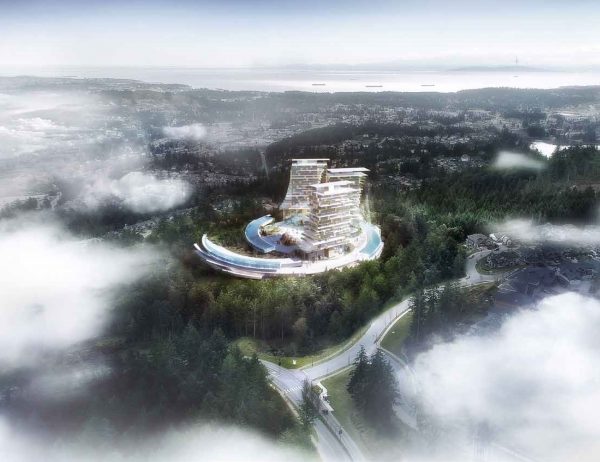 The tower edges are also configured in concave forms to act as a heliostat to amplify light. Reflective surfaces such as obtusely-angled photochromatic mirrors are placed on top of balconies to get more light into individual units, and reflective angled guardrails bounce southern light down to the resort grounds, explained the architect.
Photochromatic glass is also used during the summer months to tint poolside cabanas, while in the colder months glass greenhouse pool cabanas allow guests to sit poolside in lower temperatures.
"The design is I think moving towards a net-zero typology, by utilizing energy sharing and taking advantage of climate conditions that are part of the local context. But it's not just going to net-zero, but also enhancing micro-climates and making them more comfortable," Matis said.
Matis added he's seen other proposals, though as of yet no finished projects, that are using similar approaches to take advantage of the immediate environment to shape the design of buildings.
"We might be one of the early adopters, but you'll probably be seeing more and more of this kind of design approach with newer projects," he said.
"It speaks to a kind of way of thinking of building in a more comprehensive way, rather than a box or container for space. By shaping and adjusting spaces and allowing light in certain ways, buildings can be more comfortable and enhance our way of life."
He noted these innovations are the result of a combination of technologies that are currently available to improve climate conditions.
"It's really an evolution of where architecture and design is heading, in that we have predictive models that let us simulate climate conditions. We can see how by changing design parameters we can be much more predictive on the climate around the building itself and how the building performs," Matis said.
"Sometimes it's not the big moves, but a series of small moves that enhance a project."