An athlete and architect is taking on his next challenge, and it's his smallest yet.
Ben Hayward divides his time between Olympic-level kayaking and architecture. It was his nomadic training regimen and high hotel and travel bills while in Europe that made him build his first tiny home, a camper he termed the "Hobbit Van."
"I built a tiny house in 2014, a camper van that's 72-square-feet in order to support my athletic career. I wanted to see if I could live in it and use what I learned with architecture," Hayward said.
Hayward graduated from Carleton University's Bachelor of Architectural Studies program in 2017 and his second tiny home project is a more ambitious 180-square-foot structure that balances smart use of space with cutting edge architectural practice.
The project began when his mother, who currently lives in Edmonton, voiced her approval of his Hobbit Van project.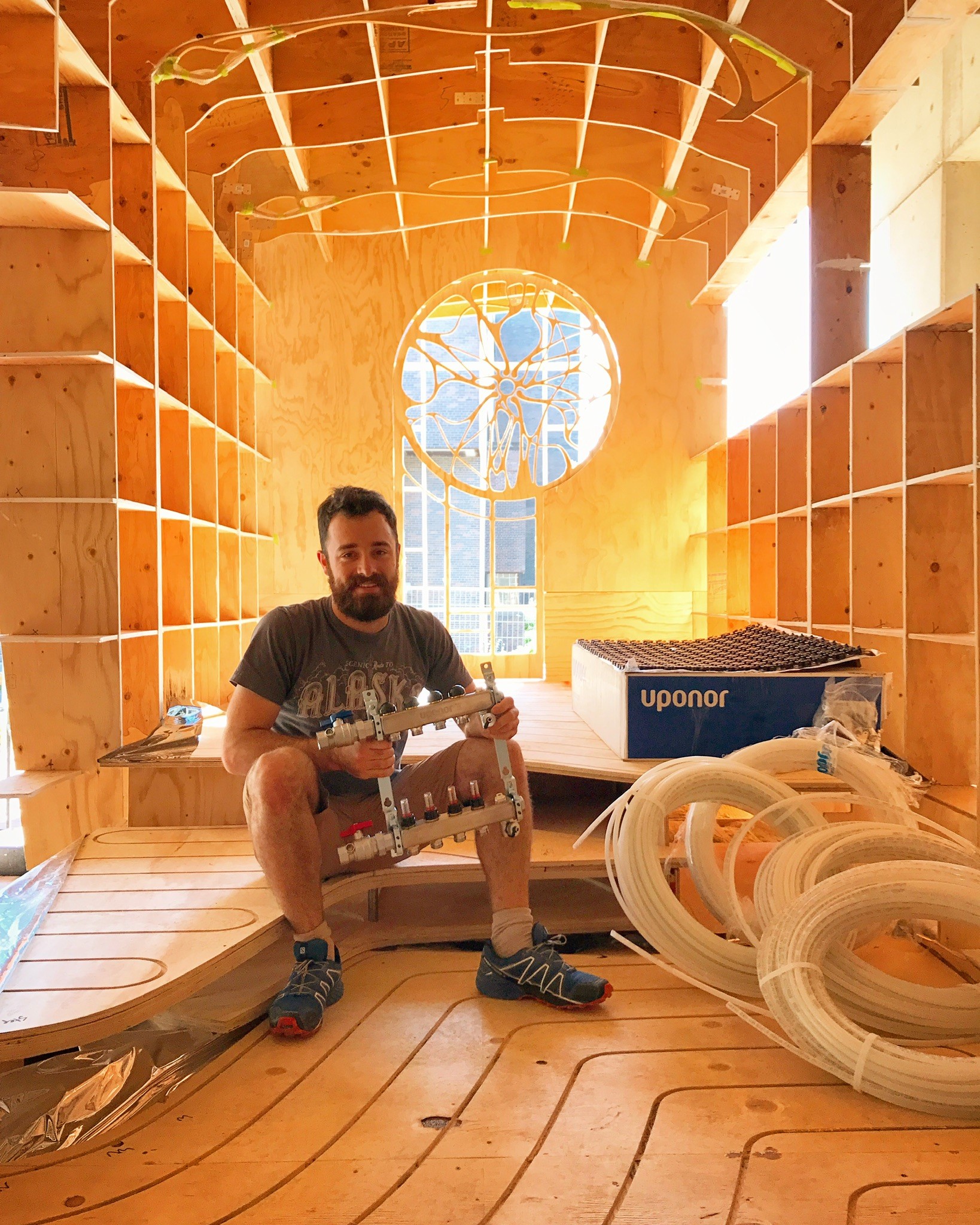 "She had just entered into a 35-year mortgage, and she wanted to renovate the garage to live in and rent out the house itself. But a tiny house is more flexible and you can take it with you if you decide to move," he said.
Though it's a small structure, it's built to withstand harsh prairie winter conditions.
"It's built to Passive House standards and heated through photovoltaics. I wanted to explore if you could get the thing to heat itself through Edmonton's winter," he said.
A radiant system runs through the floors and walls, he said, and every surface is utilized for radiant heating which goes back to a water tank equipped with a photovoltaic array.
"Electricity for the heater is generated from the sun and then turned directly into heat. It's less efficient than other photovoltaic systems but much cheaper, and you can buy all the components at Home Depot and install it yourself. At a certain point, it's a no-brainer in an economic sense," Hayward said.
He added he tried to make the house as economically sound as possible and ensure as much material used as possible is reusable and recyclable.
When planning the layout of the home, Hayward said, "everything had to be double or triple function."
"The kitchen is full sized, and appliances are at waist height, so it makes the space blend together rather than feeling segmented," he said.
"The bathroom is the only interior partition of the house, and when you close the door it acts as a shower curtain."
To further maximize living space, the bed descends from the roof on an elevator system and retracts when not in use.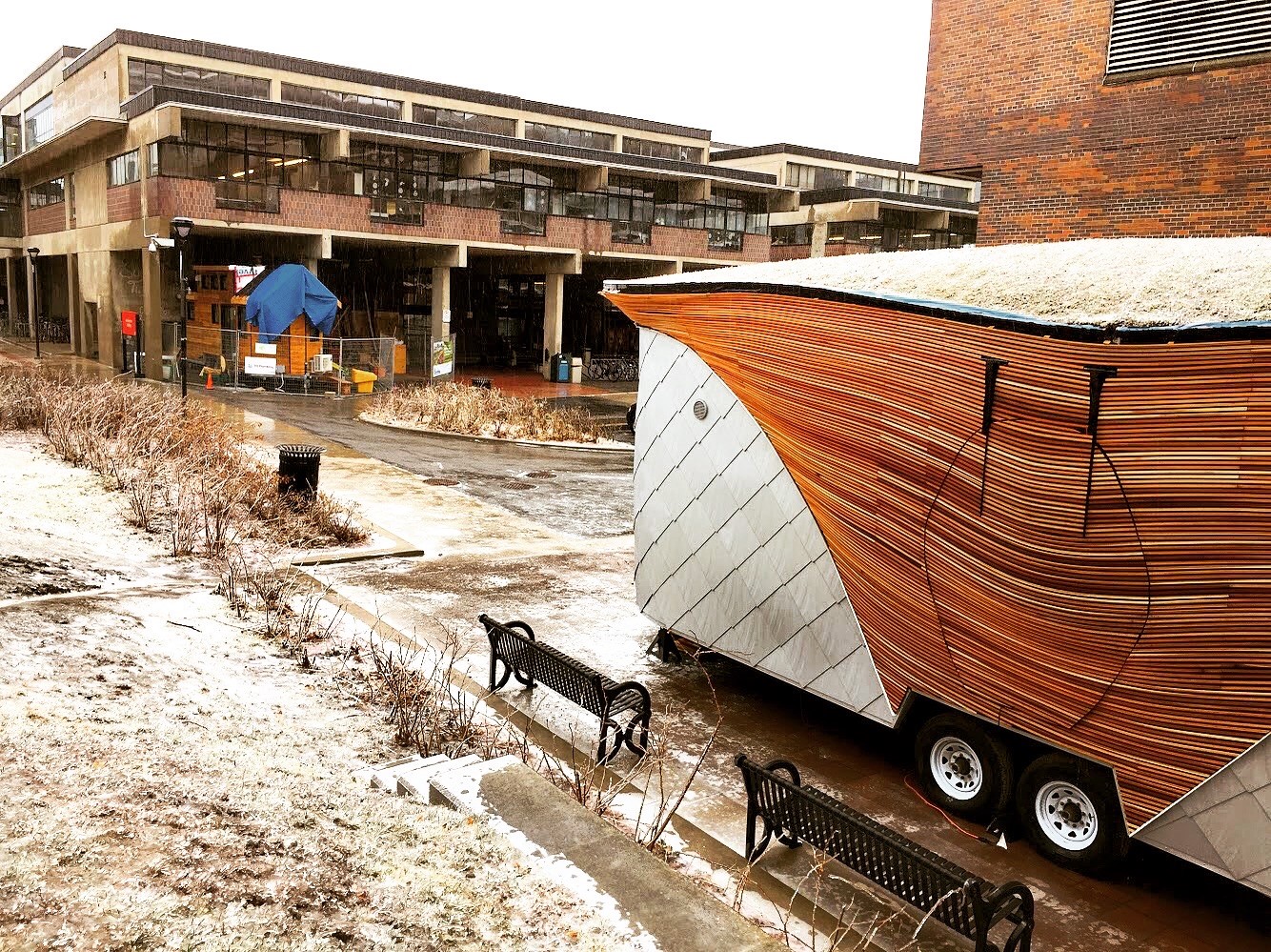 "In the tiny house space right now, 95 per cent of the houses involve a loft bed because it's a space efficient, locked bed scenario. But that involves going up and down a ladder which is fine for an RV or an Airbnb, but for a permanent living scenario it gets annoying," he said.
The project's design is Hayward's final fourth-year project, but he realized actually building the structure has become much more personal.
"A professor helped with me building the house on a university site, and turn it into a master's degree," he said, adding he is writing three papers about the project.
The dominant attitude in North America, he said, is that more square feet means a better quality of life.
But people in Europe and Asia comfortably live in much smaller spaces, he said, and "people here are living with much more space than you can use."
"The tiny house project was an experiment to see if I could get enough people to walk in the door and say, 'I could live here' as opposed to 'I could change my life to live here,'" Hayward said.
The tiny house isn't quite complete, Hayward said, but his athletic career tends to sidetrack his architectural work.
"It was supposed to be complete a while ago, but I tend to go in two-year cycles. I go to university for two years, and then spend the next two training for the Olympics," Hayward said.