Shipping container construction is starting to sprout in Alberta thanks to 3Leafs, a young company eager innovate the industry.
Som Sourachit, the lead designer and co-founder of 3Leafs, had already been working in the homebuilding industry for more than a decade when she got the idea about four years ago to build with the thousands of shipping containers globally that sit unused.
She and her colleagues put together a team of engineers, building science experts and architects to not just build container homes, but to push the medium's performance and design to the limit.
But being one of the first in Alberta to build this way has been a challenge.
"All the major banks did not to know even where to get a mortgage for our clients," said Sourachit. "So, we had to go to insurers. Canada Mortgage and Housing Corporation the was first group to accept our type of build. Then we had to speak to all the major banks."
The next major hurdle was the City of Edmonton.
"Four years ago, we had to educate the city about container homes and still do even now," Sourachit said. "Now the city is wide-eyed and has realized it needs a shipping container policy."
3Leafs is currently meeting with the city to be its "guinea pig" case to create a shipping container policy.
"We are meeting with the city…to go over all the scientific evidence of viability," she said. "We are going to be the pioneers."
The team currently has seven active projects in Edmonton and Calgary and they expect that to increase in the coming months. The clients work with 3Leafs to customize their project. Once the purchase agreement is signed and the drawings are ready, city permitting takes about six to 12 weeks. After that, it takes approximately 60 to 90 days for the home to be prefabricated at 3Leafs' facility and then shipped to be attached to the foundation.
Yolande Mailloux-Hall, the company's architectural technologist, explained an immense amount of thought and technology goes into the homes. Since 3Leafs' homes require little energy and have the ability to be hooked up to sustainable energy sources like solar panels, they are Net Zero ready. A big part of this is the recycled containers' air-tightness.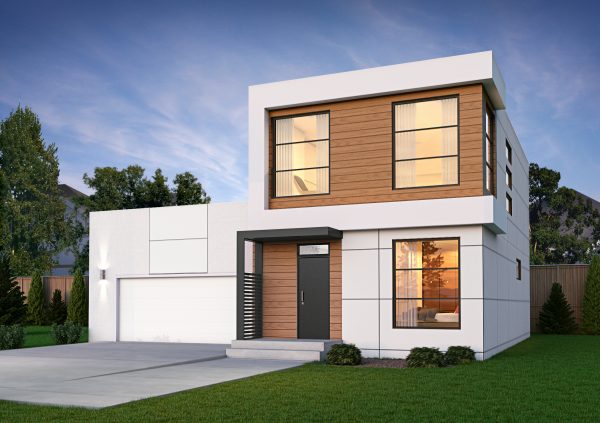 "The building envelope is quite air tight before we even cut them up," she said. "They have found containers at the bottom of the ocean with their contents still dry."
And since many of their projects have been in Alberta, 3Leafs Homes are weather proofed with a proprietary insulating process it says is excellent for extreme climates. They have the ability to increase the insulation in any 3Leafs home to R100 for use in extremely cold northern areas.
"There are a massive amount of these shipping containers sitting around doing nothing," said Mailloux-Hall. "They speed up the construction time so much. We use metal framing and steel studs and just very little wood. You don't have to worry about shrinking or settlement. They just don't have those kinds of problems."
The company hand picks its containers with its supplier and has engineers inspect them. And the modular nature of the builds allows them to be easily added to and customized in the future.
To maintain Net Zero readiness, the homes don't come ready for gas and instead use a heat pump system that uses the air outside to warm the home. The homes also have heat recovery technology in the plumbing and ducts.
Stephen Ezekwem, chief technology officer and co-founder, explained 3Leafs' goal isn't to just make novelty container homes, but to make cutting edge projects that compete with mainstream homebuilders globally.
"For us it's not a boutique quirky shipping container home," said Ezekwem. "3Leafs is a movement and it's about evolving how the construction industry operates."
Ezekwem pointed to the car industry and how the past few decades have gone from relatively basic machines to having the technology to drive themselves, prevent accidents and start without a physical key turning.
"What we are striving to do is cause the industry to evolve and catch up," he said.
He explained the company is currently in a growth stage, expanding at a predetermined rate. But in the future 3Leafs plans to expand beyond homebuilding and offer buildings of any kind.
Mailloux-Hall said the team is also currently reviewing high-tech building materials to include in its structures and she expects to be able to offer them to clients sometime next year.
"We want to be on the forefront of innovation," she said.