Public art installations in Toronto, Vancouver and Edmonton have been recognized with CODAawards, honouring outstanding projects that integrate commissioned art into interior, architectural and public spaces.
The eighth annual international Collaboration of Design + Art Awards (CODAawards) are handed out by CODAworx. The 2021 winners were announced recently in 10 categories.
The Canadian winners included Sea Change in North Vancouver, submitted by Jill Anholt Studio, which won in the transportation category and YU Seafood at Yorkdale Mall in Toronto, submitted by DIALOGUE 38, which was given one of two awards in the People's Choice category. In the institutional category, the winner was Agent Crystalline in Edmonton, submitted by Marc Fornes/THEVERYMANY.
YU Seafood
Dialogue 38 Inc. designed the interior of YU Seafood's newest location at Yorkdale Mall with over 10,000 square feet of dining space over two floors.
To appeal to the cultural diversity of the location, the design elements reflect a marriage of traditional and modern esthetics, indicates Dialogue 38's submission.
Designers Bennett Lo and Sonia Kim took inspiration from the restaurant's first location in Richmond Hill which the firm also designed.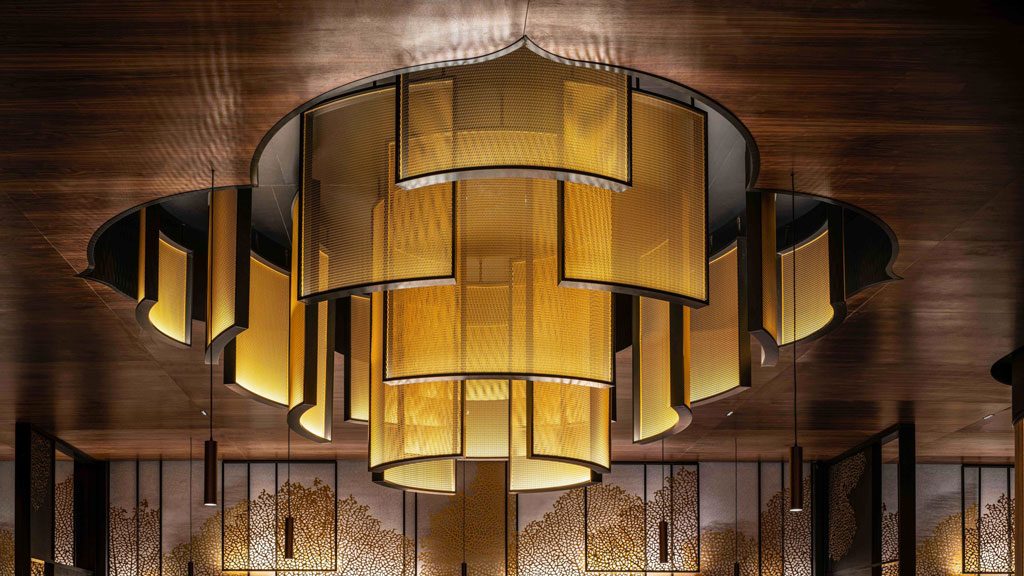 "When we did the first restaurant the space was a little more bright and here it was much more dramatic," Lo explained. "We wanted to figure out how can we have some inspiration from the first location we did, which was quite successful and well-received, but also give it a twist that gives the second location its own identity."
Some of the design elements include a school of fish fabricated from laser cut steel and finished with gold leaf, wood, natural stone and marble. The design also incorporated elements to pay homage to the original location and its unique live seafood tanks and coral reef sculpture by incorporating a 20-by-20-foot coral leaf and lotus shaped chandelier.
"At this location (Yorkdale) we really chopped it up into multiple pieces and integrated it with really dramatic lighting and it becomes this collage of wall art," said Lo.
The lighting was designed to create a calm atmosphere that highlights the food on every table, Lo added.
"Each table has the lighting focused in the middle of the table so when the food arrives you can see it clearly," said Lo. "Being able to see the seafood is very important in Chinese dining culture."
Sea Change
The team at Jill Anholt Studio won for their interactive, light-based artwork in a bus exchange transit tunnel in North Vancouver. The team worked with Arup to provide the lighting design and metal fabricator/installer Richard Thacker Works.
The artwork transformed a 34-year-old transit tunnel, which connects to the city of North Vancouver's Sea Bus Terminal. A pedestrian and cyclist trail travels directly through the outer edge of the underpass.
The firm was selected to design the project through a competition run by the City of North Vancouver. Inspiration for the artwork came while the team was doing research and uncovered a historic map that showed the original water's edge of North Vancouver from a hundred years ago running right along the project site.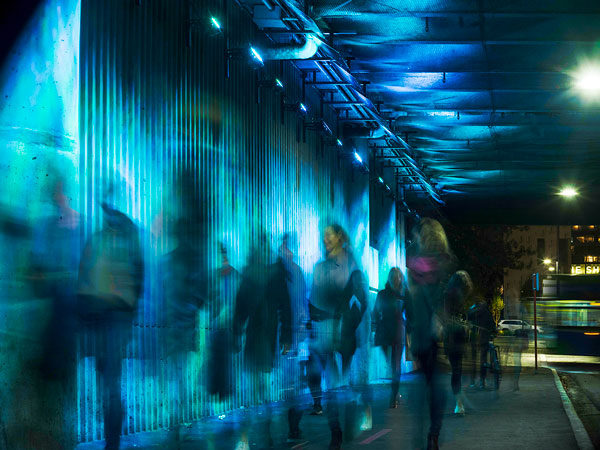 "It's a dark, unattractive tunnel, with concrete. Not much light and not much colour," explained Jill Anholt. "I thought 'wouldn't it be interesting to try to create the feeling of actually being immersed in water referencing the tideline and the relationship to the waterfront but creating something that was very experiential for people in the tunnel.'
"I started thinking about how water and light interact with each other and light bounces and refracts and disperses when it hits water."
The watery effect is created using a series of LED lights that reflect light patterns off textured mirror-polished stainless-steel panels typically used for cladding, located at specific angles to create textures on the wall and ground surfaces of the tunnel.
"When we started shining light on that we got this amazing, watery, brush stroke appearance that we were really excited about," said Anholt. "Then it was a whole series of mockups and testing to get the right lights at the right angles."
Instead of the light being directly on the surface, the light bounces off the mirror and is directed back onto the surface, added Anholt.
"We added an interactive component with motion sensors at either ends of the tunnel. When there is nobody occupying the tunnel there's a very subtle blue and green on the wall but if someone enters the tunnel their movement is traced along the tunnel almost as if they are sending a ripple through the water."
The project took two-and-a-half-years to complete and there were a few challenges along the way.
"Some of it was because they were doing some renovations to the tunnel," said Anholt. "It took us nearly eight months to get a power source for our lights. There weren't really great drawings of what was existing there and then there were all these obstacles we had to work around: electrical, conduits and boxes."
The artwork is a partnership between the City of North Vancouver Public Art Program and Polygon Homes.
"That whole area close to the tunnel is under a huge renaissance, new art galleries, restaurants and cafes," Anholt said. "It's a really exciting area that is being completely transformed. This was kind of part of envisioning that entire area."
Agent Crystalline
According to an overview description, Agent Crystalline is a "streaking beacon" that is perched in front of the northwest campus building of the Edmonton Police Service centre in Edmonton.
"Dynamic vectors join in a network of arches made out of ultra-thin aluminum forming a nine-metre-high physical gate at the entrance to the campus," it reads. "Seemingly waiting for the sound of a starting pistol, Agent Crystalline's three-point stance strikes one as ready to take off in any direction."
Follow the author on Twitter @DCN_Angela.