A new TV series features stories about the toughest machines and biggest engineering projects from around the globe and the "hard hat heroes" who make them happen.
"The show is Impossible Repairs and if you take it literally it sounds like a show about things that you just can't fix…but it's actually a mission statement about overcoming challenges in the face of great odds, believing in yourself and your team and making it happen," said Mike Davidson, the series host, producer and director. "The machines don't make the impossible happen it's the grit and determination of the crews that get the job done."
The six-part series premiered in September on the Smithsonian Channel in Canada and is also available on Amazon Prime Video and Apple TV+. Episodes include Heli-Logging, The Potash Express, Deep Sea Fish Delivery, Euro Train Heroes, Panama Canal Railway and Big City Tunnel Boring.
"The episodes are all about survival in the mechanical world, capturing how people deal with adversity as they wrestle extreme weather, unpredictable machines and seemingly unsolvable technical problems," said Davidson. "It's a show as much about the people behind the scenes as it is about the machines themselves."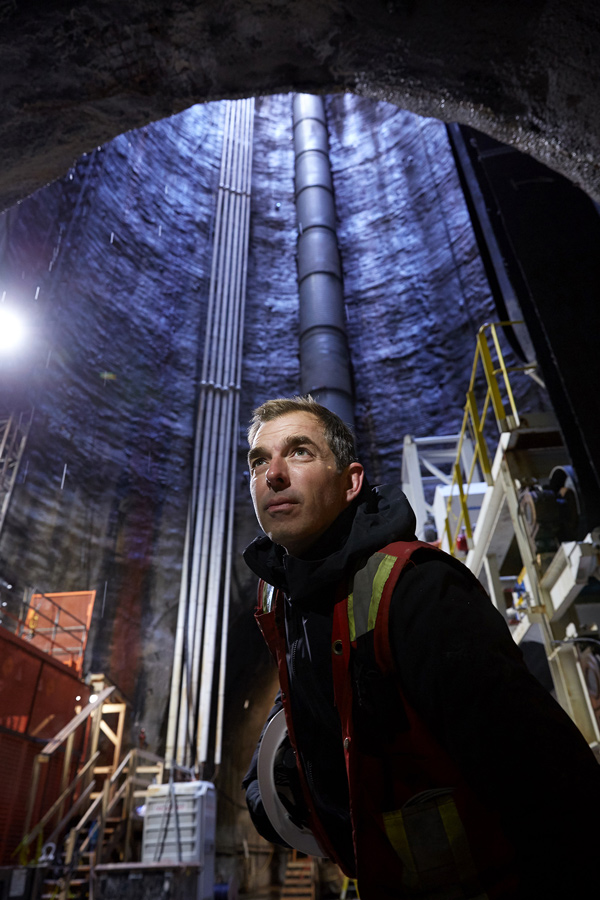 As the host, Davidson takes viewers on an adventure on land, sea and in the air.
"One of the best things about getting to host a show like this is you get shoulder to shoulder with all these guys and you develop a relationship with them," he added. "I'm not just a host. I'm a guy that wants to be in the mix and tell the story and contribute if I can, get my hands dirty."
One of his favourite episodes was Big City Tunnel Boring, which was filmed in his hometown of Toronto. The episode, which will air Oct. 24, is about the Ashbridges Bay Treatment Plant Outfall, a multimillion-dollar tunnel boring project that involves the design and construction of a tunnel which runs deep under Lake Ontario and will transport treated water and disperse it back into the lake two miles offshore, explained Davidson.
In the episode Davidson goes below the surface to see how the mammoth tunnel boring machine cuts through rock beneath the lakebed.
"The episode is really about the assembly of an almost $20 million dollar tunnel boring machine," Davidson explained. "There's tons of equipment going down an almost 300-foot-deep shaft.
"They had a few challenges along the way. It is really the episode that shows the grit and determination of a crew trying to overcome something in a tough environment."
In terms of the engineering information and specs for the project, the outfall is designed to convey up to 3,923 megalitres per day at its peak design flow.
A 16 metre diameter shaft about 85 metres deep will direct treated effluent from the treatment plant into the tunnel and a 3,500-metre-long-by-seven-metre-diameter tunnel will be bored through bedrock. The final tunnel lining will consist of approximately 13,600 precast concrete tunnel lining segments installed as 2,300 rings. Fifty 1,000 millimetre diameter stainless steel riser pipes will extend 50 metres high from the tunnel crown up through the lakebed with FRP ports to disperse treated effluent into Lake Ontario.
The team started mapping out episodes in February 2020 but the pandemic delayed their plans to film in different countries around the world.
"It wasn't until July of 2020 that we really got back out filming again and our first episode was in Canada, out in B.C., which was our premier episode on the Erickson air crane helicopter," said Davidson. "Then we filmed off and on throughout the rest of the year, still in the midst of a global pandemic. It was a surreal experience to travel internationally, getting to these places in the midst of all that, but we did it. The show is called Impossible Repairs but early on we were saying we had to do the impossible to get around the world to make a show. It was a huge endeavour."
One of the most challenging parts was it was physically demanding.
"It can be tough on you physically and mentally sometimes. Day after day we're out there, we are shooting episodes, no matter how you feel, no matter how tired, you might get these are extremely long days and these people that you are filming with are used to these environments," said Davidson. "I have done a lot of different things in my career, I have a stomach for it to a certain extent, but it kicks your butt and my crew as well."
Impossible Repairs is produced by Attraction Images Inc. in Association with the Smithsonian Channel, Blue Ant Media and Beyond Distribution.
The team is currently exploring innovative machines to feature for season two.
Follow the author on Twitter @DCN_Angela.