A four-storey, $25 million modular housing project in Sooke, B.C. was forecast for April occupancy, but the discovery of an archeological site is causing at least a six-month delay and is adding hundreds of thousands of dollars in costs.
"It's a big deal," says Alex McCumber, project architect with dHKarchitects in Victoria.
McCumber, an AIBC architect, has been working on the 75-unit affordable housing project since the winter of 2020. 
In January, a shell midden was found on the site when an excavator was doing work related to the storm sewers and lift station.
"It's an undocumented site of archeological significance," says McCumber.
Digging immediately stopped and the local T'Sou-ke Nation along with archeological consultants were notified. There has been no work in the area since the January unearthing.
Because the site was not previously known, it now has to be formally documented.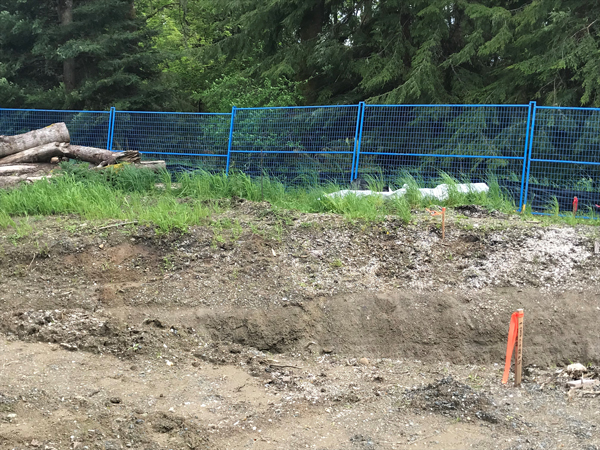 In B.C., archeological sites on public and private land are protected under the Heritage Conservation Act, whether they are known or not.
Once found, they must not be altered until a permit is approved.
The owner, BC Housing, is responsible for the archeological impact assessment, which will determine if the site has heritage value and if there are impacts related to the site. It takes six to seven months to prepare the report, McCumber says.
The site is about 20 square metres. There was roughly half a metre of dirt atop the midden, which is mostly shells.
Shells were used to assist in water drainage or were spread as a mat for a campsite, McCumber explains. Some midden sites also served as would-be dumps. The site study should determine if cultural artifacts are found among the shells.
Fortunately, the midden was found on the perimeter of the site and another bonus is that the sewage and civil systems can be relocated.
"But there's going to be huge costs," McCumber says.
Initial estimates are roughly $200,000 at a minimum.
Building and development permits have to be amended and reapplied for to relocate the new work and new site plans for architectural, civil and landscaping design are needed. 
Occupancy that was supposed to occur in April won't happen until the fall.
In B.C. alone, there are more than 50,000 recorded archeological sites, with roughly 2,000 added each year. 
McCumber says such discoveries happen frequently on projects, but publicity is rare. With a large black market for artifacts, keeping revelations silent helps to preserve the sites' contents.
"The information is not in the public domain," he says.
McCumber has encountered places where middens are numerous.
"It took four tries to find a suitable site," he says of work he did in Vancouver's Stanley Park. "Depending where it is, it can have very significant impacts on projects."
Considering how expensive and disruptive it is when an archeological site is discovered, preventing latent discoveries remains challenging.
Geotech engineers use radar to carry out site imaging or do soil samples, yet they can be right beside a site and close to a find but miss it, McCumber says.
"You find them all over," he says, noting along Vancouver Island's Island Highway, travelling north to Campbell River, numerous shell middens are visible.
Throughout B.C., such archeological hotspots include Rock art, like petroglyphs; surface features such as rock cairns, fish traps or clam gardens; stone, bone, antler, wood or shell artifacts; and buried cultural or human remains.
The implications of the Heritage Conservation Act plays a notable role in B.C. construction, from single-family homes to megaprojects. A year ago, expansion of a Hornby Island pub and new condos was delayed after Indigenous remains were found.
And the rebuilding of Lytton after the 2021 fire is being hampered by archeological work, including soil sifting. Lytton is located on a historic Nlaka'pamux Nation site.
In 2020, an 11-year archeological inventory was completed at the Site C site, the largest study ever completed in B.C. Roughly 8,500 hectares were assessed, resulting in a fivefold increase in the number of identified sites with many thousands of artifacts being collected.