OTTAWA — As severe weather events such as tornadoes and derechos occur more often, researchers are calling for new provincial building code measures to better protect homes.
Researchers with Western University's Northern Tornadoes Project say hurricane ties cost around $200 to install per household and should be mandatory in provincial building codes across the country.
Currently, no provinces or territories require hurricane ties — metal fasteners used in construction to help secure roofs — or similar hardware in building regulations.
"We think that if (hurricane ties) were implemented it would protect homes from losing their roofs in 95 to 99 per cent of Canadian tornadoes," said Connell Miller, a wind impact researcher with the project.
On July 13, two tornadoes swept through Ottawa's south end, damaging more than 100 homes in Barrhaven neighbourhoods.
On Thursday (Aug. 3) evening another tornado touched down in Metcalfe, 30 kilometres southeast of Ottawa, during a severe thunderstorm.
Much of the damage from these storms was to roofs, which researchers suggest could be easily prevented with building regulations that account for weather disasters.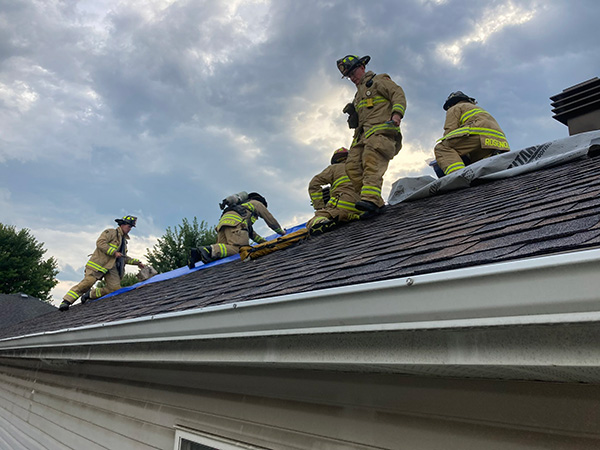 "We're just seeing these really, really massive storms with really big footprints on them — not just tornadoes — and so we really believe that for a very little cost we can make a home more designed against extreme weather," said Glenn McGillivray, managing director of the Institute for Catastrophic Loss Reduction.
He said protective building measures such as thick sheathing, longer, closely spaced fasteners for roofs and hurricane ties or truss screws would prevent damage to homes in storms and tornadoes designated up to EF-2, or around 220 km/h in wind speed.
McGillivray, who has over 25 years of experience as a wind and building code expert, said Canada has seen a large increase in storm losses in recent years.
The Tornadoes Project recorded 117 tornadoes in each of 2021 and 2022, the highest totals recorded in Canada.
In those years, a total of 58 tornadoes were rated as EF-2, which is considered strong, but none were measured at a higher intensity.
The project conducted 447 severe weather investigations last year, including a derecho that took a 1,000-kilometre path through Quebec and Ontario's most populated regions, killing around a dozen people and causing more than $1 billion in insured losses.
Previously natural disasters would come months apart, but they are now overlapping events that strain resources, he said.
McGillivray said the unprecedented level of storm-induced damage to homes is a devastating blow amid a national housing crisis.
"Every year hundreds and sometimes thousands of homes are being taken off-line due to storms. We can't afford that in an era where there's already a housing shortage," McGillivray said.
"So, if we can prevent homes from being taken off-line from storms either permanently or temporarily, we're going to be ahead of the game."
However, McGillivray said, many developers are opposed to the idea of changes to the building code.
This is partly due to the added cost, but also because builders would have to train labourers on updated protocols and go "outside the norm of how homes have been built (for) many decades."
Still, some builders, like Doug Tarry Homes, are leading the way in going beyond building code requirements in incorporating hurricane ties or truss screws in their designs.
Company president Doug Tarry said while the cost of hurricane ties is fairly inexpensive, the labour involved in installing these protective components is more burdensome for builders.
As a result, he said, installing hurricane ties or similar elements adds around $1,000 to home development expenses.
He feels the added cost is worth it and pushes the industry to adapt to climate change.
In some cases, homes aren't built to existing standards, said McGillivray, whose institute keeps in touch with the Tornadoes Project.
He said forensic investigations by the project, such as those following tornadoes in Barrie, Ont., in 2021, and in Barrhaven in July, found Ontario Building Code violations.
"Putting (the hurricane tie) question aside, even if the homes were just built to code we would be in a much better place," said McGillivray.
"That's a good starting place; if you can at least just follow the code."
© 2023 The Canadian Press