High energy efficiency standards and prefabrication seem to be a match made in construction project heaven.
The precise nature of a prefabricated build meshes with the energy efficiency objectives and resultant lower costs of ownership of PassivHaus. In that way, both are in sync. That was the over-riding message from the 41 virtual sessions held during Passive House Canada's three-day symposium last month.
Deborah Byrne and Abby Xerri of Quantum PassivHaus listed several commonalities in concise fashion: extensive planning, precise engineering, co-ordination between designers and builders, durable materials and high quality outcomes. In conclusion, projects utilizing prefabrication could easily take the next step towards PassivHaus certification.
Prefabrication is an inclusive term that is used to describe many off-site methodologies, from wood and precast panelized assemblies to full volumetric units delivered for assembly in near-finished condition.
Globally, Canada needs to catch up with countries at similar latitudes, said Gerry McCaughey, CEO of Offsite TEK, pointing out Canada is subject to the same pressures as countries in Europe such as increased energy efficiency requirements and skilled labour shortages. He noted 95 per cent of home construction in Scandinavia and 70 per cent in Scotland are, at least in part, built off-site.
However, utilization of prefabrication goes beyond residential construction to much larger projects. Off-site methodologies for projects of all sizes require the same five definitive steps through to completion: design and engineering, off site manufacturing, delivery to the site, assembly at the site and finishing.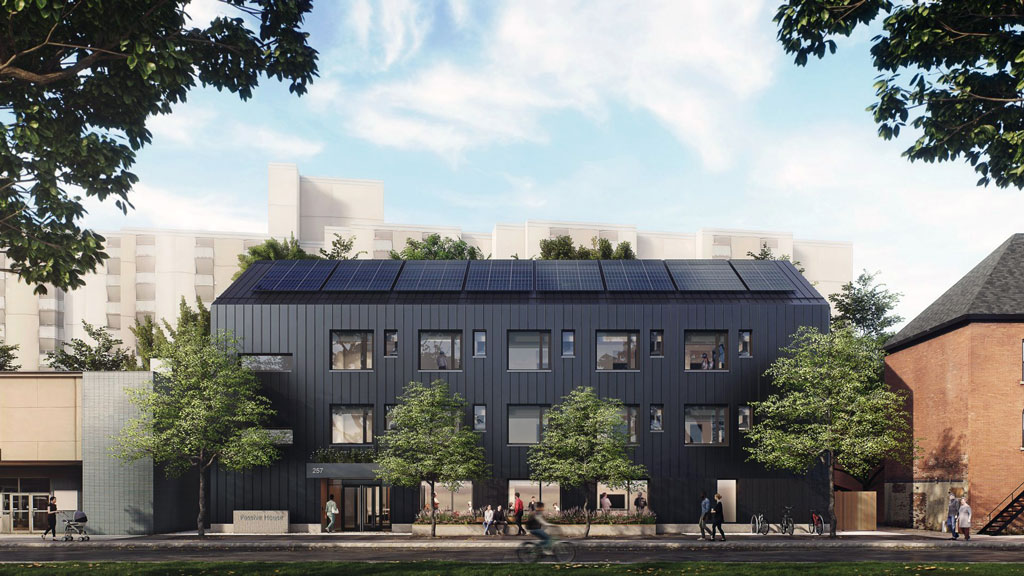 These parallel and complement the path to PassivHaus certification.
From the manufacture of the simplest prefab wall systems to the development of complex volumetric units, prefab manufacturers and energy efficiency experts must engage at the start. The highly digitized rendering and digital twining capabilities of many prefab manufacturers can help develop accurate construction scheduling while assisting PassivHaus designers to predict building performance.
However, this collaborative process can lead to misunderstandings, raising questions regarding longer pre-project lead times, and potentially higher upfront design fees and higher material costs.
In that respect, overcoming resistance to prefabrication and PassivHaus standards follow similar paths. Byrne and Xerri explained while the pre-project design phase may be more intensive, any added costs are quickly recaptured by savings during the remainder of the building process.
"Upfront charges are offset by reducing the costs for redesigns, overdesigns, workarounds and reducing risks to contingencies," they said. "The intention to drive costs down at every step of the build can cause overages during construction and expensive mistakes, resulting in a low-quality build and an increase cost of building ownership."
This is where strength of combining PassivHaus and Prefabrication becomes evident. In a recent interview, Bryne told the Daily Commercial News the factory environment is good for all concerned, and particularly relevant to the PassivHaus message emphasizing energy efficiency and sustainability.
"Successful energy efficient buildings are high quality builds with good envelopes and no leaks. This is easier to achieve in a factory setting, free of the influence of weather, mishaps with other trades, and when using manufacturing quality control measures rather than onsite spot checks of completeness."
However, there can be misunderstandings regarding creative design.
"There is a misconception that prefabrication and Passive House design will result in a square box that can only be accommodated on a simple site in accessible conditions" said Xerri and Byrne.
Yet while prefab makes construction simpler, they are quick to point out that simple doesn't mean boring.
"Yes, there are boundaries, but there are no limitations."
Raymond Chow of qh3 Inc, Toronto, acknowledged that engrained construction industry attitudes have resulted in many preconceptions about prefabrication and PassivHaus, but that improved education and understanding will lead to wider acceptance. In fact, the industry needs to address both improved productivity to reduce project costs while concurrently embracing energy efficiency requirements that also require increased precision.
John Bleasby is a Coldwater, Ont.-based freelance writer. Send comments and Climate and Construction column ideas to editor@dailycommercialnews.com.