Delegates attending a recent P3 conference panel focused on Canada's energy future heard the industry has to build clean, green, big and fast for the nation to transform its grid and achieve carbon-reduction goals.
"Doing one-off energy projects with a $200,000 grant here and a half-a-million-dollar grant there just isn't going to make a difference," panellist Hassaan Khan of Johnson Controls International (JCI) said during a presentation titled Start Me Up: Canada's Energy Renaissance.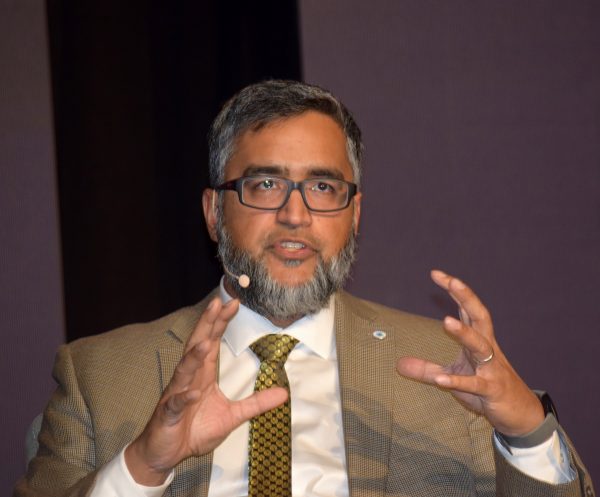 Khan was speaking on the first day of the Canadian Council for Public-Private Partnerships (CCPPP) conference held Nov. 21 and 22 in Toronto.
"Today is the time definitely to act and leverage scale."
With a 2025 net-zero goal in sight, Canada has less than 30 years to shed its reliance on oil and gas and build tens of billions of dollars' worth of hydrogen, solar, hydro, wind and both traditional nuclear and small modular reactor plants. And transmission and battery storage projects will require billions more in investments, the panellists said.
Besides Khan, whose firm will receive $100 million from the Canada Infrastructure Bank (CIB) to serve as a retrofit aggregator, the other panellists were CIB CEO Ehren Cory, P1 Consulting president Louise Panneton and Bruce Power CEO Mike Rencheck.
Khan is JCI's area general manager responsible for sustainable infrastructure in Canada. JCI is working at a whole different scale than it used to, he said.
A decade ago his firm would sign performance contracts to upgrade structures and improve the HVAC, lighting and controls. Now the projects are immense and focusing on leveraging capital, looking more broadly for decarbonization opportunities and revamping whole energy systems.
Energy transfer systems and microgrids are now typical, Khan said.
Make no mistake, Khan said, wholesale change in Canada's energy system is coming fast.
"We're seeing that with this transition, and whether a client is looking at their strategy as electrification or some form of future that is going to involve a fundamental change in the technology that provides the comfort services to their buildings," he said.
Bruce Power is a pioneer in clean energy and with its life-extension project, which will see $13 billion invested to bolster its units three through eight, it is like building three large new nuclear plants, Rencheck said.
In addition, it is forming new partnerships as it expands beyond traditional nuclear.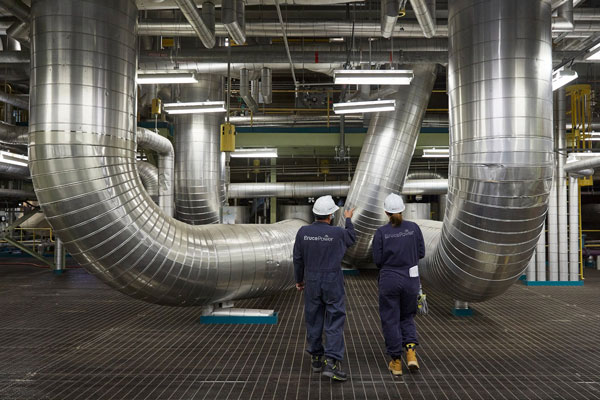 At a time when there is economic uncertainty, Rencheck said, proposing long-term, large-scale investments is one path to keeping a cap on prices not only for his firm but for its many Canadian suppliers. The P3 deal it signed in 2016 enabled firms like Aecon and SNC-Lavalin to plan eight or 10 years into the future and recapitalize their manufacturing facilities.
"Because of that long-term view, that stable energy policy, companies have been able to lock in pricing in the 2017 timeframe, and rebuild their manufacturing infrastructure right here in Canada," said Rencheck.
The CIB has been given $35 billion by the federal government to pursue an ever-expanding mandate, with green energy one of its core requirements, Cory said. Its support for building retrofits is a way to derisk and kickstart that sector, he said, and inject certainty into projects for its partners.
"In our view this is a great time to invest," said Cory. "Uncertainty is a great opportunity for investors to put money into positive payback projects — building retrofits, deployment of electric fleets, that sort of thing, and the paybacks are only going to be better in the future."
Nuclear is a non-emitting baseload source of power that's a huge part of Canada's energy future, Cory said. The CIB's most recent round of discussions with the federal government has confirmed that small modular reactors (SMR) will be a significant solution, including industrial applications, Cory said, pointing to a recent investment in the Darlington SMR project.
Hydrogen fuels will also be an important part of Canada's energy solution, Cory said, with technology that is exportable, making Canada a world leader. He told delegates to watch for a CIB investment in a hydrogen power project in the near future.
Panneton's firm specializes in the procurement of Alternatives Service Delivery (ASD) and P3 solutions, which are similar, she said. She frequently advises public owners on optimizing their infrastructure portfolio through P3s, ASDs, collaborative contracting frameworks and in-house resources.
The benefits of collaboration, whether through ASDs or P3s, she said, is that it allows owners to free up capital to do more projects.
"The capital they would have been spending on fixing their HVAC system, replacing their windows, they're able to actually redeploy to something else," said Panneton.
Follow the author on Twitter @DonWall_DCN.