It was once a desolate, asphalt-paved municipal service yard sandwiched between the Bonaventure Expressway and the Lachine Canal in Montreal.
Soon it will be a self-contained mini-district with over 325 rental units, offices and green space covering nearly 60 per cent of the site. Included will be an urban forest with fruit trees and an aeroponic farm, which together will have the potential to produce over 400,000 kilograms of food.
The project is called Haleco. It was the Montreal winner of the 2019 Reinventing Cities international competition, part of an ambitious initiative undertaken, a global network of nearly 100 mayors of world-leading cities called C40.
The cities within the C40 organization say they represent more than 700 million people and one-quarter of the global economy. Given their collective impact on the world's environment, they believe cities must be leaders in zero carbon reduction.
The Reinventing Cities competition, this year in its third iteration, seeks to recognize unique developments that further the objective of acting as a catalyst for public policy changes in support of decarbonized, sustainable and resilient urban centres.
Back in 2019 when the first competition took place, 13 cities around the world entered, each with their own contest supporting C40's principles. In Montreal alone, 15 teams submitted project concepts.
Montreal's winning team consisted of Quebec construction giant Pomerleau, Ivanhoe Cambridge, Cogir Real Estate, Montreal's ACDF Architecture, Gensler Architecture of Toronto, and the ŒUF (Office of Urban and Functional Eclecticism). The team acquired the 9,000-square-metre property from the city at its market value of $4.76 per square metre and were given four years to complete the project.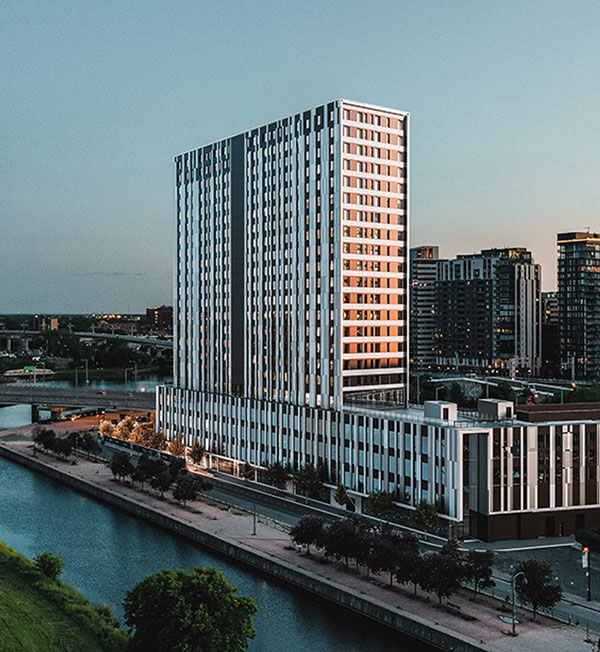 Haleco broke ground in June 2022. Occupancy is expected to begin late summer 2024.e
"More than just a development project, Haleco aims to build a community in synergy with its values ​​of sustainability and well-being," the project website says." The complex will allow its residents to live, work and collaborate inspired by circular economy principles."
The 21-storey main complex and 40 associated community housing units will be fully electric and integrated with renewable energy production systems such as heat pumps.
The project will meet LEED Platinum certification, incorporating both wood components and carbon-reduced concrete. All windows will be triple glazed, important not only for operational energy efficiency but also to reduce ambient noise from the adjacent highway.
As explained to LaPresse by Étienne Gravel, director of sustainable construction at Pomerleau, the urban hydroponic agriculture activity will largely be indoors in a portion of the underground parking lot.
Urban agriculture is still very theoretical, he said. No solution has yet been found to make it commercially viable on a building's above-grade floors. Nevertheless, hydroponics is suitable for this project. Furthermore, underground agriculture is suitable for growing mushrooms, which do not require natural light. 
At the core of the project is the Market Hall, explains C40, a unique public place dedicated to the circular economy. It will include a Fablab, zero waste grocery stores and restaurants, and educational workshops promoting sustainable behaviour.
Haleco is an example of how abandoned and overlooked municipal sites can be reimagined.
Known previously as the De la Commune Service Yard, the site was part of a large Quebec government real estate project in the 1990s that replaced 19th century industrial buildings. In addition to access to the Bonaventure Expressway, the site links to the Montreal bicycle path. Three public transit bus lines run nearby and two Metro stations are less than 1.2 kilometres away.
"Biodiversity and the greening of the city are at the centre of the environmental values ​​of the Haleco project," its website says. "The Haleco development has been imagined under the sign of sustainability. The real estate development will offer a community space like a public market or a bazaar, a place where Montrealers can gather, have fun and raise awareness of sustainable development issues."
John Bleasby is a Coldwater, Ont.-based freelance writer. Send comments and Climate and Construction column ideas to editor@dailycommercialnews.com.