In Alberta, aspiring crane operators are being taught how to operate their machinery with the help of virtual reality (VR) simulators that owe a lot to video game software.
Serious Labs, an Edmonton-based software company, has partnered with Industrial Training International Inc. (ITI), a U.S. company that conducts training and instructional design, to produce VR-based simulators that teach crane operators how to use the equipment without actually having to strap themselves into the machinery itself.
The software can be played on a motion-based platform, where the user sits in an operator chair. With responsive foot pedals, hand controls and a full-motion platform, the simulator recreates the experience of handling a crane, to give the operator the full crane-cab experience.
Alternatively, the software can be used on a mobile or desktop surface.
The technology was designed to fill the gap between in-class training on the one hand and hands-on training on the other.
Crane and other heavy-equipment operators have been training on simulators for decades, but the visuals have traditionally been displayed on screens.
The immersive experience offered by VR technology has some important advantages over old technology, said Jim Colvin, CEO of Serious Labs.
"Virtual reality enables crane operators to practice in a safe work environment," said Colvin. "Plus, it's less expensive than setting up a crane for the sole purpose of doing training. Finally, it's objective, because it tests and measures everything the trainee does."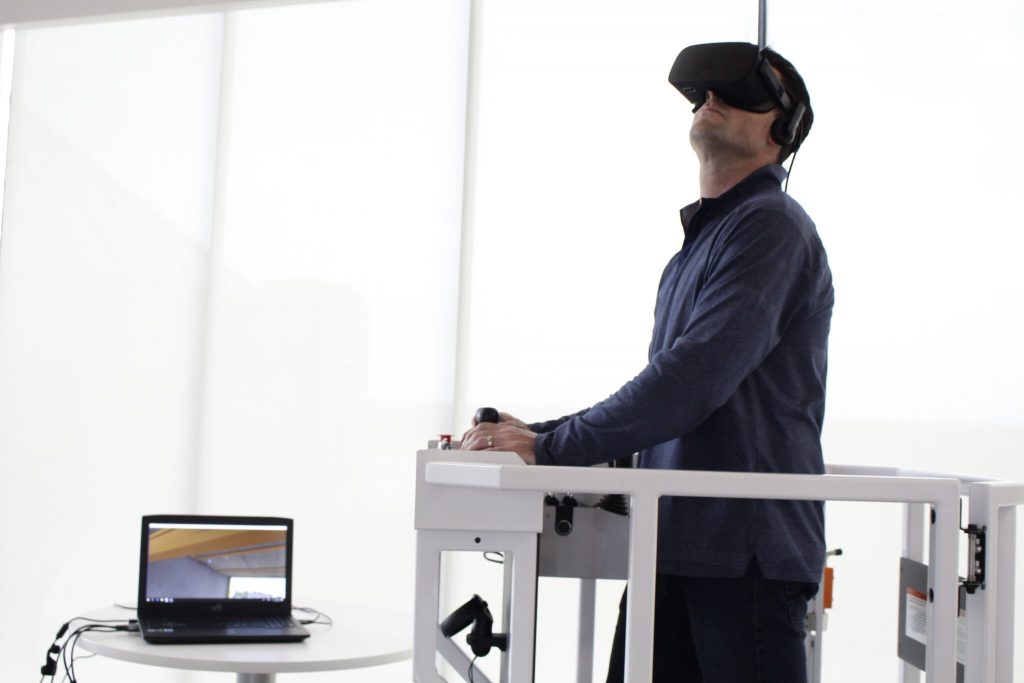 Colvin said VR technology enables Serious Labs to teach complex physics principles by operating heavy equipment in virtual space.
Some people might think Edmonton is an unusual place to be developing such leading-edge software, but those people would be wrong, said Colvin.
"There is a large community of video game developers in Edmonton, so we have access to a great talent pool," he said.
Zack Parnell, president and CEO of ITI, said VR is democratizing crane operators and other industrial equipment training.
In 2016, Parnell approached Serious Labs and asked it to work with ITI to develop a suite of training simulators.
Since then the joint venture partners have completed seven simulation training courses for tower, overhead and mobile crane equipment. They expect to have a total of 10 to 20 by the end of 2020.
"There has always been a need for training crane and heavy-equipment operators," said Parnell. "But now, in virtual reality, we can make the experience 10 times better compared to old-technology training simulators, and at a fraction of the cost."
ITI is using the VR crane simulator at three of its North American heavy equipment training centres, including one in Sherwood Park, near Edmonton.
In B.C., VR-based crane operator training is being used by a number of organizations, including the training school of the International Union of Operating Engineers Local 115 and Bigfoot Training Academy, said Doug Younger, occupational safety officer and member of the Provincial Crane Inspection Team at WorkSafeBC.
"It's hard to put a new operator in a seat because you can't stand behind them as there isn't enough room," said Younger. "Once they're in the seat they're in control, so virtual reality is quite useful and beneficial. They get a feel for the system and when they get in they have some understanding of how it's going to react."
Younger said competency-based training is required before anyone can be certified to operate a crane in B.C.
"BC Crane Safety (BC Association for Crane Safety) is the sole administrator of crane-operator certification in the province," he said.
In addition to training, VR can be used by an operator to make sure it's safe to proceed before making an actual lift, said Fraser Cocks, executive director of BC Crane Safety.
"Depending on the weight and dimensions of the load, and the size and capacity of the crane, some lifts can be quite complex," he said.
The next frontier for the application of VR to industrial training is multi-user virtual reality, said Scott Chatterton, international BIM integration leader with HDR, a multinational design firm. 
"With multi-user virtual reality, you can have two or more people in different locations, even different parts of the world, meet in virtual space and they're all seeing and experiencing the same thing. It's commercially available now, too."