It's touted to be the first heavy-lift drone that can carry more than its own weight.
In early October, FlyingBasket, an Italian company, launched its FB3 drone, a 70-kilogram flying device that can carry up to 100 kilograms.
"It's been seven years in the making," says Miguel Ladron De Cegama, FlyingBasket's business development manager, from his office in Bolzano, Italy. "We've done 3,000 flights and more than 1,000 missions."
With a price tag of $77,000 Euros (roughly $110,000 Canadian dollars), Ladron De Cegama says it's remarkable the FB3 is capable of lifting 40 per cent more than its own mass. Usually, it's reversed, with the cargo weighing about 40 per cent of the drone.
"It's the first to carry 100 kilogams in cities," he says.
Half of the FB3's weight is from the four Li-Ion batteries, which require one hour of charging time; the drone can travel up to 30 metres per second and reach an altitude of over one kilometre. During testing, an altitude of 2,500 metres was reached. Operational temperature is from -10 C to 45 C.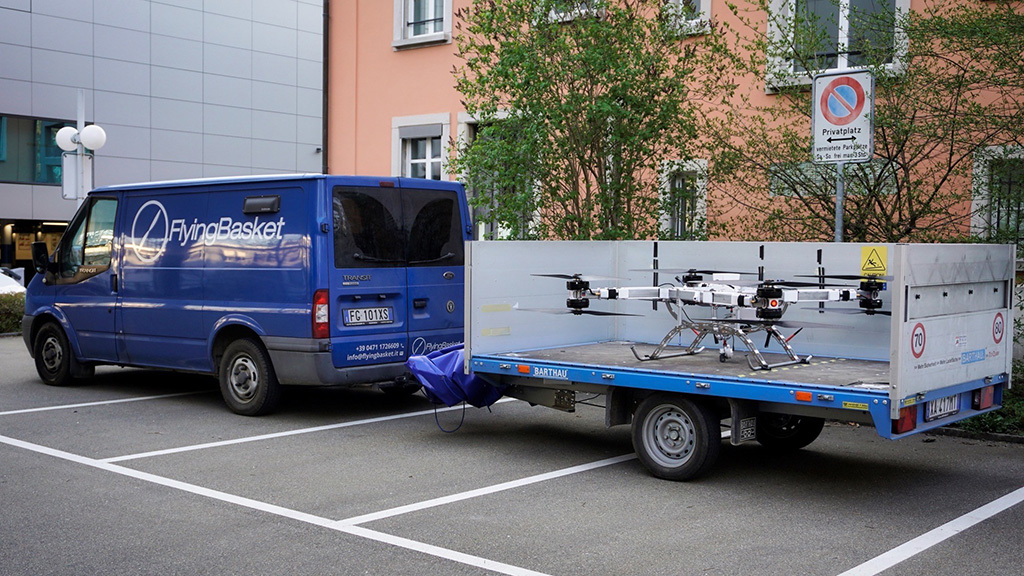 Flight range inversely corresponds to the weight carried.
The FB3 can fly 25 kilometres with a five kilo load, 20 kilometres when carrying 25 kilos, 15 kilometres with a 50 kilo payload, five kilometres with 75 kilos and 2.5 kilometres when 100 kilos are being transported.
The idea for the FB3 took flight after two software engineers noticed the many helicopters transporting telecommunication or wind turbine components in Northern Italy.
"They said, 'Why not pursue that with a drone,'" Ladron De Cegama explains.
During development of FB3, the drone has delivered equipment to wind turbines, brought construction materials to the top of buildings, deposited packages to mountain locations and lifted 6G communication devices for Huawei.
The beauty of the FB3 is that it offers precise delivery, dispatching items to an exact location.
The Huawei job involved the use of a specially-designed box that contained a 6G prototype base station that weighed about 80 kilograms. The box was built to ensure the contents were kept stable, Ladron De Cegama explains.
Currently, the FB3 offers either the in-house designed remote-controlled hook with cargo sling, allowing for loads of up to 100 kilogams or else the 81-centimetre-long, 35-centimetre-wide and 30-centimetre-high cargo box that can carry payloads up to 33 kilograms.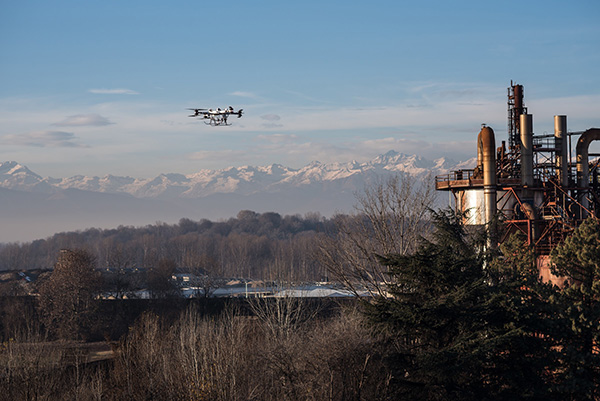 While interest from construction companies has been muted, he says the value of the FB3 in the urban environment should not be overlooked.
It has the ability to reach hard-to-access spots where a crane cannot. And in addition to completing vertical lifts, it can carry out diagonal lifts.
The FB3 can arrive at the worksite already assembled in a trailer or in the box of a pickup truck, ready for lift off.
The CEO of the Vancouver Island Construction Association says the FB3 is quite the interesting piece of technology.
"But whether there's a practical use for it is yet to be determined," Rory Kulmala says.
The 100 kilogram payload is relatively small, but utility work, reaching remote, tough terrain and delivering emergency-type items could all be feasible.
"I love the innovation," Kulmala says. "I like the idea that technology has taken a leap ahead to be productive."
Small drones once used by hobbyists are now picking up large items and appearing at more worksites.
Kulmala says the construction industry is already using drones for monitor/observation work.
Where Kulmala has a concern is around safety related to drones operating in proximity to cranes or in densely populated cities and near workers.
Operators need to be well-trained and maintenance needs to be a priority, he says.
Ladron De Cegama says the made-in-Italy FB3 has been extensively tested. One feature is the flight termination system, which is activated when the drone enters an off-limits red zone.
"It's why we can fly in urban areas," he says.
Another feature is the propulsion system redundancy; the FB3 has eight rotors, four in each system. If one of the two systems fail, the other remains functioning.
As well, the ADS-B receiver provides real-time data on nearby aircraft, which is supposed to mitigate close encounters.
Focussed on civil applications, not war or military applications, FlyingBasket has EASA (European Air Safety Agency) approval.
And while the market for the drones is not yet mature, Ladron De Cegama says FlyingBasket is working on the FB4. Forecast to debut in 2024, its anticipated payload is 200 kilograms.
Britain's BAE Systems has already released its T-600 drone, which is focussed on military work. The T-600 can carry 200 kilograms, travel up to 140 km/h with a range of up to 80 kilometres.