The accompanying table records the 10 largest construction project starts in Canada in November 2020. Also included is the latest trend graph on starts. This looks at 12-month moving totals of the civil and non-residential building categories in Canada.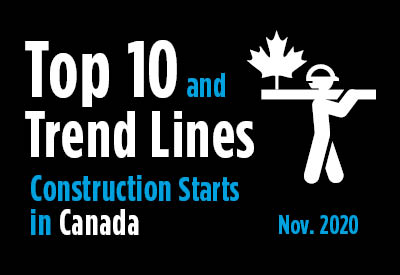 There are several reasons for highlighting upcoming large projects. Such jobs have often received a fair amount of media coverage. Therefore, people in the industry are on the lookout for when job-site work actually gets underway. And, as showcase projects, they highlight geographically where major construction projects are proceeding.
Also, total construction activity is comprised of many small and medium-sized projects and a limited number of large developments. But the largest projects, simply by their nature, can dramatically affect total dollar and square footage volumes. In other words, the timing and size of these projects have an exaggerated influence on market forecasts.
Top 10 construction projects of the month – November 2020
REGION
(East to

West)

TYPE OF
CONSTRUCTION
DESCRIPTION

Sq. Ft.
000s

Dollars
000,000s

Quebec
Montréal
Engineering/Civil
Design-Construction-Funding – Tunnel Louis-Hippolyte-La Fontaine Upgrades
*
$1,142
(2 structures) Autoroute 25
Société Québecoise des Infrastructures
Montréal
Engineering/Civil
Tunnels Ville-Marie and Viger of A-720 (Montreal) Major Repairs
*
$1,000
Autoroute 720
Ministère des Transports du Québec
Chambly
Institutional
École de Chambly Addition
350
$158
(2 structures; 3 storeys) 535 Boul Brassard
Société Québecoise des Infrastructures
Ontario
Orleans
Residential
Cardinal Creek – Mixed-Use Residential Development
2,205
$400
(2 structures; 3 storeys; 1850 units) 1211 Old Montreal Rd
Tamarack Developments Corp
Pickering
Residential
Universal City Condos – Towers 2 and 3
683
$126
(3 structures; 30 storeys; 683 units) 1235 Bayly St
Chestnut Hill Homes
Cobourg
Institutional
New Golden Plough Lodge and Northumberland County Archives and Museum Redevelopment
195
$86
(4 structures, 3 storeys; 180 units) 983 Burnham St
County of Northumberland
Ottawa
Residential
Anand Private Residential Towers
463
$85
(3 structures; 23 storeys, 362 units) 655 Anand Private
Manor Park Management Inc
Alberta
Medicine Hat
Engineering/Civil
Rattlesnake Ridge Wind Project
*
$200
(1 structure)
Berkshire Hathaway Energy Canada (BHE)
Calgary
Institutional
Calgary Complex Continuing Care Facility – Bridgeland Riverside Continuing Care Centre
270
$110
(3 structures; 5 storeys; 200 units) 1165 Centre Ave NE
Alberta Infrastructure
British Columbia
Chetwynd
Engineering/Civil
Enbridge Spruce Ridge Program: Natural Gas Pipeline Loop Project
*
$100
(1 structure)
Enbridge Inc
TOTALS:
4,166
$3,407
*A square footage measure does not apply for alteration and engineering work.
Data source and table: ConstructConnect – CanaData.
Trend lines of construction starts in Canada – November 2020
Moving totals of the latest 12 months*
(ConstructConnect Insight Forecast Figures)


*For example, the November 2020 figure is the sum of the monthly numbers for December 2019 through November 2020.
Data source and chart: ConstructConnect Insight – CanaData.
---
Interactive Visual
---
View this video to see how to use the filters in the Interactive Visual.