Reflecting the depressing impact of COVID-19 on the demand for office space in Canada, the national office vacancy rate rose from 9.3% in the first quarter of 2020 to 12.2% in the fourth quarter. The latest figure of 12.2% is the highest level since 1997. Faced with an unprecedented increase in the proportion of their employees working from home, firms have scaled back physical footprints in all the country's major metro areas. As a result, leasing activity in Canada was down by -29% year over year in 2020, its steepest decline on record.
Second COVID wave isolates more for longer
Across the country, office vacancy rates range from a high of 24% in Saint John, New Brunswick to 6.1% in Vancouver. However, over the past year, the biggest increases have occurred in Calgary (from 20.9% to 25.6%), Edmonton (from 15.1% to 18.6%), Toronto (from 5.6% to 8.8%) and Vancouver (from 3.6% to 6.1%).
As a result of the COVID-induced lockdowns, office-based employment in Canada's eleven largest metro areas dropped by -181,400 jobs between February and April of last year. Since June, despite a steady recovery in 'office-based' employment in Canada's major metro areas, office vacancy rates have trended higher, suggesting that both the fear of a second COVID wave and its eventual arrival late in the third quarter prompted the majority of rehired employees to continue working from home.
The fact that gross office rents have remained essentially unchanged over the past year despite the rise in office vacancy rates suggests that a significant number of firms have not yet decided to permanently shrink their office footprints.
Vaccine will help leasing activity recover in 2021's second half
In the wake of the recent second (and worst-than-the-first) wave of COVID that has swept across the country, triggering extended lockdowns in Quebec and Ontario, we expect office vacancy rates to trend higher during the first half of this year.
Assuming the incidence of COVID is significantly reduced due to the successful inoculation of most at-risk individuals, we expect firms to begin repatriating their office staffs during the second half of this year for two reasons. First, although many of those employed from home indicate they have a better work-life balance, being present in a communal office provides a better opportunity to interact and share ideas with co-workers of all ages. Second, working in an office also enables younger individuals who are just starting out to network and learn about hiring opportunities in other companies.
While several recent surveys of remote workers have found that a significant percentage prefer the flexibility of being able to work from home, employers have a more bottom-line approach to the issue. If they find they can maintain or, even better, improve productivity and reduce overhead by giving their staff the increased flexibility of working from home, they will do so. If not, however, they will likely revert to what worked best before the onset of the pandemic.
As noted in last year's Snapshot # 11 titled, Expect "teleworking" to complement, not replace, the traditional office, "remote work will evolve gradually over the medium term" — the key word being "gradually".
Outlook for office demand in Vancouver, Toronto, Ottawa brighter than elsewhere
Moving into the second half of 2021, lingering concerns about the effectiveness of the recently released vaccines against the new more transmissible mutations of COVID-19 will cause employers to take their time bringing staff back to their offices.
Investment in office construction rebounded in 2020's third quarter after the lockdowns in the second quarter. However, as they have done in the past (see chart), high office vacancy rates are likely to depress new office construction in most major metro areas well into 2022. That said, the combination of lower than national-average vacancy rates and above-average growth of office-based employment should cause new construction in Vancouver, Toronto, and Ottawa to outpace the rest of the country.
John Clinkard has over 35 years' experience as an economist in international, national and regional research and analysis with leading financial institutions and media outlets in Canada.
Office Vacancy Rate vs Investment in Office Buildings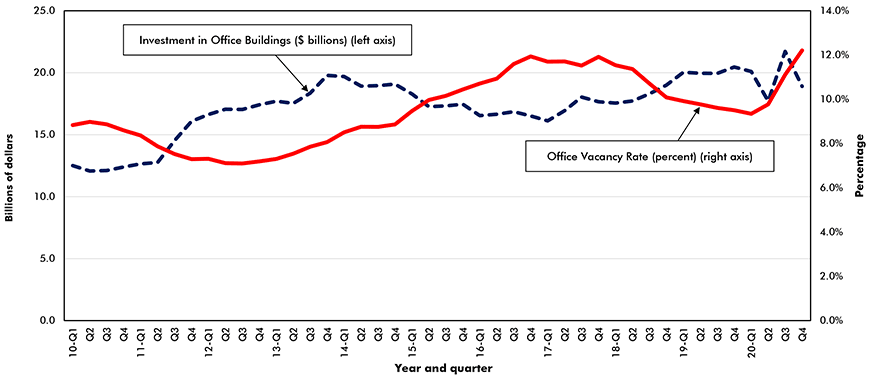 * Note: The quarterly value of investment in office buildings for the fourth quarter of 2020 is based on data for October and November.
Data Sources: Cushman and Wakefield Canada, Statistics Canada.
Chart: ConstructConnect – CanaData.