The accompanying table records the 10 largest construction project starts in Canada in December 2020. Also included is the latest trend graph on starts. This looks at 12-month moving totals of the civil and non-residential building categories in Canada.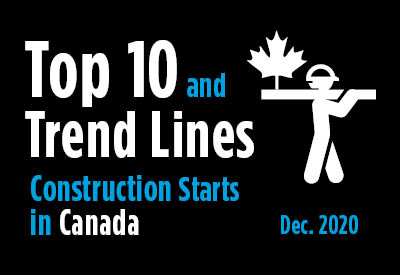 There are several reasons for highlighting upcoming large projects. Such jobs have often received a fair amount of media coverage. Therefore, people in the industry are on the lookout for when job-site work actually gets underway. And, as showcase projects, they highlight geographically where major construction projects are proceeding.
Also, total construction activity is comprised of many small and medium-sized projects and a limited number of large developments. But the largest projects, simply by their nature, can dramatically affect total dollar and square footage volumes. In other words, the timing and size of these projects have an exaggerated influence on market forecasts.
Top 10 construction projects of the month – December 2020
REGION
(East to

West)
TYPE OF
CONSTRUCTION
DESCRIPTION

Sq. Ft.
000s

Dollars
000,000s

Quebec
Saint-Jean-Sur-Richelieu
Institutional
Maisons des Aînés et Maisons Alternatives – Saint-Jean-sur-Richelieu Senior Care Home
165
$86
(2 structures; 3 storeys; 192 units) boulevard Saint-Luc
Société Québecoise des Infrastructures
Gatineau
Institutional
Reconstruction of Mont Bleu High School
*
$37
(1 structure) 389 boulevard de la Cité-des-Jeunes
Centre de Service scolaire des Portages-de-l'Outaouais
Ontario
North York
Residential
Auberge On The Park Residential Towers – Phases One and Two
1,013
$190
(4 structures; 45 storeys; 642 units) 1095 Leslie St
Tridel Group/Rowntree Enterprises Inc
Oakville
Residential
Distrikt Trailside – East and West Buildings
600
$110
(2 structures; 10 storeys; 700 units) 405 Dundas St W
Distrikt Developments
Toronto
Residential
Chateau Condominium – Auberge On The Park – Phase Three
450
$83
(3 structures; 39 storeys; 251 units) 1087 Leslie St
Tridel Group/Rowntree Enterprises Inc
Hamilton
Industrial
Sierra Cold Storage Processing Facility Expansion / Hamilton
163
$80
(1 structure, 2 storeys) 90 Glover Rd
Penta Properties Inc
Richmond Hill
Residential
8888 Yonge Condos
160
$29
(2 structures; 15 storeys, 199 units) 8888 Yonge St
Metroview Developments
Almonte
Institutional
Almonte Country Haven Long Term Care Home Addition and Renovations
35
$20
(2 structures; 2 storeys; 14 units) 333 Country St
Omni Health Care Partners
Manitoba
Springfield
Engineering/Civil
Bridge Replacement over the Red River Floodway (Structure) on PTH 59N
*
$40
(3 structures) Highway 59N
Manitoba Infrastructure
British Columbia
Vancouver
Engineering/Civil
Broadway Subway Project
*
$2,830
Multiple Locations
British Columbia Ministry of Transportation
TOTALS:
2,586
$3,505
*A square footage measure does not apply for alteration and engineering work.
**The Coastal GasLink project for TransCanada PipeLines (now TC Energy), $6.2 billion in B.C., has been added to September 2019 starts.
Data source and table: ConstructConnect – CanaData.
Trend lines of construction starts in Canada – December 2020
Moving totals of the latest 12 months*
(ConstructConnect Insight Forecast Figures)


*For example, the December 2020 figure is the sum of the monthly numbers for January 2020 through December 2020.
Data source and chart: ConstructConnect Insight – CanaData.
---
Interactive Visual
---
View this video to see how to use the filters in the Interactive Visual.