Salt Lake City at Head of U.S. Labor Market Class
As someone often called on to make presentations on the economy, or as a salesperson wishing to sound knowledgeable when speaking with a client, it's always good to know where the best labor markets are among cities.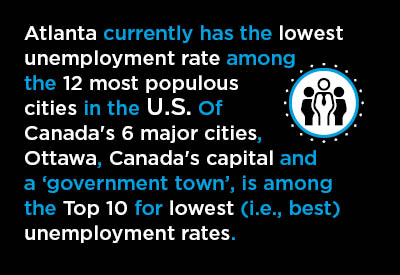 This article is a handy reference piece.
For the 51 largest (by population) metro statistical areas (MSAs) in the U.S. and the 35 census metropolitan areas (CMAs) in Canada, I've ranked them in two ways: (1) by year-over-year jobs creation performances (or rather, with the pandemic on the prowl, by jobs retention performances, smallest decline being most admirable); and (2) by unemployment rates, from lowest (best) to highest (worst).
The Top-33 city rankings for the U.S. appear in Table 1, which makes use of the latest data available from the Bureau of Labor Statistics (BLS), for December 2020.
The full version of Table 1 for all 51 cities in America with populations in excess of one million appears in the website version of this article. That's where you'll see the labor market weakness in Detroit, Las Vegas and New Orleans.
Table 1: Best U.S. City Labor Markets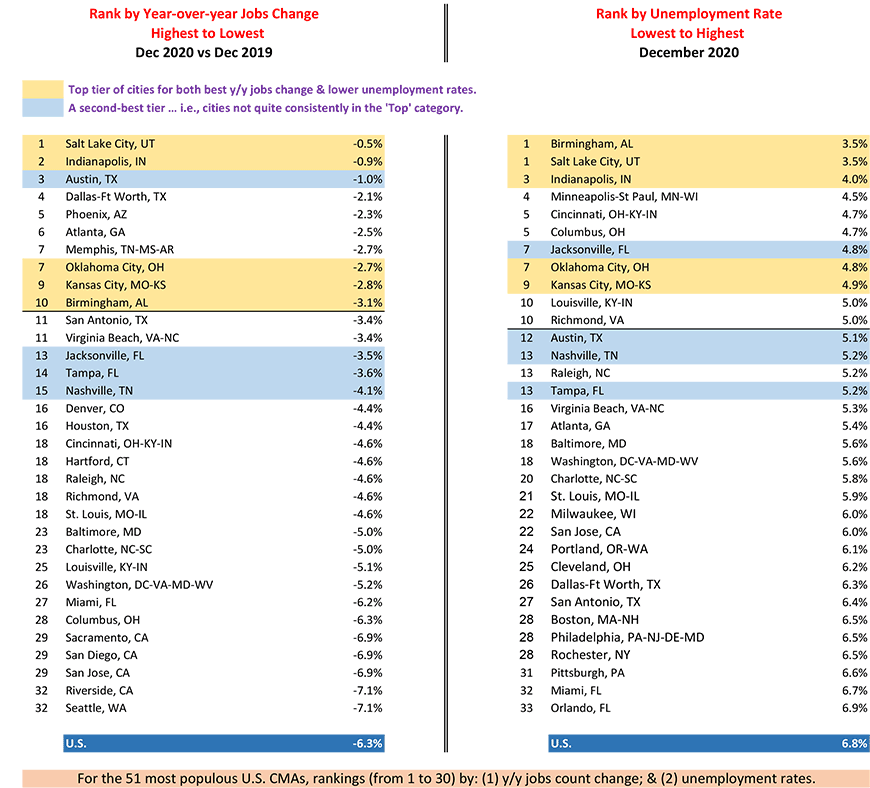 Based on not seasonally adjusted (NSA) data. / Cities are metropolitan statistical areas (MSAs).
When the ranking numbers are the same, the cities are in a tie.
Data source: U.S. Bureau of Labor Statistics (BLS).
Table: ConstructConnect.
Graph 1 shows unemployment rates in the 12 most populous cities in America. Atlanta has the lowest. But even being best among the dozen most highly populated cities in America doesn't save Atlanta from placing a distant 17th overall among all 51 major U.S. cities. 
The largest urban areas in America are being impacted the most severely by coronavirus-related lockdowns.
Notice that Washington, D.C., has the second-lowest unemployment rate in Graph 1.
Graph 1: Unemployment Rates in U.S. 12 Most Populous Cities
December 2020 – Ranked from #1 Lowest (Best) to #12 Highest (Worst)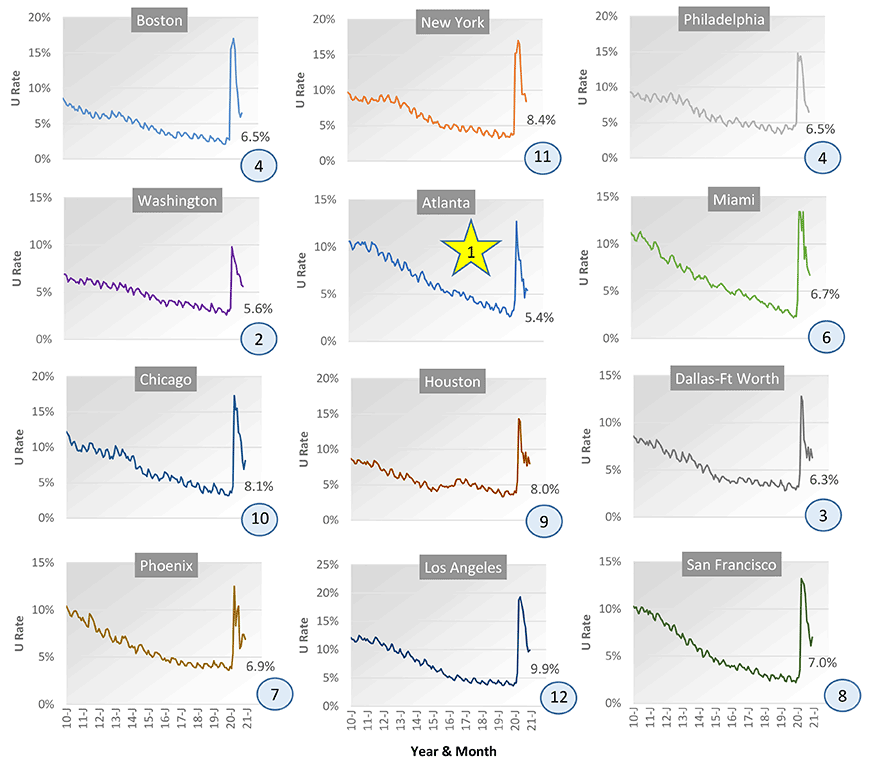 Data source: Bureau of Labor Statistics (BLS).
Charts: ConstructConnect.
Kelowna, B.C., takes the Prize in Canada
Table 2 sets out Canadian city labor markets in January 2021. Canada claims six cities with resident counts in excess of a million each. And as in the U.S., those six cities ‒ Toronto, Montreal, Vancouver, Ottawa-Gatineau, Calgary, Edmonton and Vancouver ‒ are generally appearing lower down in the rankings with respect joblessness.
Ottawa, as the nation's capital and a 'government town', is the one exception. It's among the Top 10 for lowest (i.e., best) unemployment rates.
 It's nice to see that the lovely British Columbia resort city of Kelowna on Lake Okanagan, situated in a balmier weather belt than much of Canada, is doing so well in the 35-city labor market rankings.
Table 2: Labour Markets in 33 Canadian Cities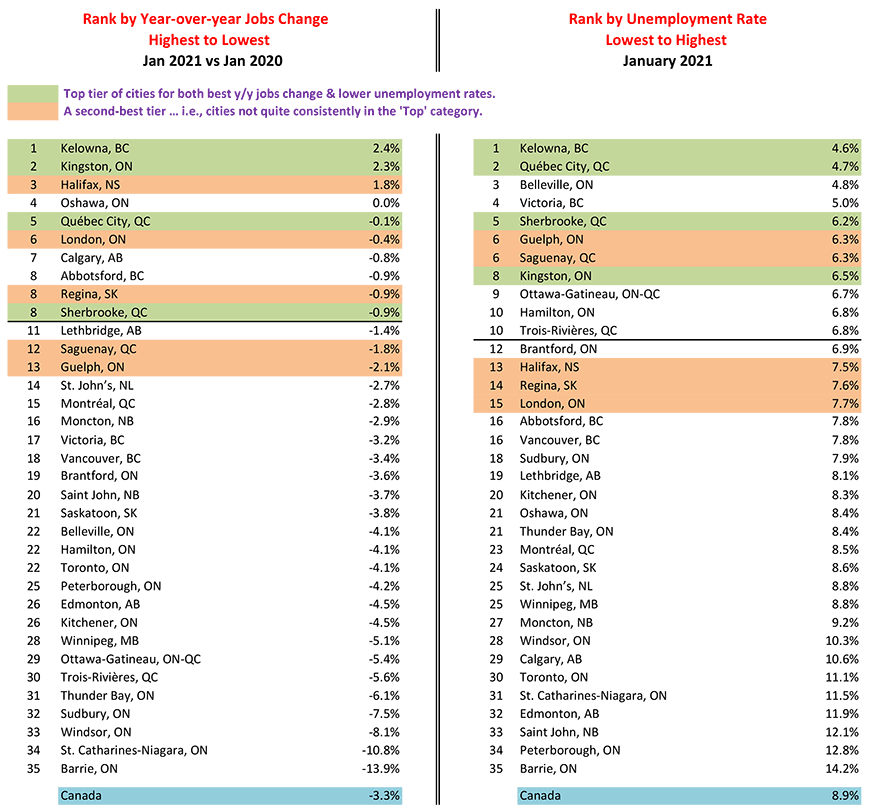 Based on averages of latest three months, seasonally adjusted (SA) data. Cities are census metro areas (CMAs).
When the ranking numbers are the same, the cities are in a tie.
Data source: Statistics Canada.
Table: ConstructConnect.
Graph 2: Unemployment Rates in Canada's 6 Most Populous Cities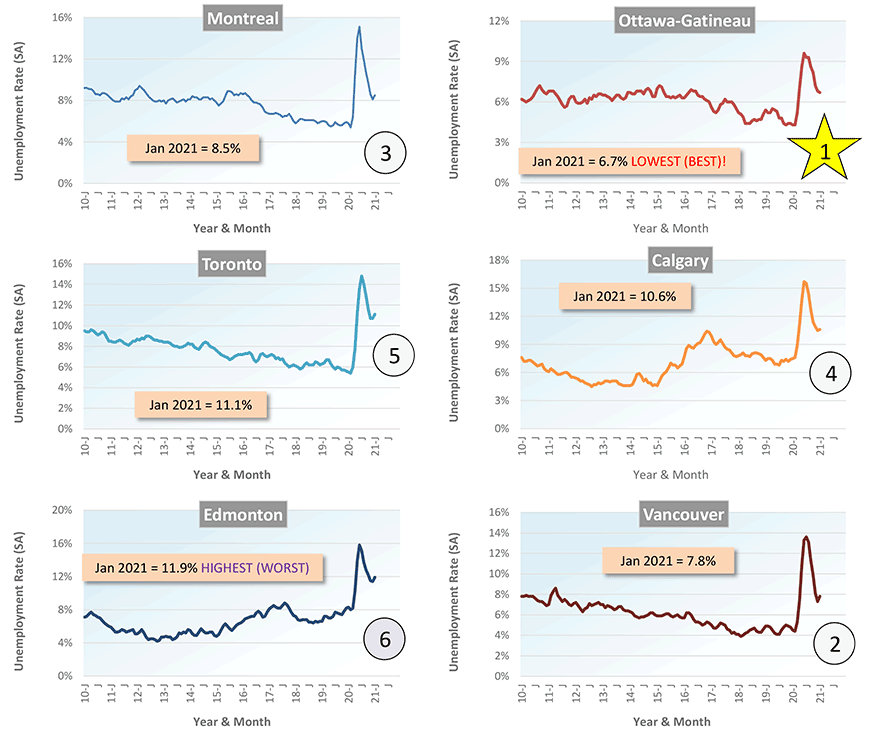 Latest data points are for January, 2021.
Data source: Statistics Canada (SA = Seasonally Adjusted).
Charts: ConstructConnect.
Bottom Line, Washington & Ottawa are the Securest Jobs Bets
In summary, the two best 'truly big' cities in the U.S. for low unemployment rates are presently Atlanta and Washington, D.C. In Canada, Ottawa-Gatineau and Vancouver are in the vanguard.
It's interesting, and should not really come as a surprise, that for both countries, the national capitals are offering the safest havens during the COVID-19 infection storm.
---
Alex Carrick is Chief Economist for ConstructConnect. He has delivered presentations throughout North America on the U.S., Canadian and world construction outlooks. Mr. Carrick has been with the company since 1985. Links to his numerous articles are featured on Twitter @ConstructConnx, which has 50,000 followers.