The accompanying table records the 10 largest construction project starts in Canada in January 2021. Also included is the latest trend graph on starts. This looks at 12-month moving totals of the civil and non-residential building categories in Canada.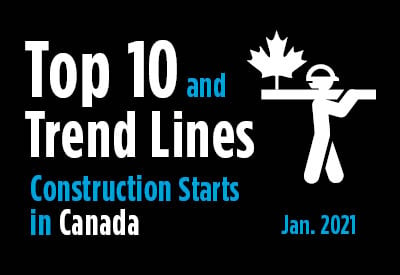 There are several reasons for highlighting upcoming large projects. Such jobs have often received a fair amount of media coverage. Therefore, people in the industry are on the lookout for when job-site work actually gets underway. And, as showcase projects, they highlight geographically where major construction projects are proceeding.
Also, total construction activity is comprised of many small and medium-sized projects and a limited number of large developments. But the largest projects, simply by their nature, can dramatically affect total dollar and square footage volumes. In other words, the timing and size of these projects have an exaggerated influence on market forecasts.
Top 10 construction projects of the month – January 2021
REGION
(East to
West)
TYPE OF
CONSTRUCTION
DESCRIPTION

Sq. Ft.
000s

Dollars
000,000s

Quebec
Micoua
Engineering/Civil
Saguenay-Lac-Saint-Jean / Micoua-Saguenay Section E (9 and 10) – Construction of a New 735 KV Line
*
$37
Multiple Locations
Hydro-Québec
Saint-Jérôme
Commercial
Construction of a New Multifunctional Sports Complex
100
$27
(2 structures; 3 storeys) 725, rue Ouimet
Ville de Saint-Jérôme
Ontario
Binbrook
Engineering/Civil
Waterdown to Finch Pipeline Project – First Section (Hamilton and Burlington)
*
$67
Multiple Locations
Imperial Oil Ltd
Barrie
Residential
Lākhouse Condos
275
$50
(3 structures; 10 storeys; 178 units) 205 Dunlop St E
AALTO Development Inc
Toronto
Institutional
Construction Manager – Runnymede Long Term Care
219
$49
(1 structure; 5 storeys; 200 units) 625 Runnymede Rd
Runnymede Healthcare Centre
Windsor
Institutional
Transforming Windsor Law (TWL) Building – University of Windsor – Ron W Ianni Faculty of Law Building Renovation
84
$29
(1 structure) 401 Sunset Ave
University of Windsor
Alberta
Brooks
Engineering/Civil
Brooks Solar II Project
*
$50
Trans-Canada Hwy
Elemental Energy
Strathmore
Engineering/Civil
East Strathmore Solar Project
*
$30
Sect 9, Township 24, Range 23
Elemental Energy
British Columbia
New Westminster
Institutional
Royal Columbian Hospital Redevelopment – Phase 2
334
$700
(3 structures; 11 storeys; 229 units) 330 E Columbia St
Fraser Health/BC Ministry of Health
Nanaimo
Residential
Ledgerwood Road Apartments
170
$31
(1 structure; 5 storeys; 120 units) 4745 Ledgerwood Rd
WestUrban Developments Ltd (Owner's Rep)
TOTALS:
1,182
$1,070
*A square footage measure does not apply for alteration and engineering work.
Data source and table: ConstructConnect – CanaData.
Trend lines of construction starts in Canada – January 2021
Moving totals of the latest 12 months*
(ConstructConnect Insight Forecast Figures)

*For example, the January 2021 figure is the sum of the monthly numbers for February 2020 through January 2021.
Data source and chart: ConstructConnect Insight – CanaData.
---
Interactive Visual
---
View this video to see how to use the filters in the Interactive Visual.