The negative impact of COVID-19 on non-residential investment in 2020 was highlighted in the Gross Domestic Product, Income and Expenditure Accounts released at the beginning of March 2021. After a slight gain of +1.1% in 2019, lockdowns implemented to limit the spread of the virus caused non-residential fixed investment to contract by -13% in 2020. All three of the sector's major components retreated during the year, led by a -16% decline in spending on machinery and equipment that was closely followed by a -14% drop in engineering structures. Non-residential construction also retreated, -5%, although strong gains in the construction of transportation and warehousing facilities partly offset declines in other industrial categories.
Following the above-noted coronavirus-induced pause, there is clear evidence that both private and public organizations are planning to put more shovels in the ground in 2021 than in 2020. This more upbeat outlook is supported by four recently released forward-looking indicators.
First, the Bank of Canada's Winter Business Outlook Survey reported that the net percentage of firms planning to boost their investment in machinery and equipment over the next 12 months jumped from 2% to 26%, its second-highest level since the fourth quarter of 2018. The Bank also noted that firms' spending plans improved across all regions.
The positive investment outlook indicated by the Business Outlook Survey was reinforced by the Conference Board in Canada's latest (Q1/2021) Index of Business Confidence. It reported that 58% of respondents planned to increase their investment spending over the next six months. The share of firms planning to scale back their spending declined from 17% to 13%, well below the high of 55% reached by the series in the second quarter of last year. These stronger investment plans are consistent with the survey's findings that the net percentage of firms expecting stronger growth ahead rose from -7% in Q4/20 to +10% in Q1/21. Also, the share of respondents expecting their financial positions to improve in the next six months increased from 32% to 46%.
Despite the depressing effect of COVID-driven lockdowns on aggregate demand and employment, its impact on corporate profits has been relatively muted. Following a decline of -1.7% in 2019, total after-tax profits retreated by -3.3% in 2020. After-tax profits of non-financial firms decreased by just -1.3% last year, following a -7.4% decline in 2019.
Going forward, the effects of stronger after-tax profits, up by +25.8% in the final quarter of 2020, a rebound of investor confidence, reflected by the 30% rise in the S&PTSX stock price index since March 2020, and interest rates at record lows, support the view that non-residential construction will pick-up steam this year and next.
Given these positive fundaments, it's no surprise that the most comprehensive indicator of capital spending intentions, Statistics Canada's Non-residential Capital and Repair (CAPEX) Survey, released on February 26, clearly signals that non-residential investment will pick up speed in 2021.
On the heels of a -9.2% drop in 2020, respondents to the survey reported that they plan to ramp up their spending on non-residential construction and machinery and equipment by +7% this year. In 2021, the survey indicates that gains in both public (+9.3%) and private (+5.6%) sector spending will contribute to this growth. Most (70%) of the gain in total non-res CAPEX will be due to a +7.5% rebound in construction spending. Planned spending on machinery and equipment is projected to be +6.2%.
Across the country, capital spending plans have risen in seven of the ten provinces. Spending should increase in Quebec by +10.9%, followed by Ontario, +9.1; Alberta, +5.1%; and British Columbia, +5.7%. Smaller increases are indicated for Saskatchewan, +3.4%, and Manitoba, +0.6%. After posting growth of +9.4% in 2020, non-res CAPEX in Prince Edward Island is projected to decline by -11.5% this year due to weakness in both public and private capital expenditures. Spending is also projected to step back in Newfoundland and Labrador, -6.1%, and in Nova Scotia, -1.8%.
From an industry perspective, 14 of the 20 industrial sectors are reporting plans to invest more this year than last. Topping the list is the transportation and warehousing sector. It is projected to spend a record $47.9 billion this year, up from $44 billion in 2020. Spending on transportation projects alone is projected to increase by +10.4% to $12.3 billion and includes $6.3 billion to complete the Reseau Express in Montreal, $4.7 billion for the second phase of Ottawa's light rail transit project, and ongoing work on Toronto's Metrolinx Eglinton Crosstown light rail project.
Also, within the transportation sector, pipelines and transportation support activities, mostly located in British Columbia and Alberta, are projected to increase by $1.2 billion to $23.7 billion. Consistent with Economic Snapshot, Vol. 19, Issue 4 titled, Vaccines and Higher Oil Prices Will Energize Alberta This Year and Next, the CAPEX survey report says, "capital spending in mining, quarrying, and oil and gas extraction is anticipated to increase to $32.9 billion (+5.2%) in 2021".
To date, the distribution of COVID vaccines in Canada has lagged most developed countries. Consequently, the outlook for the economy in general and non-residential capital spending will hinge on a more rapid distribution of vaccines, leading to a steady decline in the incidence of COVID in the near term.
John Clinkard has over 35 years' experience as an economist in international, national and regional research and analysis with leading financial institutions and media outlets in Canada.
2021 private and public sector non-residential capital spending intentions, Canada and the provinces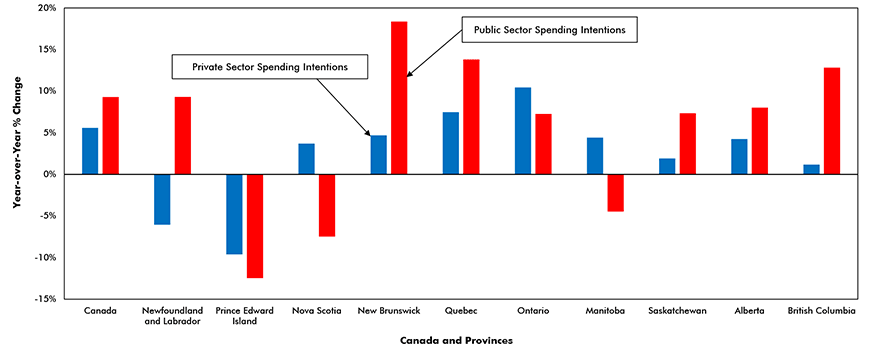 Data Source: Statistics Canada.
Chart: ConstructConnect — CanaData.