The accompanying table records the 10 largest construction project starts in Canada in February 2021. Also included is the latest trend graph on starts. This looks at 12-month moving totals of the civil and non-residential building categories in Canada.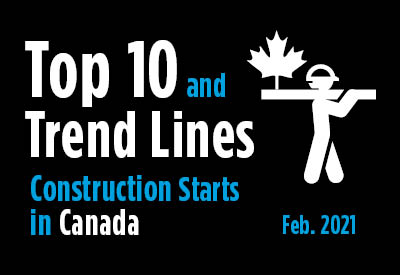 There are several reasons for highlighting upcoming large projects. Such jobs have often received a fair amount of media coverage. Therefore, people in the industry are on the lookout for when job-site work actually gets underway. And, as showcase projects, they highlight geographically where major construction projects are proceeding.
Also, total construction activity is comprised of many small and medium-sized projects and a limited number of large developments. But the largest projects, simply by their nature, can dramatically affect total dollar and square footage volumes. In other words, the timing and size of these projects have an exaggerated influence on market forecasts.
Top 10 construction projects of the month – February 2021
REGION
(East to

West)
TYPE OF
CONSTRUCTION
DESCRIPTION

Sq. Ft.
000s

Dollars
000,000s

Quebec
Chateauguay
Institutional
Maisons des Aînés et Maisons Alternatives – Châteauguay Senior Care Home
130
$67
(2 structures; 3 storeys; 120 units) rue Principale
Société Québeçoise des Infrastructures
Ontario
Mississauga
Institutional
Speakman Drive Long-Term Care Homes
475
$100
(1 structure; 6 storeys; 632 units) 2210 Speakman Dr
Trillium Health Partners
Scarborough
Institutional
UTSC Instructional Centre 2
*
$95
(1 structure; 5 storeys) 1050 Military Trail
University of Toronto
North York
Residential
Nordic Condos
445
$82
(3 structures; 12 storeys; 589 units) 407 Wilson Ave
Shiplake Management Company/Collecdev
Oakville
Engineering/Civil
Construction of William Halton Parkway (Regional Road 40) from Third Line to Neyagawa Boulevard (Regional Road 4)
*
$80
(2 structures) William Halton Pkwy
Halton Region
Brampton
Industrial
Carttera – Shell Buildings A, B and C / Brampton (Warehouse and Flex Office)
406
$35
(2 structures; 1 storey) 15 Bramalea Rd
Carttera Private Equities Inc
North York
Residential
Greenwich Village Towns
179
$34
(1 structure; 4 storeys; 153 units) 847-873 Sheppard Ave W
Crown Communities
British Columbia
Vancouver
Institutional
Dogwood Complex Residential Care Facility
111
$51
(3 structures; 6 storeys; 150 units) 7405 Paulson St
Fraser Health
Nanaimo
Institutional
Nanaimo Regional General Hospital – New Intensive Care Unit
25
$42
(1 structure; 2 storeys) 1200 Dufferin Cres
Vancouver Island Health Authority
Abbotsford
Institutional
Eagle Mountain Elementary School
117
$27
(1 structure; 1 storey) 2570 Eagle Mountain Dr
School District 34 Abbotsford
TOTALS:
1,888
$613
*A square footage measure does not apply for alteration and engineering work.
Data source and table: ConstructConnect – CanaData.
Trend lines of construction starts in Canada – February 2021
Moving totals of the latest 12 months*
(ConstructConnect Insight Forecast Figures)

*For example, the February 2021 figure is the sum of the monthly numbers for March 2020 through February 2021.
Data source and chart: ConstructConnect Insight – CanaData.
---
Interactive Visual
---
View this video to see how to use the filters in the Interactive Visual.
---
Please click on the following links to download the PDF versions of this month's Top 10 and Trend Lines:
Top 10 largest construction project starts in Canada – February 2021 – PDF
Construction Project Starts Trend Graph – Canada – February 2021 – PDF
---