The accompanying table records the 10 largest construction project starts in Canada in March 2021. Also included is the latest trend graph on starts. This looks at 12-month moving totals of the civil and non-residential building categories in Canada.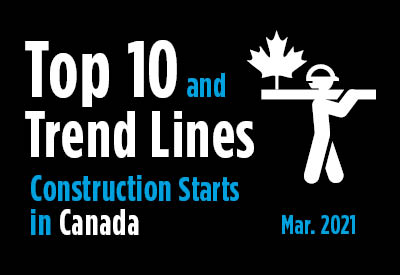 There are several reasons for highlighting upcoming large projects. Such jobs have often received a fair amount of media coverage. Therefore, people in the industry are on the lookout for when job-site work actually gets underway. And, as showcase projects, they highlight geographically where major construction projects are proceeding.
Also, total construction activity is comprised of many small and medium-sized projects and a limited number of large developments. But the largest projects, simply by their nature, can dramatically affect total dollar and square footage volumes. In other words, the timing and size of these projects have an exaggerated influence on market forecasts.
Top 10 construction projects of the month – March 2021
REGION
(East to

West)
TYPE OF
CONSTRUCTION
DESCRIPTION

Sq. Ft.
000s

Dollars
000,000s

Quebec
Saint-Bruno
Industrial
Groupe Robert Distribution Centre Construction
700
$150
(2 structures; 5 storeys) Autoroute 30
Fonds immobilier de solidarité FTQ/Groupe Robert
Ontario
Toronto
Residential
Galleria On The Park, (Block 5) – Galleria 01 and Galleria 02 Towers and Community Centre
538
$105
(4 structures; 29 storeys; 484 units) 1245 Dupont St
Elad Canada Inc
Hawkesbury
Institutional
United Counties of Prescott & Russell Prescott Seniors' Residence Redevelopment
184
$71
(1 structure; 3 storeys; 225 units) 900 Spence Ave
United Counties of Prescott and Russel
Essex
Engineering/Civil
Design/Build Major – Highway 3 – Widening and Pavement Rehabilitation, Overpass Construction
*
$50
(2 structures) Hwy 3
Ministry of Transportation Ontario
Manitoba
Leaf Rapids
Engineering/Civil
Ruttan Mine Site Remediation TMA Capping Completion Works
*
$45
(2 structures) Hwy 493, Ruttan Mine
Manitoba Finance/Central Services
Alberta
Strathmore
Engineering/Civil
Strathmore Solar Farm
*
$60
(1 structure) TransCanada Hwy & RR 251
Solar Krafte Utilities Inc
British Columbia
Vancouver
Institutional
The New St. Paul's Hospital (Phase 1A)
2,024
$2,174
(3 structures; 11 storeys) 1002 Station St
Providence Health Care
Duncan
Institutional
New North Cowichan RCMP Integrated Detachment Project
50
$49
(2 structures; 3 storeys) Drinkwater Rd
Municipality of North Cowichan
West Kelowna
Engineering/Civil
Rose Valley Water Treatment Plant Construction
*
$45
(1 structure)
City of West Kelowna
Kelowna
Residential
Bertram at Bernard Block – Condominiums
207
$40
(2 structures; 33 storeys; 257 units) 1488 Bertram St
Mission Group
TOTALS:
3,703
$2,789
*A square footage measure does not apply for alteration and engineering work.
Data source and table: ConstructConnect – CanaData.
Trend lines of construction starts in Canada – March 2021
Moving totals of the latest 12 months*
(ConstructConnect Insight Forecast Figures)


*For example, the March 2021 figure is the sum of the monthly numbers for April 2020 through March 2021.
Data source and chart: ConstructConnect Insight – CanaData.
---
Interactive Visual
---
View this video to see how to use the filters in the Interactive Visual.
---
Please click on the following links to download the PDF versions of this month's Top 10 and Trend Lines:
Top 10 largest construction project starts in Canada – March 2021 – PDF
Construction Project Starts Trend Graph – Canada – March 2021 – PDF
---