The economic world is full of odd connections these days. A case in point is the tie-in between airline travel and the price of lumber. How can visiting Aunt Pat in Topeka have anything to do with needing a loan to purchase a two-by-four?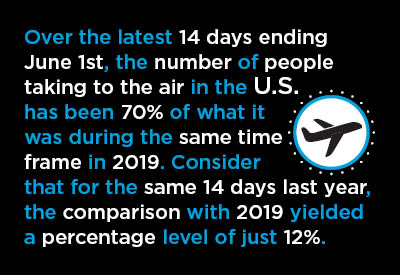 Graph 1 conveys very good news. U.S. airline passenger traffic, as measured by Transportation Security Administration (TSA) checkpoint numbers, is solidly on the rebound.
Over the latest 14 days ending June 1st, the number of people taking to the air has been 70% of what it was during the same time frame in 2019. While that still leaves considerable room for improvement, consider that for the same 14 days last year, the comparison with 2019 yielded a percentage level of just 12%.
Stated another way, airline traffic currently is about six times greater than it was in the back half of May 2020.
What does this have to do with craving a visit to Aunt Pat's place and keeping wood products in a vault?
Taking the Focus off the Home Front
For more than a year, the main mantra adopted to beat back the coronavirus has been 'work from home' if possible and put aside notions of gadding about in the broader world.
The resulting tendency to go stir crazy has had several side effects. It has caused homeowners to re-think where they want to live, with suburban and rural communities often receiving a higher grade than urban cores.
With nowhere to go and fewer outlets for spending money, big increases in savings have helped finance a flurry of new housing construction.
Or for those with idle but restless hands, content to live out the pandemic on the spot, but wishing to spruce up their surroundings, a home renovation boom has been the response.
Both forces coming into play have radically increased the demand for lumber and driven the cost of forestry products sky high.
As one- and two-dose vaccine coverage increasingly blankets the total population, however, the confidence to move through airports has been receiving a major boost, taking the focus off the home front.
Money spent on travel dampens the enthusiasm, or at least limits the capacity, to make expenditures in other areas.
A lot of people are addicted to travel (I'm not saying it's wrong, just that it's a fact) and, economy fares notwithstanding, most sojourns aren't cheap.  
Look for the increase in getting out and about to be one of the factors that will gradually take some of the pressure off lumber demand and pricing. 
Graph 1: U.S. Airline Traffic ‒ TSA* Daily Traveler Checkpoint Numbers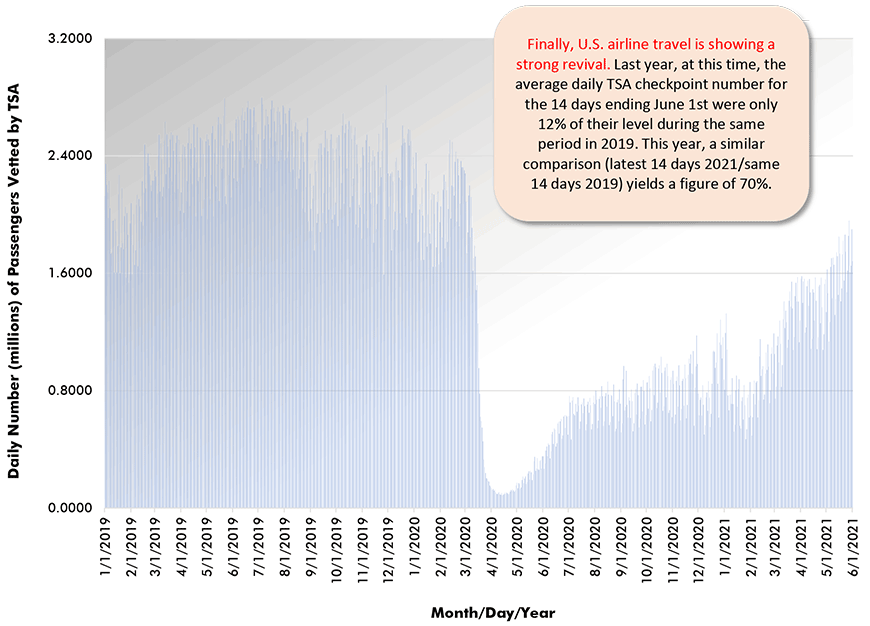 The last data point is for June 1, 2021.
Data source: Transportation Security Administration (TSA*).
Chart: ConstructConnect.
---
Please click on the following link to download the PDF version of this article:
Economy at a Glance Vol. 17, Issue 83 – The Unexpected Tie-in Between Airline Travel and the Price of Lumber – PDF
---
Alex Carrick is Chief Economist for ConstructConnect. He has delivered presentations throughout North America on the U.S., Canadian and world construction outlooks. Mr. Carrick has been with the company since 1985. Links to his numerous articles are featured on Twitter @ConstructConnx, which has 50,000 followers.