ConstructConnect announced today that May 2021's volume of construction starts, excluding residential work, was $32.5 billion, a decline of -2.0% versus April 2021's $33.2 billion (originally reported as $31.5 billion).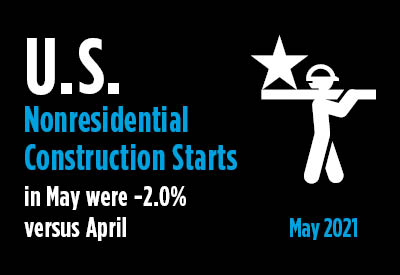 Click here to read the complete May 2021 Industry Snapshot article, May's Nonresidential Construction Starts -2.0% M/M & -14% YTD  – below is a short excerpt.
May 2021 nonresidential starts compared with May 2020 were -12.0%. In the latest month, there was no individual project valued at a billion dollars or more (see Top 10 Project Starts in the U.S. – May 2021). In May of last year, there were two such groundbreakings, a steel mill in Texas and a rapid transit project in Washington State, adding to $4.3 billion.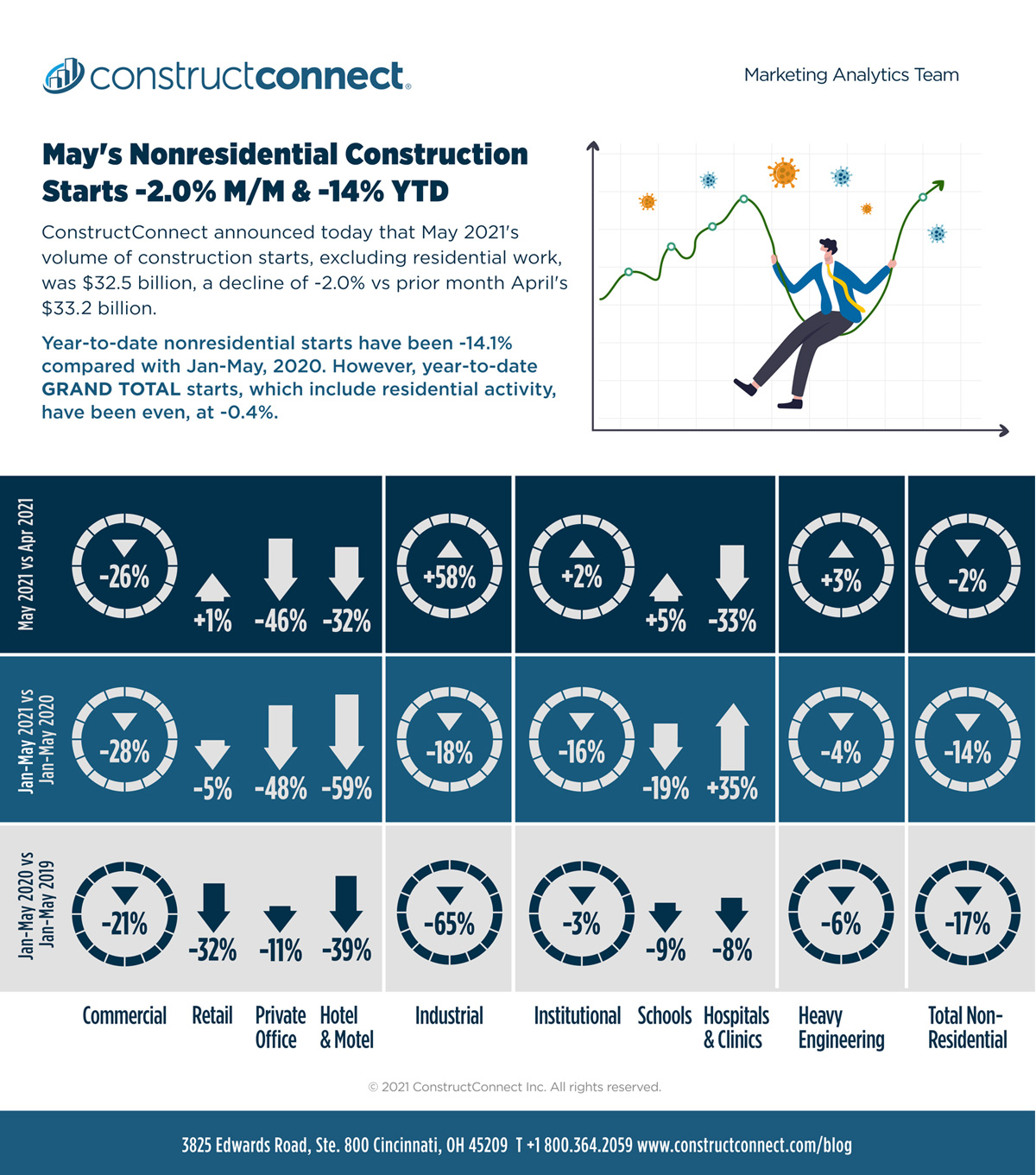 View this information as an infographic.
Year-to-date nonresidential starts have been -14.1% versus January-May 2020. However, year-to-date Grand Total starts have been even with last year, at -0.4%.
The year-to-date results for the two other major type-of-structure categories making up 'Grand Total' have been residential at +21.4% and heavy engineering/civil, -3.8%.
Clearly, home building activity has been the mainstay of construction work lately, although engineering work has encountered only a minor fall-off. Nonresidential building activity is where a deep bottom is only gradually being filled back in.
It's important to keep in mind that an extraordinary effect will distort year-over-year comparisons throughout 2021. In Q1 of last year, groundbreakings were 'normal.' They weren't being negatively impacted by economy-wide shutdowns to combat coronavirus infections.
Therefore, percentage changes for early 2021 relative to early 2020 were skewed downwards by a relatively high base (denominator) in the mathematical calculation.
Beginning in April of this year, an opposite bias comes into play. The numbers from last year being used for comparison purposes suffered from COVID-19-related suppression.
Click here to download the Construction Industry Snapshot Package – May 2021 PDF.
Click here for the Top 10 Project Starts in the U.S. – May 2021.
Click here for the Nonresidential Construction Starts Trend Graphs – May 2021.
---
Alex Carrick is Chief Economist for ConstructConnect. He has delivered presentations throughout North America on the U.S., Canadian and world construction outlooks. Mr. Carrick has been with the company since 1985. Links to his numerous articles are featured on Twitter @ConstructConnx, which has 50,000 followers.
---
Interactive Visual
---
View this video to see how to use the filters in the Interactive Visual.