The accompanying table records the 10 largest construction project starts in Canada in June 2021. Also included is the latest trend graph on starts. This looks at 12-month moving totals of the civil and non-residential building categories in Canada.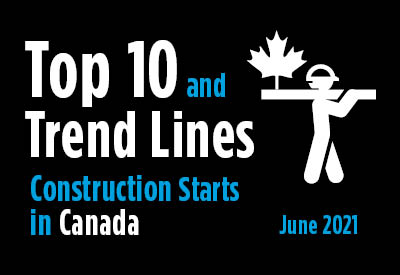 There are several reasons for highlighting upcoming large projects. Such jobs have often received a fair amount of media coverage. Therefore, people in the industry are on the lookout for when job-site work actually gets underway. And, as showcase projects, they highlight geographically where major construction projects are proceeding.
Also, total construction activity is comprised of many small and medium-sized projects and a limited number of large developments. But the largest projects, simply by their nature, can dramatically affect total dollar and square footage volumes. In other words, the timing and size of these projects have an exaggerated influence on market forecasts.
Top 10 construction projects of the month – June 2021
REGION
(East to

West)
TYPE OF
CONSTRUCTION
DESCRIPTION

Sq. Ft.
000s

Dollars
000,000s

Quebec
Longueuil
Residential
Longueuil TOD (Transport Oriented Development) Project
1,600
$800
(4 structures; 25 storeys; 1612 units) place Charles-Le-Moyne
Devimco Inc
Montreal
Residential
Place Gare Viger Mixed-Use Development
1,000
$300
(8 structures; 34 storeys; 977 units) rue St-Hubert
Groupe Jesta
Montreal
Residential
La Tour Fides Condominium Complex
300
$100
(3 structures; 19 storeys; 290 units) 235, boul René-Lévesque E
MTL Développement inc
Ontario
Toronto
Residential
West Don Lands Blocks 3, 4, 7
890
$175
(3 structures; 13 storeys; 839 units) 90 Mill St
Kilmer Group
Toronto
Engineering/Civil
Ashbridges Bay Treatment Plant – Waste Activated Sludge Thickening Facility
*
$116
(2 structures) 9 Leslie St
City of Toronto
Whitby
Residential
Wellings of Whitby
530
$110
(4 structures; 18 storeys; 337 units) 372 Taunton Rd E
Nautical Lands Group
Mississauga
Engineering/Civil
QEW Credit River Bridge – Design Build Finance (DBF)
*
$100
(2 structures) Queen Elizabeth Way
EllisDon Corporation/Coco Paving Inc
Markham
Residential
Union Village Towns / York Downs Golf Course Redevelopment – Phase 1
480
$96
(2 structures; 3 storeys; 310 units) 4134 16th Ave
Metropia
British Columbia
Nanaimo
Institutional
Nanaimo Correctional Centre Replacement
160
$170
(2 structures; 2 storeys; 226 units) 3945 Biggs Rd
Partnerships British Columbia
Fort St James
Institutional
RFQ D/B – Stuart Lake Hospital Redevelopment Project
68
$116
(2 structures) 600 Stuart Lake Hwy
Partnerships British Columbia
TOTALS:
5,028
$2,083
*A square footage measure does not apply for alteration and engineering work.
Data source and table: ConstructConnect – CanaData.
Trend lines of construction starts in Canada – June 2021
Moving totals of the latest 12 months*
(ConstructConnect Insight Forecast Figures)

*For example, the June 2021 figure is the sum of the monthly numbers for July 2020 through June 2021.
Data source and chart: ConstructConnect Insight – CanaData.
---
Interactive Visual
---
View this video to see how to use the filters in the Interactive Visual.
---
Please click on the following links to download the PDF versions of this month's Top 10 and Trend Lines:
Top 10 largest construction project starts in Canada – June 2021 – PDF
Construction Project Starts Trend Graph – Canada – June 2021 – PDF
---