ConstructConnect announced today that June 2021's volume of construction starts, excluding residential work, was $38.4 billion, an increase of +14.4% vs May 2021's $33.6 billion (originally reported as $32.5 billion).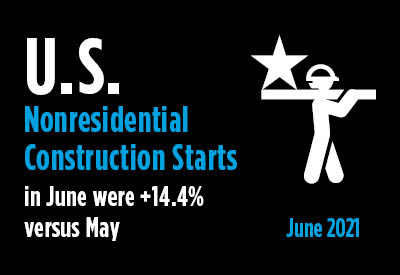 Click here to read the complete June 2021 Industry Snapshot article, June's Nonresidential Construction Starts +14% M/M, But -11% YTD  – below is a short excerpt.
Compared with June 2020, the latest month's dollar volume of total nonresidential starts was -4.3%. On a year-to-date basis (i.e., Jan-Jun 2021/Jan-Jun 2020), total nonresidential starts have been -10.9%.
June 2021 compared with June 2020 serves up an interesting story concerning mega projects and other large project initiations. A 'mega' project is defined as carrying an estimated value of a billion dollars or more and/or occupying a million square feet or more.
Among June 2021 groundbreakings, Pittsburgh's International Airport Terminal modernization has an estimated value of $1.4 billion. But there are also two big hospital projects, in New Jersey and Michigan, that when added together, exceed a billion dollars. And there are two Amazon fulfillment projects, both in Louisiana (Baton Rouge and Shreveport), of less than a billion dollars each, but which account for more than three million square feet each.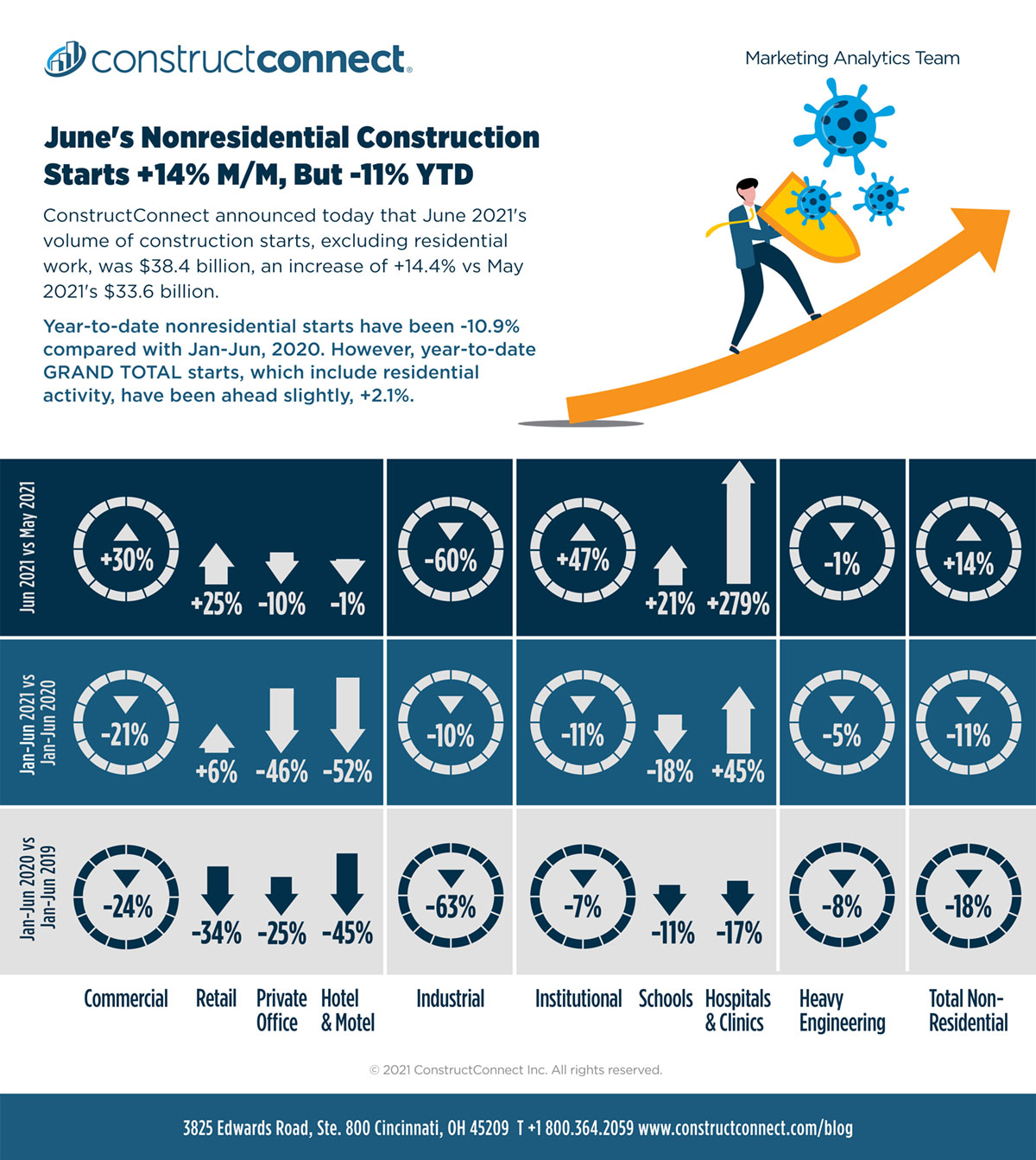 View this information as an infographic.
Click here to download the complete Construction Industry Snapshot Package – June 2021 PDF.
In June 2020, there was one project of more than a billion dollars, light rail rapid transit work in Seattle (Federal Way link), but  ̶  and here's where the tale becomes really interesting  ̶  similar to June 2021, there were two other Amazon distribution center projects, in New York and Texas, of over three million square feet each.
The extent to which Amazon has been able to maintain its expansion program, even during the worst of the pandemic, plus the support the company has provided the construction industry, have been remarkable.
Click here to download the Construction Industry Snapshot Package – June 2021 PDF.
Click here for the Top 10 Project Starts in the U.S. – June 2021.
Click here for the Nonresidential Construction Starts Trend Graphs – June 2021.
---
Alex Carrick is Chief Economist for ConstructConnect. He has delivered presentations throughout North America on the U.S., Canadian and world construction outlooks. Mr. Carrick has been with the company since 1985. Links to his numerous articles are featured on Twitter @ConstructConnx, which has 50,000 followers.
---
Interactive Visual
---
View this video to see how to use the filters in the Interactive Visual.