The accompanying table records the 10 largest construction project starts in Canada in July 2021. Also included is the latest trend graph on starts. This looks at 12-month moving totals of the civil and non-residential building categories in Canada.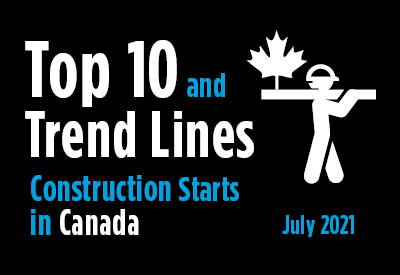 There are several reasons for highlighting upcoming large projects. Such jobs have often received a fair amount of media coverage. Therefore, people in the industry are on the lookout for when job-site work actually gets underway. And, as showcase projects, they highlight geographically where major construction projects are proceeding.
Also, total construction activity is comprised of many small and medium-sized projects and a limited number of large developments. But the largest projects, simply by their nature, can dramatically affect total dollar and square footage volumes. In other words, the timing and size of these projects have an exaggerated influence on market forecasts.
Top 10 construction projects of the month – July 2021
REGION
(East to
West)
TYPE OF
CONSTRUCTION
DESCRIPTION

Sq. Ft.
000s

Dollars
000,000s

Quebec
Chateauguay
Institutional
École Secondaire Louis-Philippe Paré
600
$340
(3 structures; 3 storeys; 2604 units) 235, boul Brisebois
Société Québecoise des Infrastructures
Montreal
Institutional
Anjou New High School Construction
195
$82
(3 structures; 3 storeys; 48 units) che Roger-Rousseau & Hwy 40
Centre de Services Scolaire de la Pointe-de-L'Île
Montreal
Institutional
Montréal-Nord High School Construction
190
$81
(3 structures; 3 storeys; 48 units) boul Maurice-Duplessis & boul Albert-Hudon
Société Québecoise des Infrastructures
Ontario
Concord
Residential
Abeja District Condos – Phase 1
850
$170
(2 structures; 30 storeys; 824 units) 2901 Rutherford Rd
The Cortel Group
Toronto
Residential
Empire Quay House Condos
563
$110
(3 structures; 20 storeys; 462 units) 162 Queens Quay E
Empire Communities
St Catharines
Institutional
Linhaven Long Term Care (LTC) Home Redevelopment
229
$89
(2 structures; 5 storeys) 403 Ontario St
Regional Municipality of Niagara
Saskatchewan
Moose Jaw
Engineering/Civil
SaskPower – Great Plains Power Station
*
$800
(1 structure) SK-2
SaskPower
Alberta
Edmonton
Engineering/Civil
Yellowhead Trail Freeway Conversion
*
$115
(1 structure) Multiple Locations 156 Street to St. Albert Trail
City of Edmonton
British Columbia
Terrace
Institutional
Mills Memorial Hospital Redevelopment
285
$623
(2 structures; 4 storeys; 78 units) 4720 Haugland Ave
Northern Health Authority
North Vancouver
Institutional
Lions Gate Hospital Redevelopment-Phase 3 LGH Acute Care Facility
*
$310
(2 structures; 6 storeys; 108 units) 231 15th St E
Fraser Health
TOTALS:
2,912
$2,720
*A square footage measure does not apply for alteration and engineering work.
Data source and table: ConstructConnect – CanaData.
Trend lines of construction starts in Canada – July 2021
Moving totals of the latest 12 months*
(ConstructConnect Insight Forecast Figures)

*For example, the July 2021 figure is the sum of the monthly numbers for August 2020 through July 2021.
Data source and chart: ConstructConnect Insight – CanaData.
---
Interactive Visual
---
View this video to see how to use the filters in the Interactive Visual.
---
Please click on the following links to download the PDF versions of this month's Top 10 and Trend Lines:
Top 10 largest construction project starts in Canada – July 2021 – PDF
Construction Project Starts Trend Graph – Canada – July 2021 – PDF
---