ConstructConnect announced today that July 2021's volume of construction starts, excluding residential work, was $37.6 billion (green shaded box, Table 8 below), a decrease of -3.1% vs June 2021's $38.8 billion (originally reported as $38.4 billion).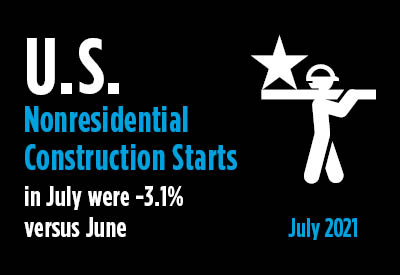 Click here to read the complete July 2021 Industry Snapshot article, July's Nonresidential Construction Starts -3% M/M, +11% Y/Y & -7% YTD – below is a short excerpt.
A Wind Farm, a Warehouse, an Office Tower and the FBI
The largest construction jobs initiated in the latest month included two mega projects defined as carrying estimated values of a billion dollars or more each. Biggest of all was a $2.8 billion wind farm for power generation to be situated off the coast of Massachusetts. Plus, there was a start-up on a $1 billion Federal Bureau of Investigation (FBI) building in Huntsville, Alabama.
Not exceeding a billion dollars in value but projected to account for 2.5 million square feet of construction, was July's groundbreaking on the 57-story JPMorgan Chase office tower in New York. Also, not making it into July's Top 10 (see Top 10 Project Starts in the U.S. – July 2021) for dollar value, but notable nonetheless, was an Amazon/Seefried Industrial Properties' distribution center in Davenport, Iowa, for 2.9 million square feet.
July of last year featured only one mega project, the $1.4 billion Metro/Foothill Gold Line light rail extension in San Dimas (east Los Angeles), California.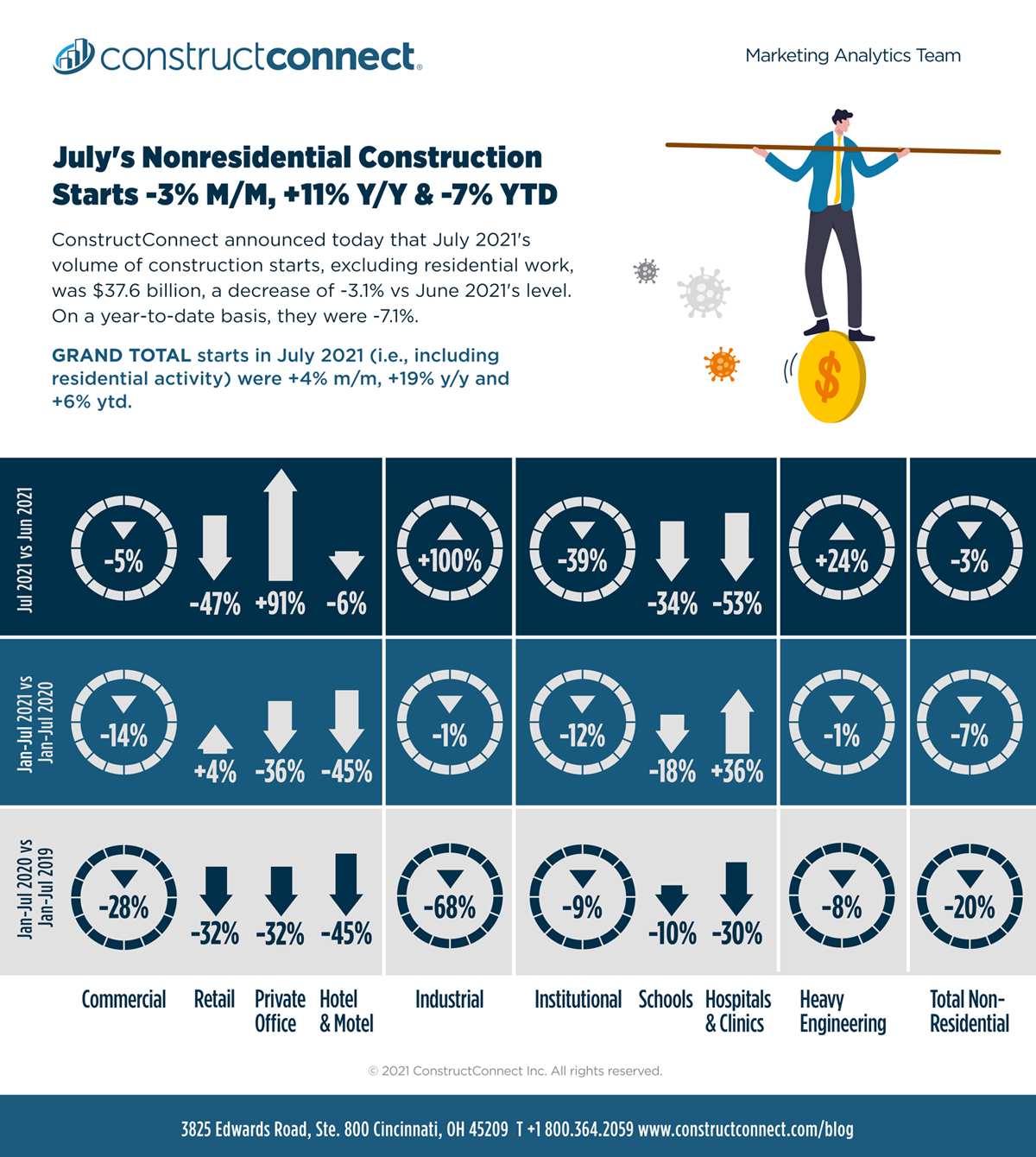 View this information as an infographic.
Click here to download the complete Construction Industry Snapshot Package – July 2021 PDF.
By Major Types of Structure, 3 Distinct Paths
Starts year to date in 2021, according to the three major type-of-structure designations, have traveled quite separate paths. Residential starts have been ahead by more than a quarter, +26.2%; engineering starts have been flat, -0.6%; and nonresidential building starts have been less than sparkling, -11.4%.
On a month-to-month basis in July, though, engineering starts were the sprightliest, +24.4%, followed by residential, +12.3%, with nonresidential building still displaying weakness, -20.1%. 
Click here to download the Construction Industry Snapshot Package – July 2021 PDF.
Click here for the Top 10 Project Starts in the U.S. – July 2021.
Click here for the Nonresidential Construction Starts Trend Graphs – July 2021.
---
Alex Carrick is Chief Economist for ConstructConnect. He has delivered presentations throughout North America on the U.S., Canadian and world construction outlooks. Mr. Carrick has been with the company since 1985. Links to his numerous articles are featured on Twitter @ConstructConnx, which has 50,000 followers.
---
Interactive Visual
---
View this video to see how to use the filters in the Interactive Visual.