The accompanying table records the 10 largest construction project starts in Canada in August 2021. Also included is the latest trend graph on starts. This looks at 12-month moving totals of the civil and non-residential building categories in Canada.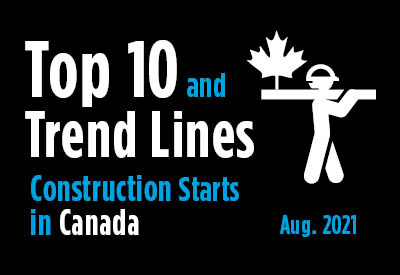 There are several reasons for highlighting upcoming large projects. Such jobs have often received a fair amount of media coverage. Therefore, people in the industry are on the lookout for when job-site work actually gets underway. And, as showcase projects, they highlight geographically where major construction projects are proceeding.
Also, total construction activity is comprised of many small and medium-sized projects and a limited number of large developments. But the largest projects, simply by their nature, can dramatically affect total dollar and square footage volumes. In other words, the timing and size of these projects have an exaggerated influence on market forecasts.
Top 10 construction projects of the month -August 2021
REGION
(East to

West)
TYPE OF
CONSTRUCTION
DESCRIPTION

Sq. Ft.
000s

Dollars
000,000s

Quebec
Montréal
Residential
Esplanade Cartier – Phase 3
245
$70
(4 structures; 14 storeys; 185 units) rue Sainte-Catherine E
TGTA/Gestion Esplanade Cartier inc
Ontario
Toronto
Residential
Hi-Rise Residential Complex
899
$180
(4 structures; 54 storeys; 752 units) 100 Broadway Ave
Reserve Properties/Westdale Properties
Milton
Engineering/Civil
Construction of 1200mm Dia. South Georgetown Servicing Wastewater Main on Eighth Line and Trafalgar Road
*
$106
(2 structures) Multiple Locations
Halton Region
Scarborough
Residential
Pinnacle Toronto East – Phase One (East/West Towers)
475
$95
(5 structures; 30 storeys; 598 units) 3260 Sheppard Ave E
Pinnacle International
Toronto
Residential
Spadina-Sussex High Rise Student Residence / Toronto
385
$75
(2 structures; 23 storeys; 738 units) 698 Spadina Ave
University of Toronto/Daniels Corp
Toronto
Residential
Y&S Condos (Yonge and Soudan)
320
$64
(4 structures; 36 storeys; 304 units) 2161 Yonge St
Tribute Communities/Tenblock Development
Saskatchewan
Saskatoon
Institutional
Remand Centre and Urban Camp
200
$120
(3 structures; 2 storeys) 910 60 St E
SaskBuilds/Central Services – Asset Management
Alberta
Cypress County
Engineering/Civil
Cypress Wind Project
*
$250
(1 structure) Township Rd 110 & Range Rd 42
EDF Renewables Canada Inc
Calgary
Residiential
Sunalta Heights
391
$78
(4 structures; 29 storeys; 353 units) 1516 10 Ave SW
Housing One (Interloq Capital Corp)
British Columbia
Burnaby
Institutional
Design/Build – Burnaby Hospital Redevelopment Project – Phase 1
*
$612
(3 structures; 16 storeys) 3935 Kincaid St
Fraser Health
TOTALS:
2,915
$1,650
*A square footage measure does not apply for alteration and engineering work.
Data source and table: ConstructConnect – CanaData.
Trend lines of construction starts in Canada – August 2021
Moving totals of the latest 12 months*
(ConstructConnect Insight Forecast Figures)


*For example, the August 2021 figure is the sum of the monthly numbers for September 2020 through August 2021.
Data source and chart: ConstructConnect Insight – CanaData.
---
Interactive Visual
---
View this video to see how to use the filters in the Interactive Visual.
---
Please click on the following links to download the PDF versions of this month's Top 10 and Trend Lines:
Top 10 largest construction project starts in Canada – August 2021 – PDF
Construction Project Starts Trend Graph – Canada – August 2021 – PDF
---