ConstructConnect announced today that September 2021's volume of construction starts, excluding residential work, was $38.0 billion, an increase of +12.7% compared with August 2021's level of $33.7 billion (originally reported as $33.0 billion).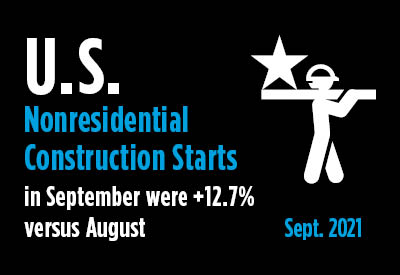 Click here to read the complete September 2021 Industry Snapshot article, September's Nonresidential Construction Starts +13% M/M, +31% Y/Y & -2% YTD – below is a short excerpt.
Compared with September 2020, the latest month's nonresidential starts were +31.1%. On a year-to-date basis, they were -2.3%. GRAND TOTAL starts in September 2021 (i.e., including residential activity) were +7.4% m/m, +19.6% y/y, and +7.3% ytd.   
The latest month's starts statistics feature three mega-sized projects of a billion dollars or more each, adding to $10.3 billion. At $1.3 billion and $1.0 billion are a plastics plant in Louisiana and a university medical complex in California (see Top 10 Project Starts in the U.S. – September 2021). But those two projects, big as they are, take back seats to the estimated $8.0 billion undertaking being launched by computer chipmaker Intel Corporation in Maricopa County (Phoenix), Arizona. The company has announced capital spending of $20 billion on two plants, but major portions of the bill will be directed towards equipment. Especially important in high-tech chip plants are ultra-'clean' rooms to avoid micro-fiber and other forms of contamination in the production process.
The most prominent mega project in last year's September starts statistics was the Tesla Cybertruck Gigafactory in Austin, Texas, for $1.1 billion.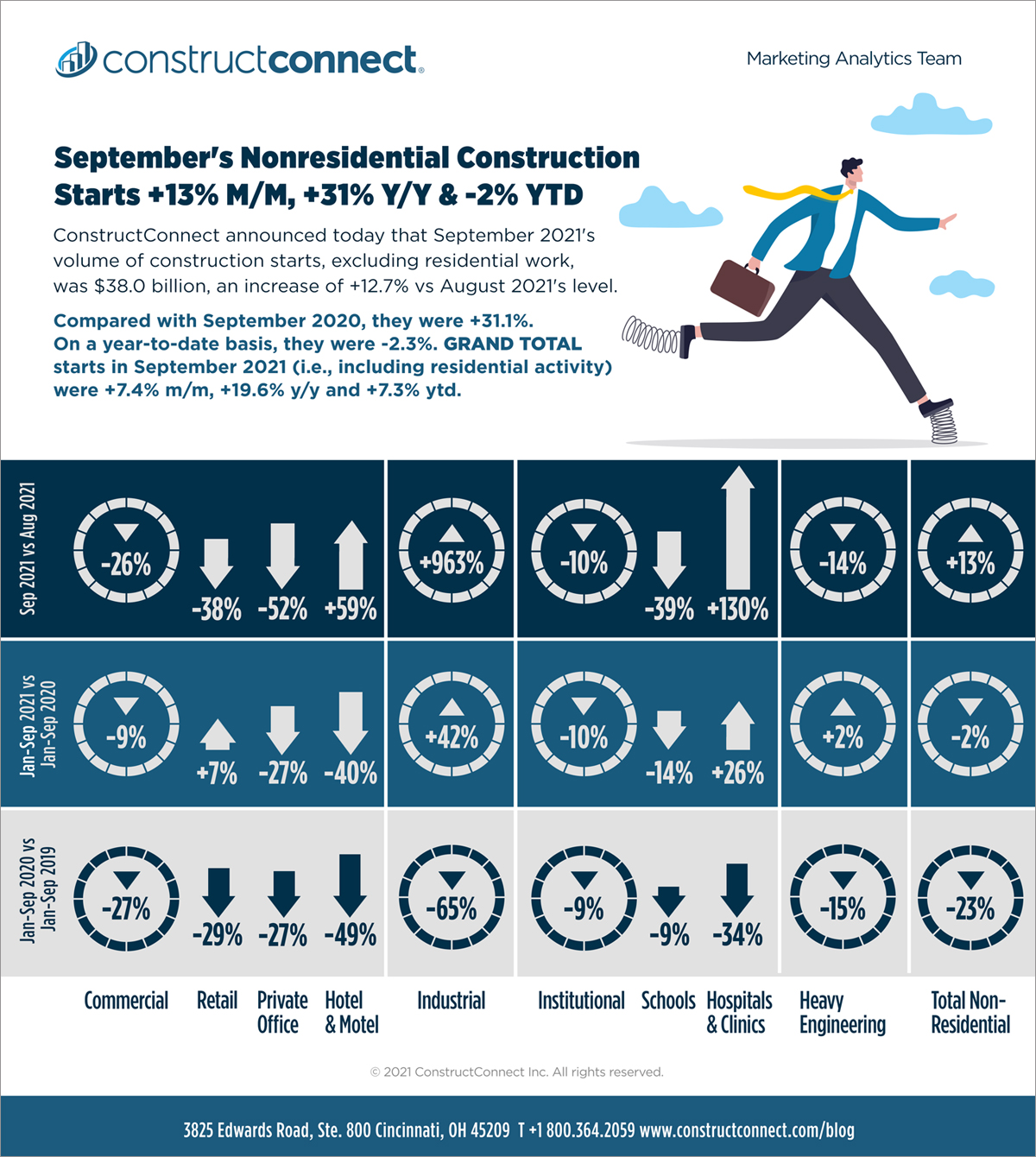 View this information as an infographic.
Click here to download the complete Construction Industry Snapshot Package – September 2021 PDF.
Up, Down, and Sideways
ConstructConnect's 'starts' statistics through the first three quarters of 2021 hiked along markedly different routes. Versus results for Jan-Sept 2020, residential starts pulled ahead by a fifth, +21.1%; heavy engineering/civil was little better than flat, +1.7%; and nonresidential building stumbled, -4.9%.   
On a month-to-month basis in September, however, it was nonresidential building that took the lead, +31.0%. Residential was in a holding pattern, +1.3%; and heavy engineering/civil fell behind, -14.4%.
Click here to download the Construction Industry Snapshot Package – September 2021 PDF.
Click here for the Top 10 Project Starts in the U.S. – September 2021.
Click here for the Nonresidential Construction Starts Trend Graphs – September 2021.
---
Alex Carrick is Chief Economist for ConstructConnect. He has delivered presentations throughout North America on the U.S., Canadian and world construction outlooks. Mr. Carrick has been with the company since 1985. Links to his numerous articles are featured on Twitter @ConstructConnx, which has 50,000 followers.
---
Interactive Visual
---
View this video to see how to use the filters in the Interactive Visual.