ConstructConnect announced today that October 2021's volume of construction starts, excluding residential work, was $28.8 billion, a decrease of -25.6% compared with September 2021's level of $38.7 billion (originally reported as $38.0 billion).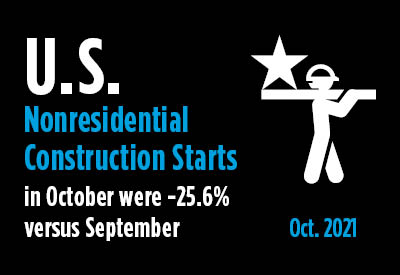 Click here to read the complete October 2021 Industry Snapshot article, October's Nonresidential Construction Starts -26% M/M, -9% Y/Y & -2% YTD – below is a short excerpt.
Compared with October 2020, the latest month's nonresidential starts were -9.2%. On a year-to-date basis, they were -2.2%. GRAND TOTAL starts in October 2021 (i.e., including residential activity) were -14.3% m/m and -9.2% y/y, but +5.8% ytd.
A significant drop in October starts month to month was almost assured once Intel's two new computer chipmaking plants landed in September. Subtracting out an estimate of $8 billion, as the construction component alone for Intel's new facilities, would then place October's $28.8 billion in a much better light relative to an adjusted $30.7 billion for the prior month. 
As for major undertakings in the latest month, October can boast of a new basketball stadium for the L.A. Clippers, carrying a price tag of $1.2 billion. In the several years prior to 2020, stadium and arena construction to serve fans in all four of the major professional sports leagues was a source of much building activity. There will be more life to this trend (e.g., plans for a new Buffalo Bills stadium) when the pandemic is securely relegated to the sidelines.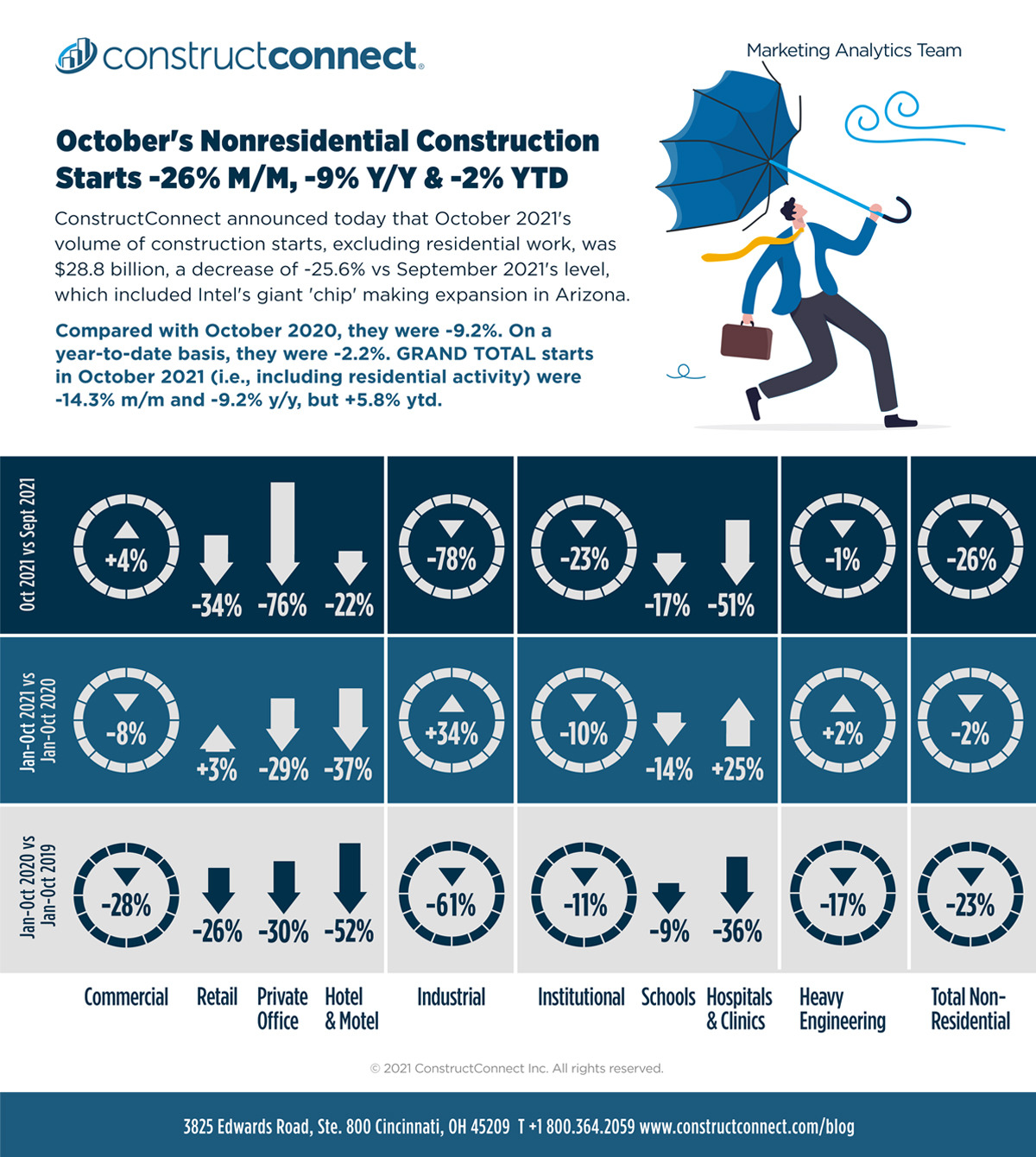 View this information as an infographic.
Click here to download the complete Construction Industry Snapshot Package – October 2021 PDF.
Three Divergent Paths
ConstructConnect's 'starts' statistics through October 2021 took three clearly divergent paths. Versus results for Jan-Oct 2020, residential starts were ahead by +16.9%; engineering was approximately flat, +1.5%; and nonresidential building trailed somewhat behind, -4.5%.   
On a month-to-month basis in October, the same pattern of winners and losers was maintained with residential at +2.1%; heavy civil at -0.8%; and nonresidential building, -36.3%. The outsized drop in the latter was due to October's comparison with a September that included mega-sized groundbreakings on two new computer chip-making plants in Arizona. 
Click here to download the Construction Industry Snapshot Package – October 2021 PDF.
Click here for the Top 10 Project Starts in the U.S. – October 2021.
Click here for the Nonresidential Construction Starts Trend Graphs – October 2021.
---
Alex Carrick is Chief Economist for ConstructConnect. He has delivered presentations throughout North America on the U.S., Canadian and world construction outlooks. Mr. Carrick has been with the company since 1985. Links to his numerous articles are featured on Twitter @ConstructConnx, which has 50,000 followers.
---
Interactive Visual
---
View this video to see how to use the filters in the Interactive Visual.