Estimates of U.S. 'real' (i.e., after inflation) gross domestic product (GDP) growth for this year have generally been revised down recently, by well-known forecasting agencies, from a range between +6% and +7% to a 'cooler' +5%. Supply shortages have cut into output levels in many industrial sectors. And bad news about coronavirus variants is putting a damper on re-opening efforts.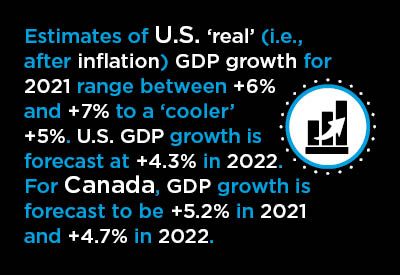 The seven-day average coronavirus count in the U.S. is presently 120,000. Delta and Omicron have raised infections from reasonably low levels in the summer to a point where they are now half what they were at their peak in January, at the beginning of this year. That's super discouraging. We'd all like to put this terrible period of anxiety behind us.
By the way, on a per capita basis, coronavirus cases are about three times greater in the U.S. than they are in Canada. (In the United Kingdom, the case count has now soared as high as it has ever been.)
The knocks to GDP growth are unfortunate, to say the least. Underlying potential is made especially apparent in the two savings graphs below (Graphs 2 and 4). In both the U.S. and Canada, there have been huge accumulations of funds over the past couple of years that are available for unleashing once everyone is totally confident again about traveling, meeting up with friends and family for meals out, and so on.   
The Importance of Chemistry to Construction
I used to think that computer programming was the career path with the most opportunities in this modern world. (As for why I became an economist, let's just say that decision was made before the 'modern world', and I've had no regrets.) I'm coming to believe there's another option with equally rewarding prospects. There's a tremendous advantage to knowing chemistry.
The great vaccine chase that we've all been following over the past two years has been an exercise in understanding chemistry. But rather than go too deeply in that direction, let's segue into a discussion of chemistry and its role in the construction outlook.
Do you know the difference between methane and methanol? The former is an emission from natural gas and animal excrement. It's a far worse culprit than carbon dioxide in heating up the planet. One offshoot of the COP26 climate change meeting was an agreement among nations to do a better job in reducing the release of methane into the atmosphere.
Methanol is a member of the alcohol family. As a liquid solvent, it has numerous industrial and pharmaceutical uses. Most important for construction, it's accounting for a groundbreaking on at least one major production plant. November's Top 10 list of starts included a methanol plant for Methanex Corp in Louisiana.
What's BDO? In November, as well, a green light was given for a large-scale Cargill BDO plant in Iowa. BDO stands for butanediol and it's extracted from corn. BDO is a renewable non-fossil-fuel means to manufacture some plastics and polyurethanes.
Three battery systems are being explored to facilitate the mushrooming of demand that is expected for electric vehicles in the years ahead. Tesla is already proceeding with coiled and sequential lithium-ion batteries; Toyota is heavily into researching solid state lithium batteries; and others are considering hydrogen fuel cells. The advantages of the latter two are that they would extend range and they can be recharged faster.
China lays claim to much of the world's lithium reserves. But in North America, there are large deposits waiting to be developed in North Carolina in the U.S. and Quebec in Canada. Lithium is often attached to a mineral I doubt many have ever heard of, spodumene.
As for hydrogen, there are two chief extraction means. One is generally considered 'cleaner', but more expensive, electrolysis applied to water. The second is to pull it from natural gas, but that defeats the purpose of cutting down on carbon emissions.
Hydrogen production plants will soon be accounting for major construction projects. An electrolysis-based plant is currently being planned for Montreal.
Chemistry is also heavily influencing the evolution of construction materials. A scientific academy in Sweden has discovered that by removing lignin in wood, and replacing it with polymers derived from citrus fruit, it's possible to develop a glass-like clear product.
The researchers involved in the study are asserting that see-through wood has an advantage over glass in windows in that it's lighter and, if struck, will bend or splinter rather than shatter.
If anyone doubts that resurgence in the commodities sector is underway, just consider the following. Two of the biggest projects to receive go-aheads by their owners in Canada in recent months have been a gold mine in Ontario and a potash mine in Saskatchewan.    
In a minefield of explosive statistics this month, perhaps the most remarkable one is that Canadian housing starts have shot back above 300,000 units, seasonally adjusted and annualized (SAAR). In November, they were 301,000 units SAAR, after being 238,000 in October.
They also exceeded 300,000 in January and March of this year, but in the five months preceding November, they were trending downwards. The long-term annual average of housing starts in Canada is 200,000 units. Many parts of the country have been experiencing a lack-of-affordability issue, due to demand vastly exceeding supply. The return to a bump up in new properties will, hopefully, release some of the steam from the price pressure cooker.
Leaving aside the +6.8% year-over-year figure for U.S. inflation in November, because I've written and spoken a lot on this subject already, the other most striking statistics of late has been 184,000 for U.S. initial jobless claims in the week ending December 4th. Weekly initial jobless claims dropping into the low 200,000s usually indicates a labor market at full employment. Only rarely does the number fall below 200,000. The not seasonally adjusted (NSA) U.S.  unemployment rate is a tight 3.9%.
Studies are showing the majority (as much as 70%) of the U.S. total employment gap, now versus prior to the pandemic, is due to accelerated retirements of individuals aged 55 and older. Financially, they've been able to move in that direction by cashing in on home price appreciations and/or stock market gains. Relief for the current worker shortage may lie in a potential 'unretired' labor pool.
Graph 1: U.S. 'Real' GDP Growth, Y/Y & Q/Q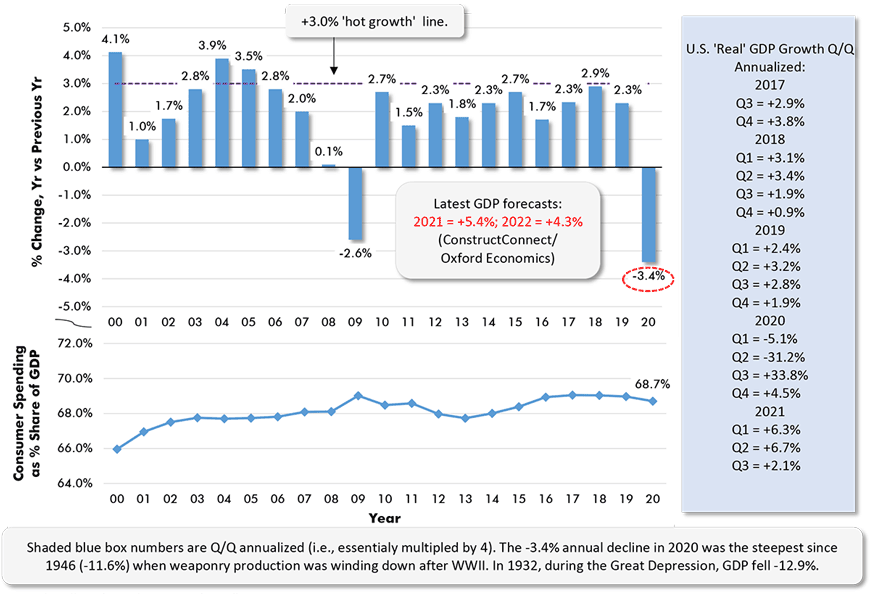 'Real' is after adjustment for inflation.
Data source: Bureau of Economic Analysis (BEA).
Chart: ConstructConnect.
Graph 2: Personal Savings Rate in the U.S.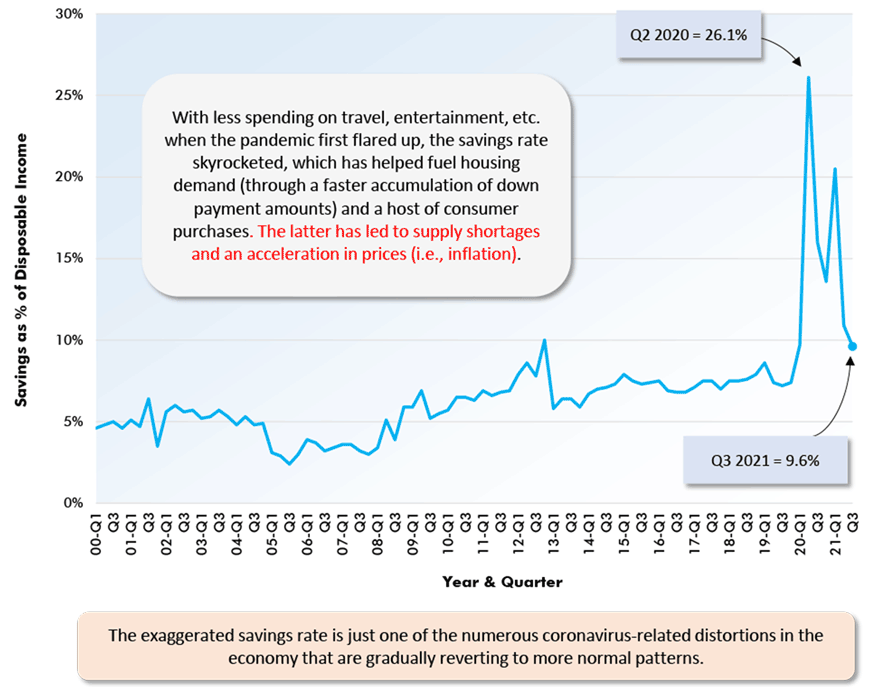 Data source: Bureau of Economic Analysis.
Chart: ConstructConnect.
Graph 3: Canada 'Real' GDP Growth, Y/Y & Q/Q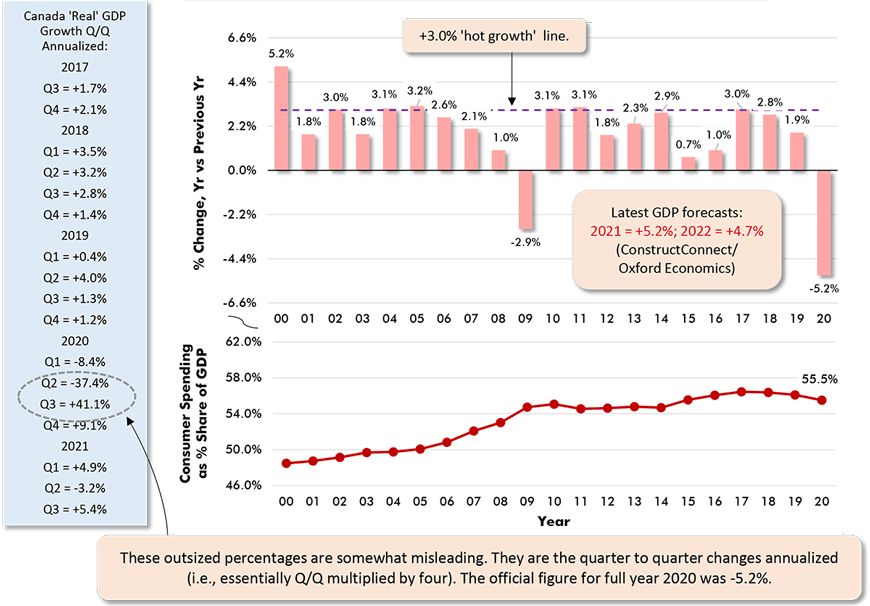 Data source: Statistics Canada Table 36-10-0140-01.
Chart: ConstructConnect.
Graph 4: Household Savings Rate in Canada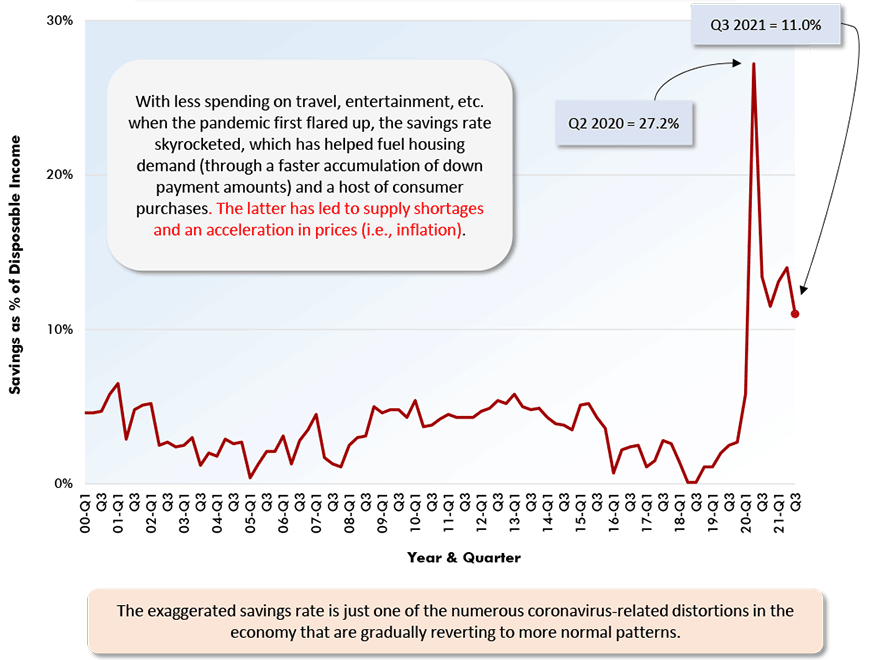 Data source: Statistics Canada.
Chart: ConstructConnect.
---
Alex Carrick is Chief Economist for ConstructConnect. He has delivered presentations throughout North America on the U.S., Canadian and world construction outlooks. Mr. Carrick has been with the company since 1985. Links to his numerous articles are featured on Twitter @ConstructConnx, which has 50,000 followers.