ConstructConnect announced today that November 2021's volume of construction starts, excluding residential work, was $30.4 billion, an increase of +1.7% compared with October 2021's level of $29.9 billion (originally reported as $28.8 billion).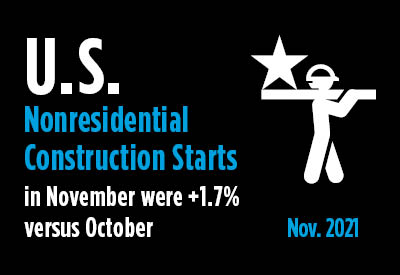 Click here to read the complete November 2021 Industry Snapshot article, November's Nonresidential Construction Starts +2% M/M, -8% Y/Y & -2% YTD – below is a short excerpt.
Compared with November 2020, the latest month's nonresidential starts were -8.0%. On a year-to-date basis, they were -1.6%. GRAND TOTAL starts in November 2021 (i.e., including residential activity) were +2.4% m/m, -3.5% y/y and +5.6% ytd.
November this year managed to avoid the usual modest decline in total starts due to seasonality, i.e., the arrival of colder weather heading into winter. Another feature of the latest month was that it was light in mega-sized projects. The only billion-dollar-plus project to break ground in November 2021 was Methanex Corp's Geismar 3 methanol plant in Louisiana, south of Baton Rouge. Methanol is a member of the alcohol family; is a liquid; and has multiple important industrial uses. It's not to be confused with methane which, as an emission of natural gas or animal waste, is largely viewed as an environmental villain.
Starts in November of last year included two mega projects adding to $4.0 billion, an office building in New York, at One Madison Avenue, and I-635 roadway work in Dallas, Texas.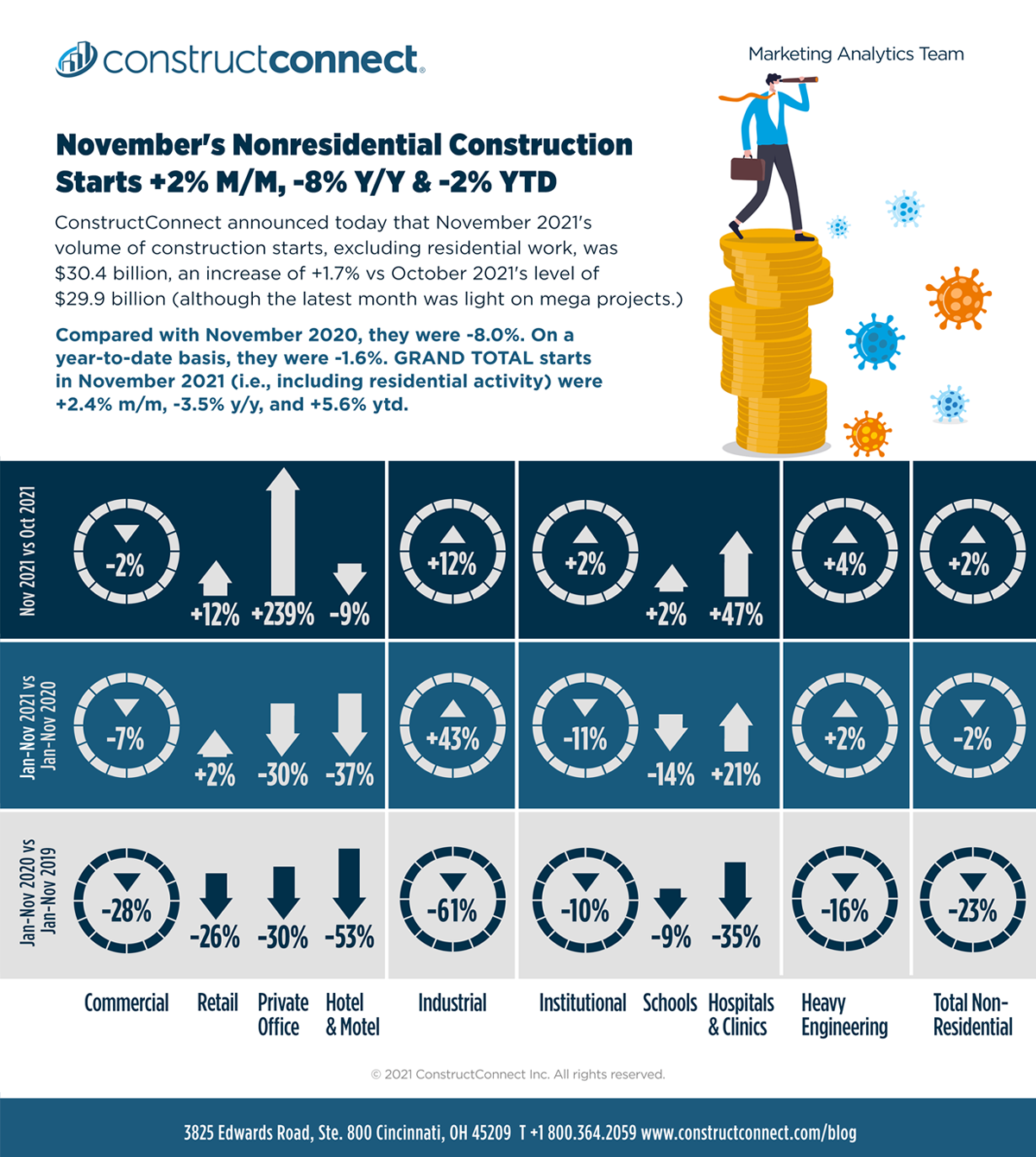 View this information as an infographic.
Click here to download the complete Construction Industry Snapshot Package – November 2021 PDF.
Some Convergence, Residential vs Nonresidential
The large discrepancies in ConstructConnect's starts statistics between the three major types of structure that were evident earlier this year, ̶ with residential super strong; nonresidential buildings quite weak; and engineering/civil on an even keel ̶ are gradually diminishing.
Year to date, residential starts (+15.5%) are still up to a decent degree, but not by as much as previously; nonresidential building starts (-3.9%) remain down, but not as severely; and engineering starts (+2.1%) is doing a little better than flat.
On a month-to-month basis in November, residential starts were +3.1%, nonres building starts, +0.5%; and engineering, +3.7%.
Click here to download the Construction Industry Snapshot Package – November 2021 PDF.
Click here for the Top 10 Project Starts in the U.S. – November 2021.
Click here for the Nonresidential Construction Starts Trend Graphs – November 2021.
---
Alex Carrick is Chief Economist for ConstructConnect. He has delivered presentations throughout North America on the U.S., Canadian and world construction outlooks. Mr. Carrick has been with the company since 1985. Links to his numerous articles are featured on Twitter @ConstructConnx, which has 50,000 followers.
---
Interactive Visual
---
View this video to see how to use the filters in the Interactive Visual.