There is much to discuss in this latest mid-month 'Nuggets' report, so let's dive right in.
(1) The U.S. seven-day average COVID case count, mainly stemming from the Omicron variant, is currently 807,000. The number is continuing to climb, although at a slower pace than a week or two ago. What are the present seven-day average infection rates in the four biggest-population states? California is at 119,000 and still ascending; Texas is at 69,000 and, likewise, still apparently climbing; New York, 53,000 and down by a quarter from its peak of a week ago; and Florida, 58,000, down by a third from its worst number.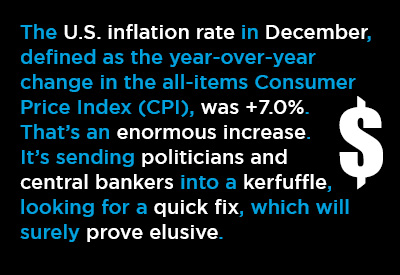 (2)Canada's seven-day average COVID case count is 40,000, dipping just a little from its highest point. Ontario and Quebec are currently running about 10,000 cases per day each. In Ontario, that's a drop of nearly half from peak; in Quebec, it's a pullback of a third. Alberta's seven-day average case count is 6,000 and not far off peak. Neighboring B.C. has a case count of just 2,400. The biggest flare-ups of late have been in the relatively small-population provinces of Nova Scotia and Saskatchewan.
(3)Quebec is adopting the strictest vaccination policy among provinces and states. Premier Legault has announced plans for a special health care tax to be paid by the unvaccinated. In Europe, Austria will be implementing a mandatory vaccination policy on February 1, with steep fines for those who don't comply. President Macron of France has said he wants to make everyday life for the unvaccinated in his country quite 'uncomfortable'. 
(4)China, which is experiencing a rapidly aging population due to its earlier (and since abandoned) one child policy, plus an extreme gender imbalance in the country (i.e., there are 34 million more males than females), saw its annual number of births in 2021 contract by -12% vs 2020. 'Demography' is how you spell trouble for China over the longer term.
(5)China's 2021 'real' (after adjustment for inflation) gross domestic product (GDP) growth has been estimated at +8.1%. The pace of Chinese GDP growth has slowed recently, however, due to insolvency problems among some major residential real estate developers (e.g., Evergrande and others) and renewed outbreaks of COVID contagion in several cities and ports (Tianjin and Dalian). The latter are particularly concerning since they threaten lockdowns, which will compound international supply chain distress. Nevertheless, the Winter Olympics are scheduled to open on Friday, February 4th.
(6)The U.S. inflation rate in December, defined as the year-over-year change in the all-items Consumer Price Index (CPI), was +7.0%. That's an enormous increase. It's sending politicians and central bankers into a kerfuffle, looking for a quick fix, which will surely prove elusive. The 'core' rate of inflation omits highly volatile energy and food items, and it was less torrid, +5.5% y/y. The price of gasoline was up by half (+49.6%) y/y.
(7)Further concerning energy, Mexico has announced that it will stop exporting oil by 2023. Instead, it will increase its domestic refining capacity, to ensure cheaper and more readily available gasoline at home. Canadian producers, who already have a nearly two-thirds share of the U.S. oil import market, should see a further expansion of their presence.
(8)Mexico has been supplying approximately 10% of U.S. oil import requirements. Also boosting the outlook for Canadian oil producers has been the reversal of Marathon's Capline Pipeline from a hub in Petoka, Illinois to the St James Terminal in Louisiana on the Gulf Coast. As a result, Canadian oil producers recently achieved their greatest ever oil export sales to countries other than the U.S., with India being the primary destination.
(9)In foreign trade, the U.S. in November 2021 recorded another in a lengthening string of annualized 'goods' trade deficits exceeding -$1 trillion. The -$1.188 trillion 'goods' trade shortfall was accompanied by an annualized 'services' trade surplus of +$226 billion. The overall balance, which has historically been saved from descending into a -$1 trillion pit by 'services', is now (i.e., at -$962 billion) flirting with that undesirable situation.
(10)Canada's merchandise or 'goods' trade position in November was upbeat once again, at an annualized surplus of +$37.6 trillion CAD, beating October's +$27.2 trillion CAD. For the first time in more than a decade, Canada managed many more months of goods trade surpluses in 2021 than deficits. A surplus makes a direct positive contribution to GDP's bottom line.
(11)U.S. total retail sales in December were +14.4% year over year, but they were -2.1% month to month. Gasoline station sales were +41.0% y/y but remember that the price of petrol was up by close to +50% compared with December 2020. Non-store retailer sales (i.e., purchases over the Internet and through e-auctions) were +10.6% y/y. Food services and drinking place (i.e., bar and restaurant) sales were +41.3% y/y.
(12)Canadian housing starts in the final month of 2021 were 236,000 units seasonally adjusted at an annual rate (SAAR). In November, they had been 304,000 units SAAR. As a monthly average in 2021, they were 276,000 units, an advance of +26.5%, or plus a quarter, versus 2020's 218,400 units. The ranking of full year 2021 housing starts in Canada's six most populous cities was: Toronto, 41,898 units (+9% y/y); Montreal, 32,343 units (+19% y/y); Vancouver, 26,013 units (+16% y/y); Calgary, 15,017 units (+63%); Ottawa-Gatineau, 13,280 units (+2%); and Edmonton, 12,546 units (+9%).
---
Alex Carrick is Chief Economist for ConstructConnect. He has delivered presentations throughout North America on the U.S., Canadian and world construction outlooks. Mr. Carrick has been with the company since 1985. Links to his numerous articles are featured on Twitter @ConstructConnx, which has 50,000 followers.