It'll be a red-letter day when U.S. total employment finally returns to the peak of 152.5 million jobs it achieved in February 2020, before the arrival of COVID-19. January 2022's month-to-month net hiring of +467,000 jobs was certainly a strong step towards achieving that milestone.
With total employment now at 149.6 million jobs, according to the Bureau of Labor Statistics (BLS), the shortfall in total jobs versus 23 months ago has been reduced to less than three million. To put the minus three million in perspective, the two-month collapse between February and April 2020 was more than minus 23 million.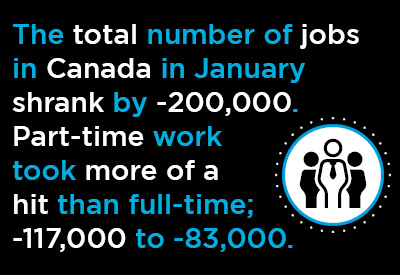 The best gains in employment by industry sector in January were realized by leisure and hospitality, +151,000 jobs; professional and business services, +86,000 jobs; retail trade, +61,000; and transportation and warehousing, +54,000. The pickup in hiring by cargo handlers is especially good to see because it'll help break up the supply chain bottlenecks that have been sending inflation sky high (+7.0% y/y for the consumer price index).
The construction sector, with a total employment change of -5,000 jobs in January, was left on the bench as the cheering was directed elsewhere. Manufacturing employment didn't roar ahead, but at least it made a respectable advance, +13,000 jobs.
U.S. total employment in January, on a year-over-year basis, was +4.6%. Construction's year-over-year result was +2.2%; manufacturing's, +3.1%. Those figures all recede into the shadows, however, compared with the y/y leap in hiring by the leisure and hospitality industry, +18.3%.
The nation's seasonally adjusted (SA) unemployment rate in January fell back slightly to 4.0% from 3.9% in December. The not seasonally adjusted (NSA) U rate went from 3.7% in the final month of 2021 to 4.4% in the first month of 2022.
An explanation of how the jobs improvement could be so great, while the unemployment rate worsened slightly, probably rests in the fact the numbers come from two different surveys. Jobs figures are derived from a survey of employers; U rate numbers come from a survey of households.
Construction's NSA unemployment rate in January was 7.1%, up from 5.0% in December, but well below 9.4% in January 2021.
Huge Compensation Hikes
There's a hierarchy of importance to the numbers included in the monthly Labor Situation Report. In January, the results that jump off the page are for compensation.
Hourly wages for all nonsupervisory workers (i.e., excluding bosses) in January were +6.9% year over year. Construction workers as a subset saw their earnings climb +5.8% y/y. Hourly earnings in the leisure and hospitality sector soared +15.0% y/y.
In hourly earnings among 12 major sub-sectors, construction workers were fifth for 'level' ($31.44) and sixth for y/y percent change (+5.8%). Leisure and hospitality workers were last for level ($17.08), but first for y/y percent change (+15.0%). See Table 1.
In weekly earnings (Table 2), construction workers were fourth for level ($1,241.88) and seventh (tied with utilities) for y/y percent change (+4.8%).
Table 1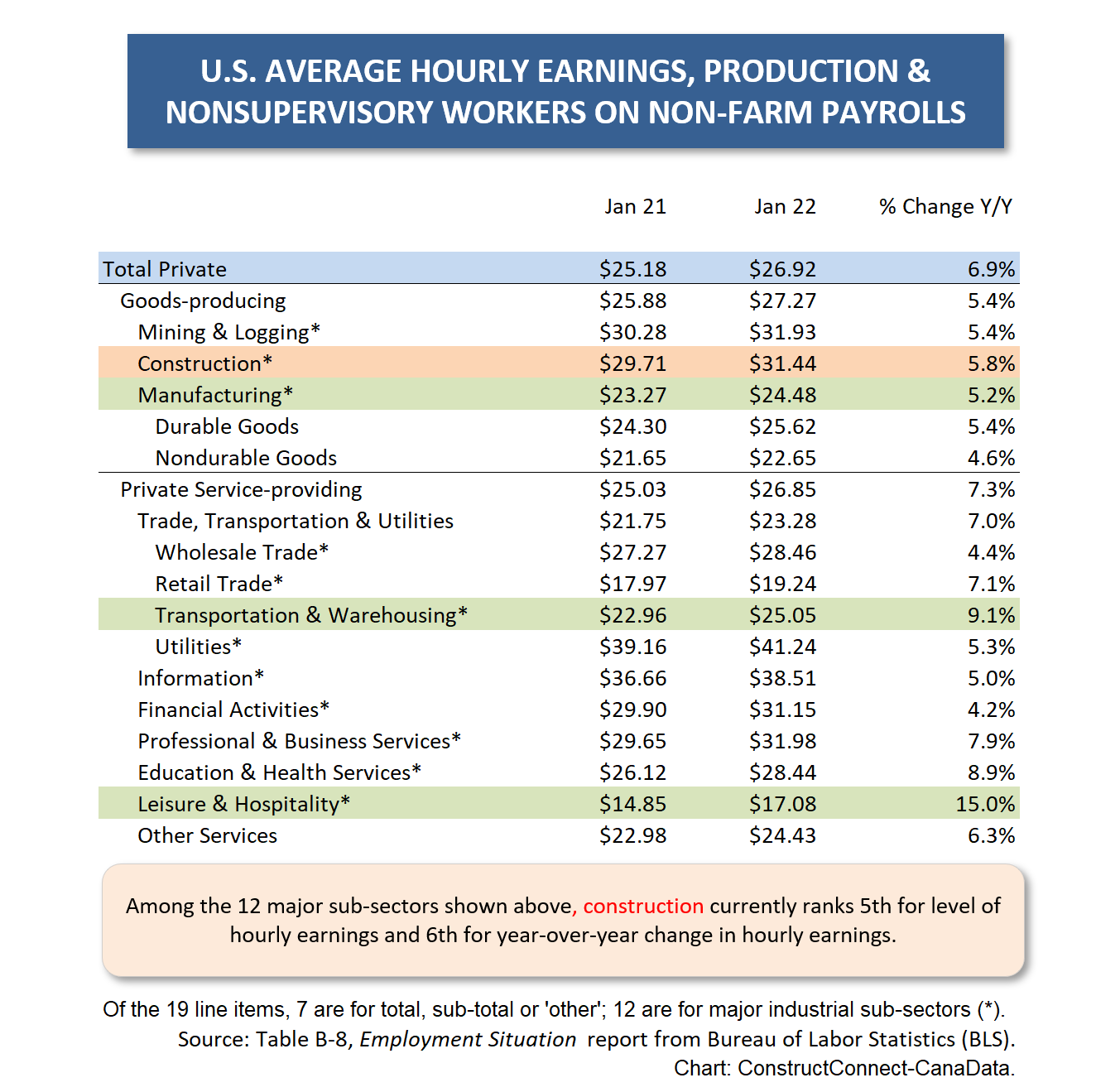 Table 2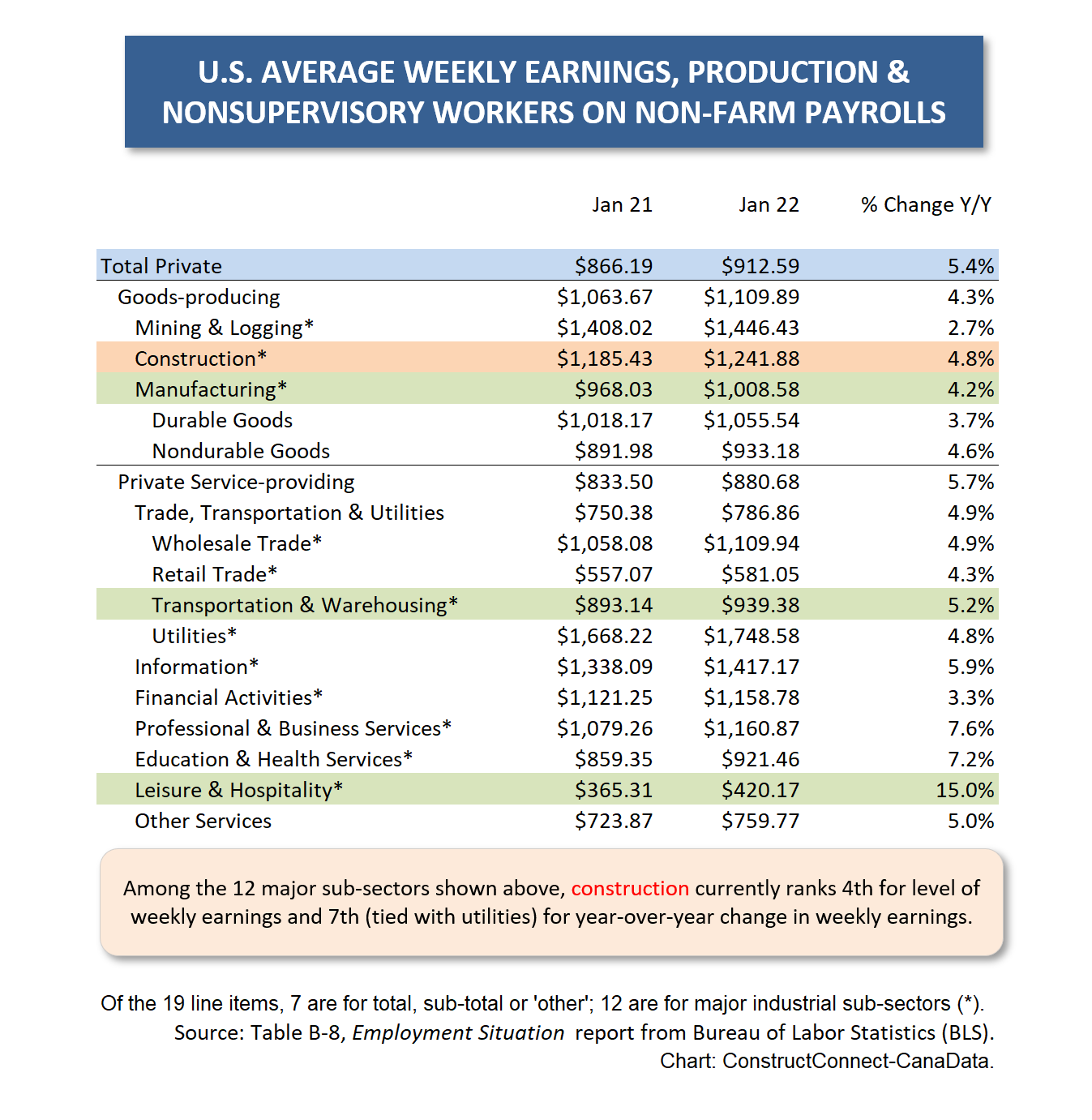 Canada Suffered Omicron Jobs Setback
The U.S. has stayed largely open during the onslaught of the Omicron variant of the coronavirus.
Much of Canada, however, returned to lockdown mode in January. Only now, with Valentine's Day on the horizon, are Ontario and Quebec easing restrictions again.
The consequence for employment north of the border in the latest month, according to Statistics Canada, was severe. The total number of jobs in Canada in January shrank by -200,000. (Part-time work took more of a hit than full-time; -117,000 to -83,000.)
The SA unemployment rate between December and January shot up from 6.0% to 6.5%.
Employment in accommodation and food services in Canada plummeted by -113,000 jobs in January. Wholesale and retail trade cut positions to the tune of -18,000 jobs. Manufacturers shredded their workforces by -10,000 jobs.
There was one silver lining on the employment front, however. Thanks largely to 2021's boom in housing starts (up by a quarter in units y/y), employment in Canada's construction sector bucked the all-jobs trend and increased by +23,000 jobs month to month (SA) in January.
---
Alex Carrick is Chief Economist for ConstructConnect. He has delivered presentations throughout North America on the U.S., Canadian and world construction outlooks. Mr. Carrick has been with the company since 1985. Links to his numerous articles are featured on Twitter @ConstructConnx, which has 50,000 followers.