The graphic featured below maps ConstructConnect's type-of-structure categories for 'starts' to the Census Bureau's put-in-place designations, while also showing year-to-date results for both series through April 2022.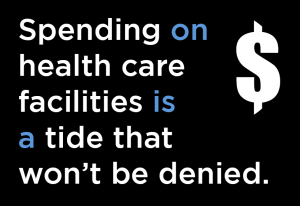 As the text box says, 'starts' lead put-in-place numbers. Therefore, it's possible to draw inferences concerning the likely future direction to be taken by many of the put-in-place sub-categories from the starts results. 
The residential put-in-place ytd percentage increase (+18.8%) is mainly due to strong new home groundbreaking activity last year. The increase in residential starts this year has not been particularly dramatic. Expect residential PIP to ease off in the months ahead.
The lodging PIP number (-25.8% ytd) is still disastrous. But there's encouragement to be taken from the hotel/motel starts performance (+17.4% ytd).
Office building starts, whether 'private' or 'government', continue to be negative, so the +4.8% ytd figure for PIP office work appears in jeopardy.
The poor PIP result for educational (-2.6%) will eventually prove to be too downbeat, given that the various categories of school and other learning starts are all on the percentage-change plus side, with colleges/universities earning a special shout-out (+47.1% ytd).
'Public safety' PIP is in sync with 'fire/police/courthouse/prison' starts, but military starts on their own (+34.9% ytd) are surging ahead.
The 'sports arena' starts percent-change is weak now (-21.5% ytd), but all it will take is a green light on one large project to bump the result way up, and that will carry forward into the PIP numbers. There are several teams in the five professional sports leagues (football, basketball, baseball, hockey, and soccer) looking to build shiny new venues.
The strong growth being exhibited by road/highway (+34.7% ytd), bridge (+37.7% ytd) and sewer/water (+19.4% ytd) starts suggests PIP spending in those categories will move smartly up from where they currently stand (i.e., circling around +10% ytd).
The outsized +34.0% gain ytd for manufacturing PIP will almost certainly be maintained since industrial starts are +142.3% ytd.
Health care has been left to the last because it's the one category where the 'starts' and PIP (+6.5% ytd) percentage changes are seriously at odds. The starts for hospitals (-43.9% ytd) and seniors' homes (-26.1% ytd) are seriously depressed and this is explored in commentary below the graphic.   

A Serious Weakness in Health Care Starts
For the past several years, all the energy in medical attention has flowed into looking after COVID patients. A major financial consequence has been a squeezing of the revenue stream associated with standard procedures.
People have been delaying heart surgery, cancer treatment, kidney transplants, etc., and that's a chunk of lost income for private hospital owners. Public and religion-affiliated hospitals have also been distracted and battered.  
Few potential non-COVID patients have been going into hospitals except as a truly last resort.  
Also, with less cars on the road in the earlier stages of the pandemic, there was reduced care tied to traffic accidents.
Plus, there's been a huge growth in tele-medicine – advice dispensed over the Internet, significantly cutting down on visits to Emergency Rooms.
Long-term, however, there will be no withstanding the pressure that will be placed on all health care from the aging of the population. Every 'baby boomer' ever born (i.e., between the mid-1940s and mid-1960s) and still alive is aged 55 plus. The front end of the boomer wave is aged 75.
Spending on health care facilities is a tide that won't be denied.  
---
Alex Carrick is Chief Economist for ConstructConnect. He has delivered presentations throughout North America on the U.S., Canadian and world construction outlooks. Mr. Carrick has been with the company since 1985. Links to his numerous articles are featured on Twitter @ConstructConnx, which has 50,000 followers.