The angst over whether all the talk about a possible looming recession may be affecting the U.S. jobs market can be set aside, at least temporarily, based on the latest Employment Situation report from the Bureau of Labor Statistics (BLS). May's month-to-month change in the U.S. total jobs count was +390,000. That's a little down from the year-to-date monthly average for 2022 of +490,000, but it's still strikingly good.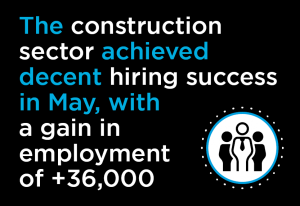 The seasonally adjusted (SA) unemployment rate stayed at 3.6% for the third month in a row. The not seasonally adjusted (NSA) unemployment rate ticked up to 3.4% from 3.3% in April. But U rates in the mid-3.0% range are about as low as they ever go.
The construction sector achieved decent hiring success in May, with a gain in employment of +36,000 jobs. That was the second best monthly showing this year, behind only February's +54,000.
The monthly average staffing increase in construction so far in 2022 has been +24,000 jobs, a considerable improvement over last year's Jan-May pace of +5,000.
The biggest jumps in construction employment in the latest month occurred in engineering work, +11,000, and residential sub-trade activity, +12,000.
The NSA unemployment rate for construction has tightened to 3.8%, down from 4.6% in April and much better than the 6.7% recorded in May a year ago.
Hefty Wage Increases
Perhaps the most interesting information relating to construction contained within the BLS' report has to do with compensation rates. For all jobs in the economy, including supervisory personnel, hourly and weekly compensation gains in May were +5.2% and +4.3%. Construction workers did better on both counts, +5.6% both hourly and weekly.
For all jobs economy-wide, but leaving out bosses, the earnings climbs were hefty at +6.5% hourly and +5.8% weekly. Construction workers were rewarded in fine fashion as well, +6.3% hourly and +7.1% weekly.
Despite all the present encouraging news on the jobs front, the U.S. economy has still not quite recovered or clawed back all the positions that were lost between February and April of 2020, when COVID-19 caused a disruption unlike anything previously encountered.
The nation's total jobs figure is still 800,000 below the peak level of 152.5 million attained in February 2020.
A Common Labor Pool with Manufacturing
Manufacturing in the latest month saw a pickup in employment of +18,000 jobs. The NSA U rate in manufacturing is now only 2.8%.
Manufacturing's labor market dynamics are probably more significant for construction than any other industry's because the two sectors seek out workers from a mostly common pool. There's a high degree of transferable skills between working on a production line or working on site. 
Retail Jobs Fall Victim to Inflation
Retail trade employment in May took a bad turn and shed jobs to the tune of -60,000. This is where the fault line of super-swift inflation is having its first impact on employment. When costs escalate rapidly, one's enthusiasm for shopping wanes.
Leisure and hospitality employment made another huge leap in May, +84,000 jobs. Nevertheless, the sector's monthly average jobs gain through the first five months of this year, at +107,000, is only half what it was during the same period last year, +216,000.
And the NSA unemployment rate (5.1%) in leisure and hospitality remains elevated compared with most other sectors.
Graph 1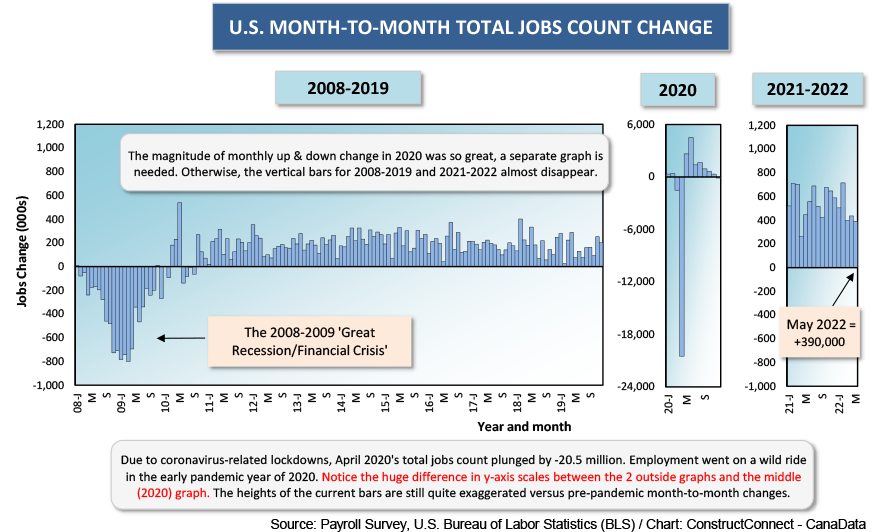 Graph 2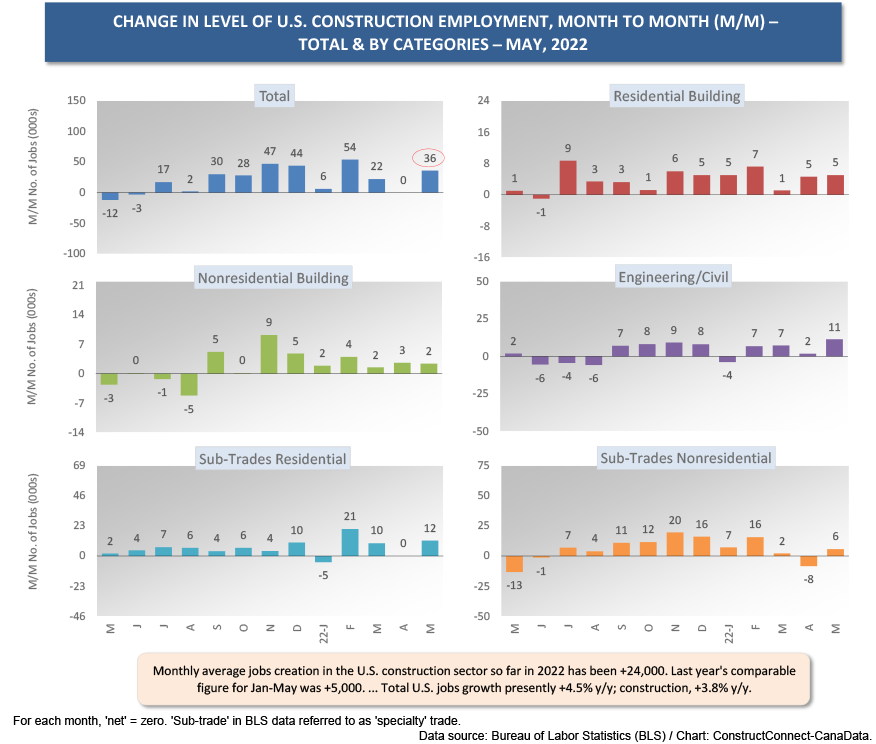 Table 1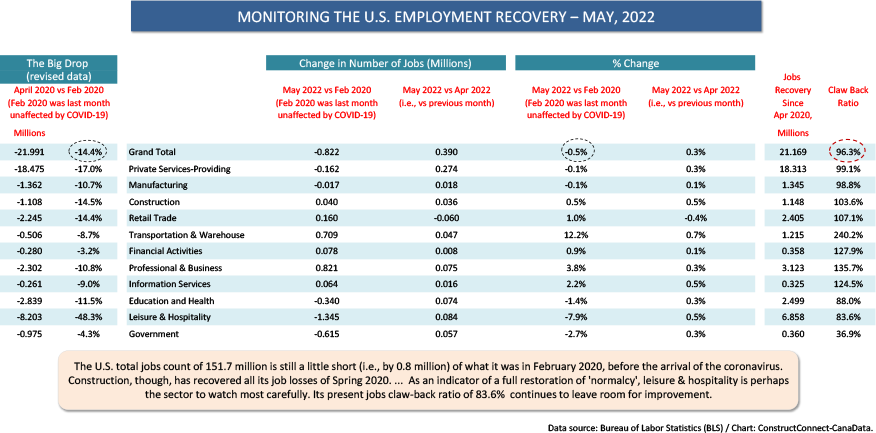 ---
Alex Carrick is Chief Economist for ConstructConnect. He has delivered presentations throughout North America on the U.S., Canadian and world construction outlooks. Mr. Carrick has been with the company since 1985. Links to his numerous articles are featured on Twitter @ConstructConnx, which has 50,000 followers.