Although overshadowed by a growing consensus that increases in interest rates will trigger a North American recession later this year or early in 2023, the near-term outlook for the Nova Scotia economy remains in positive territory. Growth will probably downshift from the estimated +5.4% gain in 2021 to +2.5% this year and +1.0% in 2023. That said, four key drivers will underpin the economy going forward.
Slower U.S. growth to dampen but not drown exports  
At the top of the list is exports. Year to date, they are up by +11.4% due in large part to strength in foreign sales of bus and truck tires (+12.7%), seafood (i.e., lobster, crab, scallops, and halibut, +8.4%), and fine paper (+27.8%), being shipped mostly (83%) to the U.S. Other countries contributing to the strength of Nova Scotia's exports have include Hong Kong, the United Kingdom, France, and Germany. The recent retreat in the ISM's June Purchasing Managers Index (PMI), the inflation-eroded growth of real incomes, and the likelihood of further hikes in interest rates will probably reduce the U.S. appetite for the province's exports into 2023.   
Population growth hits 70-year high due to record net migration 
The second key driver of Nova Scotia's recent strength has been an unprecedented increase in net migration. Over the past four quarters, the province has welcomed more than +12,000 individuals from outside Canada, while the net number of interprovincial migrants has totaled +11,600, up 63% versus the same period a year earlier. As a result of this very strong inflow of foreign and domestic migrants, Nova Scotia's population increased by +2.2% y/y in the first quarter of 2022, its largest y/y gain in more than 70 years.
House prices launch into orbit
Given that this wave of immigrants needed someplace to live, it's no surprise that the province's apartment vacancy rate hit a record low of 1.2% in 2021. Median rents were up by a record +8.3% y/y. Fuelled mainly by a +24% year-to-date increase in house prices and a near record low inventory of homes for sale, residential investment in the province is up by +25% year to date due to a +20% rise in single-family dwelling units and a +36% increase in construction of multiple units.
Going forward, although the Bank of Canada, in its effort to rein in inflation, will cause interest rates to trend higher, residential building permits are up by +25%, due to plans to build both single-family and multi-family dwelling units. This increase signals sustained residential construction spending throughout the second half of this year and into the first half of 2023. Recognizing that new house construction has lagged population growth, the provincial government has committed to accelerating the construction of 23,000 new residential units.
Public sector CAPEX will outpace private sector spending (again)
Two surveys suggest non-residential investment in Nova Scotia will exhibit solid growth well into 2023.  First, the Annual Capital Expenditures Survey (CAPEX), released by Statistics Canada in late February, projected capital expenditures on non-residential construction and machinery and equipment will increase by +10.5% to a record high of $4.7 billion in 2022. Most of this increase is due to a very robust +19% rise in public sector capital spending, following a gain of +18% in 2021.
Private sector investment is projected to increase by just +3.7% this year after a +7.6% rise in 2021. The weak gain is in line with recent analysis by the Fraser Institute. Since 2006, the annual average percentage change of private sector investment in the province has been -0.3%, while public sector investment has increased on average by +5.1%.
The Atlantic Provinces Economic Council (APEC)'s Major Project Inventory report highlights the relative strength in the outlook for public vis-a-vis private investment. According to APEC, health care and electricity projects will make major contributions to the climb in public sector capital investment. 
Headlining the health care projects are the Bayer Lake Outpatient Center and the IWK Health Centre expansion.  Major electricity projects include the Mersey River hydro project and increased spending on the Eastern Clean Energy project.
Two other large government projects which will boost employment in the province include the ongoing Irving Shipbuilding Arctic Offshore Patrol Vessel project and the shipyard's contract to build 15 combat vessels for the Canadian navy.
Nova Scotia's large public sector will cushion the province in a downturn
There is little doubt that the eroding impact of inflation on real incomes, slower growth of exports and rising interest rates will cool the Nova Scotia economy during the next several quarters. However, the fact the public sector accounts for 60% of the province's GDP suggests that its economy will not be chilled to the same degree as some of its neighbours to the west.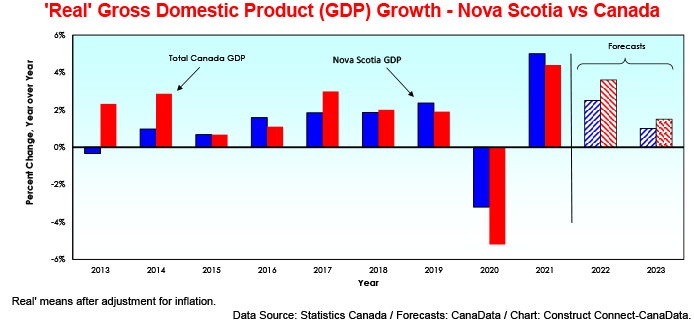 John Clinkard has over 35 years' experience as an economist in international, national and regional research and analysis with leading financial institutions and media outlets in Canada.