In the U.S. in June, according to the latest Employment Situation report from the Bureau of Labor Statistics, jobs creation maintained a strong pace, +372,000, although it didn't quite keep up with the average through the first five months of this year, +474,000.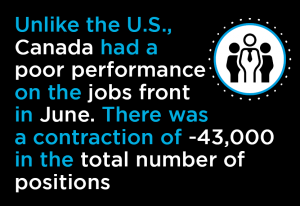 The seasonally adjusted (SA) unemployment rate stayed at the 3.6% level where it has been lodged for four months in a row now.
The 3.6% U rate is extremely low. There's much talk by analysts and in media circles about a recession being imminent, or maybe even already underway. The speculation is reasonable given the rampant price inflation that is underway, the consequent hikes in interest rates being initiated by the Fed, and the darkening mood of consumers as reflected in confidence surveys.
But if there is a recession, it will be an odd one, in that it will transpire at a time when the unemployment rate is about as invisible as it can ever become.
The U.S. construction sector in June added +13,000 jobs. The monthly average gain for hardhat employment through the first half of 2022 has been +21,000 jobs, beating last year's H1 comparable number of just +3,000.  
Construction's not seasonally adjusted (NSA) unemployment rate has reduced to only 3.7% from 3.8% in the prior month and from 7.5% in June of last year.
Year-over-year wage gains for all jobs (i.e., 'worker bees' plus bosses) in June were +5.1% hourly and +4.2% weekly. Construction sector employees as a subset saw increases that were a little better, +5.6% hourly and +5.8% weekly.
For jobs economy-wide but focusing only on production workers and leaving out supervisors, the y/y hourly and weekly compensation increases in June were +6.4% and +5.4% respectively. Within this portion of the labor force, the construction segment realized a respectable +6.0% y/y hourly and an outstanding +7.3% y/y weekly.
In Canada, Jobs Tanked but Foreign Trade Softened the Sting
Unlike the U.S., Canada had a poor performance on the jobs front in June. There was a contraction of -43,000 in the total number of positions, according to Statistics Canada.
The drop in jobs was all based in services (-76,000), and it bruised part-time staff (-39,000) considerably more than full-time (-4,000).
Manufacturing and construction employment moved counter to the overall trend. The former upped staffing by +26,000 jobs in June; the latter increased payrolls by +23,000.
One notable development in June was that Canada's NSA unemployment rate in June (3.7%), when calculated according to the same strict methodological guidelines as are adopted by the BLS, dropped below the U.S. figure (3.8%) (see Graph 7).  
Canada's construction unemployment rate is now 3.7%. Provincially, even lower results are being rung up by Quebec (3.5%), Ontario (3.2%), and (to the accompaniment of a drum roll, please) Manitoba (1.9%).
Ontario is presently accounting for more than half (50.5%) of Canada's total jobs increase year over year (nearly +800,000 from Table 1). In second place, with a much smaller share of the nation's population than Ontario (12% to 39%), is Alberta. The Wild Rose province holds an 18.5% slice of Canada's total net new jobs figure y/y.
Alberta's jobs bonanza relates to a piece of news that runs counter to a lot of the negativity that's being bandied about. Canada's May merchandise trade balance recorded its largest surplus, more than $60 billion annualized, since August 2008. More robust physical volumes of energy exports, combined with higher prices for crude and natural gas, are the principal reason and Alberta among all provinces is the chief beneficiary.
Graph 1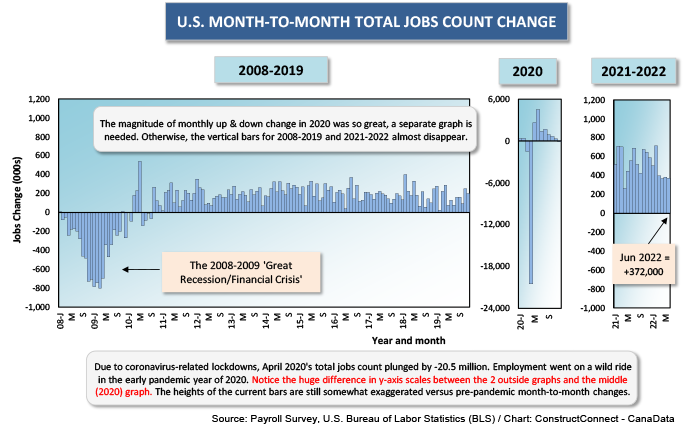 Graph 2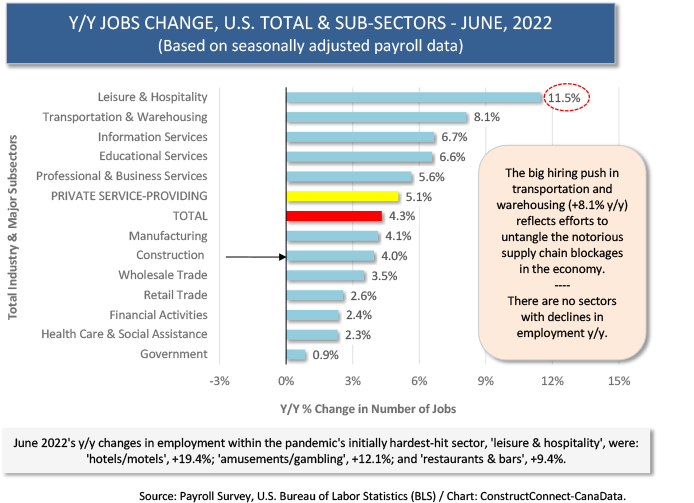 Graph 3
Graph 4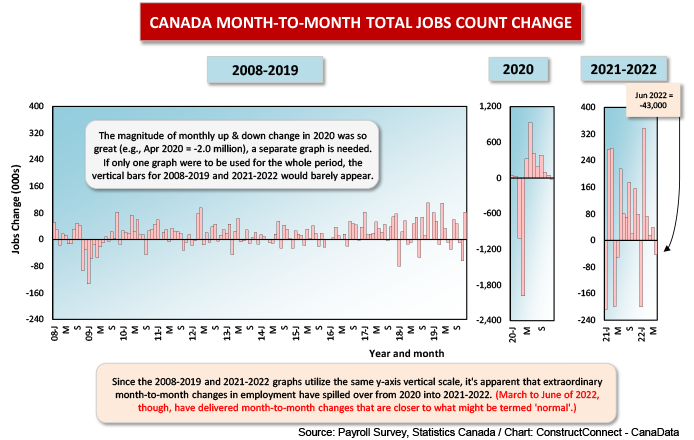 Graph 5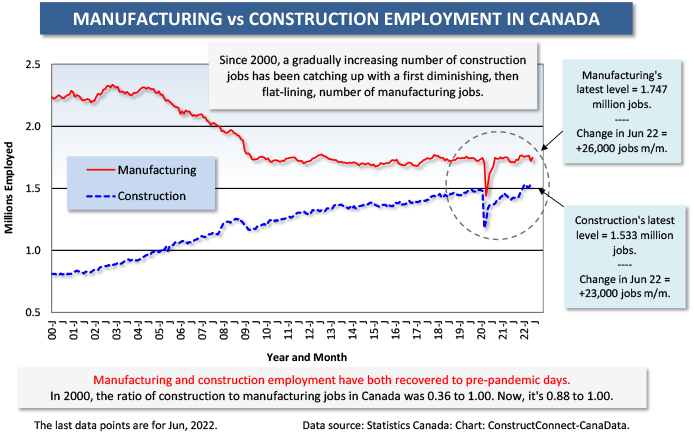 Table 1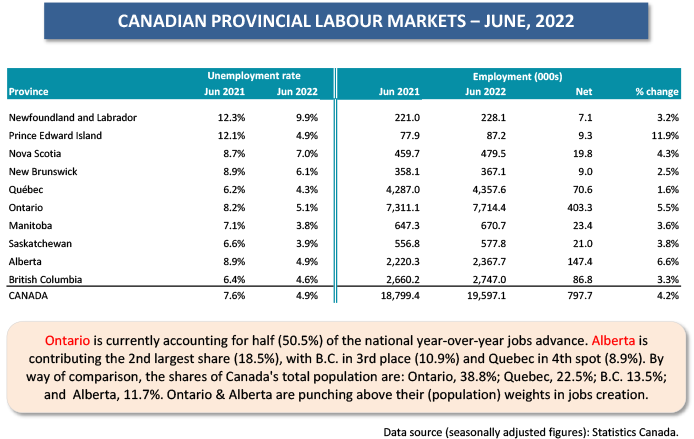 Graph 6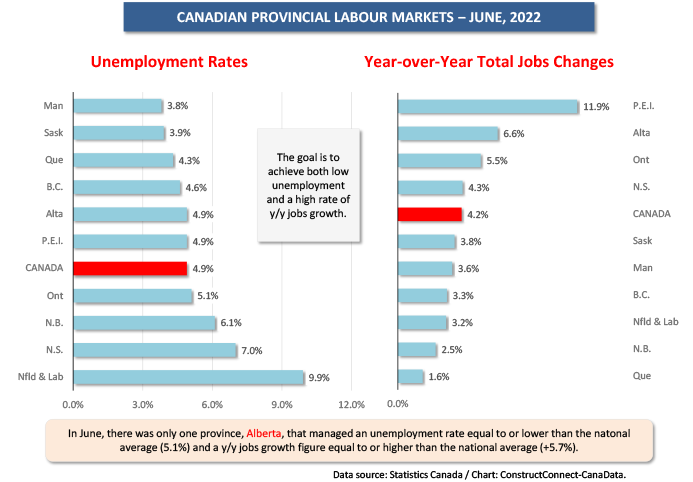 Graph 7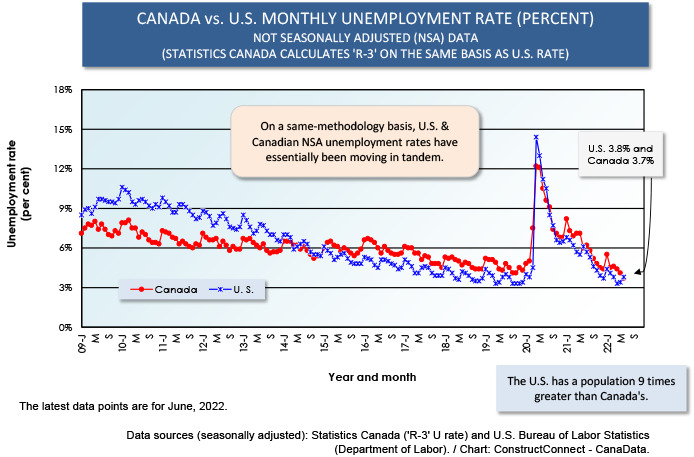 ---
Alex Carrick is Chief Economist for ConstructConnect. He has delivered presentations throughout North America on the U.S., Canadian and world construction outlooks. Mr. Carrick has been with the company since 1985. Links to his numerous articles are featured on Twitter @ConstructConnx, which has 50,000 followers.