With the national office vacancy rate at a 25-year high of 15.5%, Canada's office market appears to be in dire straits. However, several indicators affecting office occupancy are pointing in a more positive direction than was the case throughout most of last year.
First, the incidences of COVID -19, which earlier caused so many workers to self-isolate at home, have trended lower since the beginning of the year. Second, although a significant number of workers are still not yet back in their cubicles, year-to-date office-based employment (which includes the industrial sub-sectors finance, insurance, and real estate; professional scientific and technical services; business, building, and other support services; and information, culture, and recreation services) is up by a very solid +6.5%.
Third is the slowing decline in the total amount of office space absorbed. The latest reading marks the smallest drop-off in absorption since the second quarter of 2020. Fourth, after hitting a low of 3.0 million square feet in the second quarter of 2020, office leasing activity across Canada totaled 7.7 million square feet in Q2 of the current year, a five-year high.
Impending Recession Clouds Outlook for New Office Construction
In previous economic cycles, increases in new construction were supported by rising office-based employment, an ensuing gain in the absorption of vacant space, and an increase in office leasing. However, this cycle has been different, with record-high inventories of vacant office space.
According to Q2 2022 estimates by Cushman Wakefield, there are 86.7 million square feet of available space, equivalent to several years of current demand. The high vacancy rate has certainly influenced applications to build office buildings, which are -22% and -27% below year-ago and pre-pandemic levels respectively.
As authorities on both sides of the border tighten monetary policy to combat 40-year high inflation, the rising cost of capital financing will further weigh on the market. Lastly, the recent onset of a technical recession (i.e., two quarters of negative growth) in the U.S. increases the probability of the same for the Canadian economy. Since office construction usually lags changes in Gross Domestic Product (GDP), we expect such work to pause later this year and to retreat during the first half of next year.
Status of Office Markets in Key Census Metro Areas (CMAs)
 Across Canada, office vacancy rates are in double-digit percentages for all but the Vancouver and Ottawa metro areas. Despite strong gains in leasing activity, driven by rising office-based hiring over the past five months, the office vacancy rate in Calgary, currently 27.6%, is the highest in the country. That said, the positive outlook for the energy sector should cause leasing activity in CMA Calgary to trend higher well into 2023. However, as noted above, the large inventory of vacant office space will probably cause firms to put new projects on hold into 2024. Office vacancy rates are also above 20.0% in Saint John, N.B. (26.8%).
Comparing favorably with the national average of 15.5%, Vancouver's office vacancy rate of 8.7% in the second quarter (a 6-year high) was due to an increase in new supply. Vancouver saw leasing activity jump by +15% from 2.5 million square feet to 2.9 million square feet in the first half of this year. Office occupancy in the province should trend higher given the prospect Vancouver will continue to attract strong inflows of international and interprovincial migrants.
Fueled by strong gains in office-based employment, leasing activity in Ottawa rose by +111% in the first half of 2022 compared to the first half of 2021. Vacancy rates in class A buildings in Central Ottawa and in the suburban area were 8.0% and 8.7% respectively.
Although Toronto's office vacancy rate is at a 28-year high of 15.5% midway through the year, the CMA's office market is experiencing a nascent recovery. Over the past six months, office-based hiring has been trending higher, while leasing activity in the CMA is up by +54% year over year. However, we expect that the 8.4% year-to-date decline in applications to build new office space and the accompanying evidence of recession will cause builders to press "pause" until they have a clearer picture of office demand in the near term.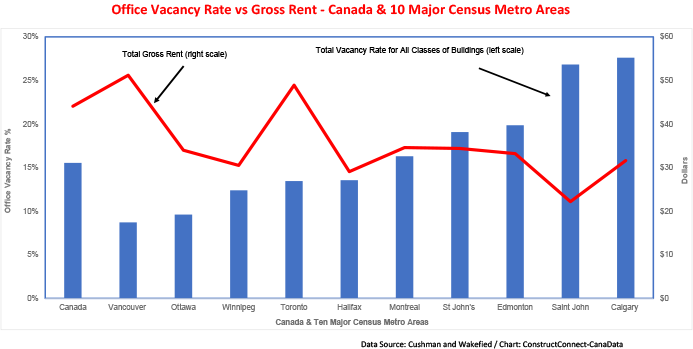 ---
John Clinkard has over 35 years' experience as an economist in international, national and regional research and analysis with leading financial institutions and media outlets in Canada.