It'll be hard for anyone to find much fault with July's Employment Situation report from the Bureau of Labor Statistics (BLS). The total number of jobs gained during the month was +528,000, which beat the previous six-month average of +461,000. Interestingly, it was just about a match for January-to-June 2021's average of +533,000.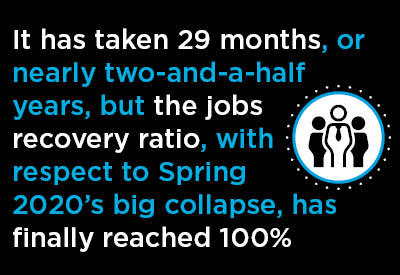 My concern is that the news may be too good. Will it instruct the Fed that the economy remains too hot, and is begging to be restrained by aggressive interest rate hikes beyond what are already expected? Will the Fed figure it needs to go past 'neutrality' (i.e., a federal funds rate of 3.50% as a ceiling) in its assault on inflation?  
The most striking development is that the total U.S. jobs count has finally returned to a level approximately even with peak employment immediately prior to the onset of the pandemic.
There are now 152.536 million working Americans, a number slightly higher than the 152.504 million that were employed in February 2020. It has taken 29 months, or nearly two-and-a-half years, but the jobs recovery ratio, with respect to Spring 2020's big collapse, has finally reached 100%.
The U.S. seasonally adjusted (SA) unemployment rate in July tightened a further notch to 3.5% from 3.6% in June. The not seasonally adjusted (NSA) U rate stayed the same as in the month previously, at 3.8%.
The construction sector's NSA unemployment rate moved down to only 3.5% in the latest month, less than half the 7.5% figure that was rung up a year ago.
There were +32,000 more individuals working in construction at the end of July than at the beginning. The employment gains were mainly in the sub-trades and were about evenly split between the residential and nonresidential segments.
The 'leisure and hospitality' sector was a big winner in the hiring sweepstakes in the latest period, +96,000 jobs. Three-quarters of the increase occurred in 'food services and drinking places' (i.e., bars and restaurants). Disappointingly, the accommodation sector didn't take on any new personnel.
Government added +57,000 positions, mostly at the local level and tied to education.
Other notable jobs increases occurred in health care, +70,000; manufacturing, +30,000; retail, +22,000; and transportation and warehousing, +21,000.
Manufacturing's NSA unemployment rate, at 3.2%, is about on a par with construction's 3.5%.
The 'mining, quarrying, oil and gas extraction' sector has an NSA U rate of just 0.8%, down from 10.3% in July 2021. The big bumps in energy sector prices year over year undoubtedly account for the improvement.
Wage gains are presently healthy. For all jobs, the year-over-year advances are +5.2% hourly and +4.6% weekly. Construction workers are doing a little better, with increments of +5.5% both hourly and weekly.
For production workers only (i.e., leaving out bosses), the weekly and hourly compensation advances across the economy have been +6.2% hourly and +5.3% weekly. Construction workers as a subset have realized +5.7% hourly and +6.0% weekly.
Overheating's Not a Concern in Canada
North of the border, total employment in July fell by -31,000 jobs, according to Statistics Canada.
The latest result has dropped monthly average jobs creation in Canada year to date to only +27,000, almost exactly half of 2021's January-to-July figure of +55,000.
Canada's SA unemployment rate is now 4.9% for the second month in a row. The NSA U rate, though, has shifted higher to 4.1% in July from 3.7% in June.
All the shrinkage in total employment in July occurred in services. Construction and manufacturing both upped staffing by +8,000 jobs.
The monthly average increase in construction employment in Canada so far in 2022 has been +12,000. The comparable figure through July of last year was an anemic +1,000.
Comparing the U.S. and Canada, the y/y percentage changes in employment have been +4.2% (U.S.) to +3.6% (Canada) for 'total'; +4.9% to +3.4% for 'services'; +3.9% to +2.4% for manufacturing; and +4.2% to +9.3% for construction.
Provincially, all four provinces in the West have SA unemployment rates under 5.0%, with Manitoba lowest at 3.5%. In the East, only Quebec fits that bill, with a U rate of 4.1%.
As for jobs generation year over year, Ontario remains the powerhouse, accounting for nearly half of the national increase (+319,000 out of +687,000). Alberta is in second spot, with +134,000 net new positions year over year.
---
Alex Carrick is Chief Economist for ConstructConnect. He has delivered presentations throughout North America on the U.S., Canadian and world construction outlooks. Mr. Carrick has been with the company since 1985. Links to his numerous articles are featured on Twitter @ConstructConnx, which has 50,000 followers.